Market Guru in talk with RJ Salil Acharya of Radio City: People should search for opportunities to buy good stocks when Nifty corrects & trades in the range of 15,200-15,300
Anil Singhvi, Managing Editor, Zee Business, says, fuel prices can be brought under control only if we can increase the country's oil production to a level where we can be self-sufficient or by moving completely towards green energy.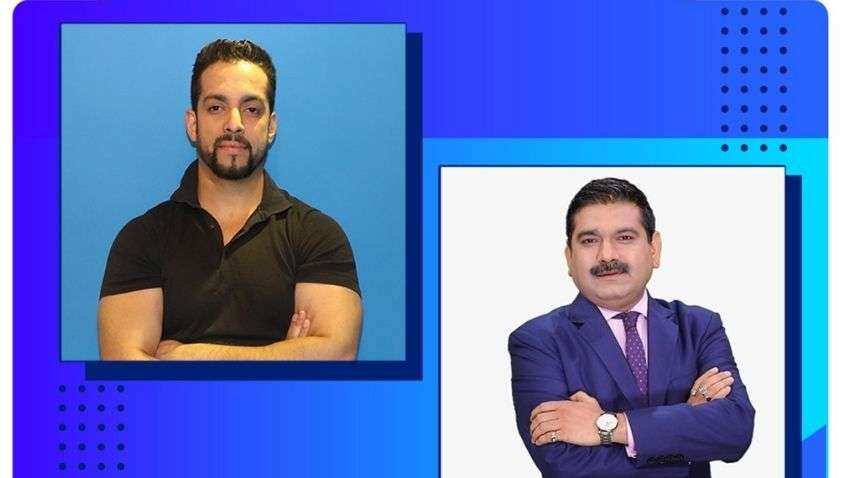 Market Guru in talk with RJ Salil Acharya of Radio City: People should search for opportunities to buy good stocks when Nifty corrects & trades in the range of 15,200-15,300
Anil Singhvi, Managing Editor, Zee Business, says, fuel prices can be brought under control only if we can increase the country's oil production to a level where we can be self-sufficient or by moving completely towards green energy. During a candid radio podcast, "Kadak Currency', with RJ Salil Acharya, Radio City, 91.1 FM, Mumbai, Mr Singhvi said Said, keep some cash in your account as you will get a good chance to invest in some good stocks if the Nifty will decline and start trading in the range of 15,200-15,300. 
See Zee Business Live TV Streaming Below:
RJ Salil started the podcast, 'Kadak Currency' by talking about the things that are going on across the world like Middle East, Afghanistan as well as oil prices. Talking about the oil prices, he said people used to talk more about oil instead of the war and it is also being discussed a lot in India as well that why the prices of diesel and petrol are not going down. He asked Mr Singhvi about his take on the issue and what is his suggestion to bring down the prices but low? Mr Singhvi in his reply to the question said, there are two things like more oil production within India will reduce our import bill and the lower the import bill is the cheaper the oil prices. It is also happening slowly but what is happening is that consumption is also increasing in tune with the increase in production, vehicles are increasing and industrial production where diesel and other petroleum products are needed is growing up. So along with the country's growth, its requirement is also increasing due to which the prices are not decreasing a lot. But the good thing is that prices have started softening again and are decreasing a bit because globally there is a slight fear of CORONA in countries like America and other countries, giving a fear that the economic recovery will be less. God may not do that anything like the past happens in which people will start sitting at the homes, if it happens, the oil consumption will reduce a lot because people will stop moving out a lot and accordingly the prices have dropped a bit. But there are just two permanent solutions, and they are (i) we should increase our oil production completely in the same way as America, which was a net importer for many years in the past, has increased its own production to a level that it has started exporting it and is not importing any more. We will have to do the same. (ii) We will have to move towards green energy and focus on things like solar and wind, plus we have more gas-based projects. And if it is done then I think that over the long term we will get a better solution and we will set ourselves free from these increased costs of petrol and diesel. 
In his next question of the podcast, RJ Salil said, on the front of alternate fuels a lot of discussions are happening on electric vehicles, and it has moved a long way in America. In India, we have hybrid vehicles, and I remember that some five to seven years ago, there was a car of Hinda City that offered an option where you can use alternative energy, but it did not work because they were expensive. Do you think that, now, that the provisions related to electric vehicles and Vehicle Scrappage Act will have a huge impact on the stock prices of several companies who are making these vehicles and future has reached very soon as earlier people had a thought that it will take around 10 to 15 years but now it seems that it will happen in the next three to five years? To which Mr Singhvi said, the government has its focus on electric vehicles because it helps in keeping the environment green, it is cost-effective and reduce our dependence on import on crude. Accordingly, the government is providing a lot of incentives and the Prime Minister has announced the scrappage policy last week, which means the future is for electric vehicles but it transition will take its time – it is not such that the petrol and diesel vehicles will be closed today itself and electric vehicles will start plying on the road, as it has its own challenges – which can range from three to five years. But undoubtedly that not only in India but across the world the future belongs to electric vehicles. So, either we will be hybrid or gradually we will completely move to electric vehicles, which may happen in the next 10-15 years. 
After this, RJ Salil asked, do you think that the car manufacturers will be benefitted a lot, or do you feel that it will involve a lot of investment by them due to which there will be less movement on stock prices in the next one to two years. Mr Singhvi said you have to buy the vehicles; they are the manufacturers as well as those who will run those vehicles. So, the companies that will change with time, adopt new technology and change their products according to the mood of the customers will turn something similar to Apple or else will turn into Nokia. So, the companies that understand what the future is about are changing their products as well as technology accordingly. So, Indian companies, Indian entrepreneurs, corporates are intelligent and smart, almost everyone is quite serious about electric vehicles. At the time, when the government is that serious and it is a technology for the future then I don't think that it will have a lot of impact on most of the companies. Yes, meanwhile, there can be a time in which you may not earn more through the old investments, and you have to make more investment in the new technology and in such a situation the balance sheet of the companies may come under pressure for a period of two to three years. It can be a time, when the auto stocks may fall a bit, but things will improve as soon as the demand is back, and supply gains momentum and plants start producing the electric engines. As long as people will buy the vehicles, auto companies do not have a problem.
Continuing the chat further, RJ Salil said, nowadays, people are asking what unicorn as the valuations of these unicorns is turns up to be in billions of dollars and a number of IPOs of the same are coming and every IPO is hitting long sixes. Do you think that such a golden time is going on in India where most of the valuations have gone such high that we are listening to these valuations of billions of dollars almost every day? Are you surprises by it? To this Mr Singhvi said, it is a matter of surprise and those who think that raising money is an easy task then they should move just one or two generations back and ask their father and grandfather that how difficult was the task in their time. If you had to do any business then you could have taken money from your friends and relatives, as so a number of banks were not there and if they were there then loans were not available at an ease, in fact, banks did not have a lot of money, so from where will they provide loan to you and that to unsecured. If you have enough property and money, then anyone can grant a loan to you. The problem comes when you just have an idea and need money for the same. 
Today, the existing situation in India is a golden situation for all those people who are young, smart and have some entrepreneurial skills and have an idea – a business idea that can grow then today many people are ready to invest money in that idea and are ready to back them. So, I will just appeal to the youths of the country that you will not get a better golden period than this in which people are ready to invest just on your idea and will not look forward to your financial status and the experience that you are carrying. Those who have a belief that you will make it happen then will get money for the purpose. So, I feel that this is the best time for the unicorns and the start-ups just come forward and you will get funds for the same but post that you must not have a target to raise funds, but you should have a target to convert the money that you have received into performance and execution so that you can set a new standard. So, many such IPOs are awaited to come, which are the loss-making companies, but these are new types of unique businesses, and they should be valued differently. If we will think that these are loss-making companies and why should we invest in them then things will not go right but you should have a look at the way, they can disrupt the market and capture the market share and how big they can be in the coming future. On the basis of the same, you should invest your money in these IPOs. 
To this, RJ Salil asked about the tax that is charged on the earnings that are made through the listing gains of the IPOs. Mr Singhvi said, the standard 15%, short-term capital tax gains, which is a standard 15% is charged on it. RJ Salil asked is it included even in the income tax bracket or is limited just to this 15%? Mr Singhvi (smiles) said, it is good that it is not imposed or else if you are in the highest tax slab then you will reach up to 35%. So, short-term capital gains tax is 15% and long-term capital gains tax is 10%, so, if you retain it for at least one year then less tax will be imposed.
Towards, the end of the Podcast, RJ Salil asked about Mr Singhvi's recommendation of the stocks or the sectors where people can invest this week? Mr Singhvi said, the market has continued to touch highs for continuous five days, and it is rare to see in which the Nifty continues to make new highs, however, there is a time for sight correction in the MidCap and SmallCap stocks in the global markets and our markets. There has been a one-sided huge uptrend in which the Nifty has continuously moved from 14,500 level to 16,700. So, after an uptrend of 2,200-2,300 points, slight correction is needed and I think, if the Nifty declines and trends in the range of 15,200-15,300 or slightly below that then you should search for opportunities to buy. You can do two things in this correction, and they are if you have good stocks and you are making good profits in those then book your profit in those, if you have missed the opportunity and maybe you have missed it, then wait for the correction and keep some cash in your bank account as some good stocks will provide you with a chance in this correction. Today, I am not providing any stock to you because you will get a chance to buy from the stocks from those I have recommended in the past because it is difficult to guess which stock will fall the maximum and which will correct slightly in this correction. But the quality stocks that will see a good correction of around 20-40%, you will get a buying opportunity in those stocks in this month. I expect that the market will do good from the September second half to October, and it will be good even for the MidCap and SmallCap stocks and before that you will get 15-20 days where you can invest in quality MidCap. 
Get Latest Business News, Stock Market Updates and Videos; Check your tax outgo through Income Tax Calculator and save money through our Personal Finance coverage. Check Business Breaking News Live on Zee Business Twitter and Facebook. Subscribe on YouTube.
Updated: Tue, Aug 24, 2021
03:16 pm
New Delhi , ZeeBiz WebDesk