Adani Total Gas share price: WHOPPING SOAR! This stock grew from Rs 113 to Rs 1400 in just 1 year
Adani Total Gas share price today is 1328, up Rs 34 or 2.6%. The 52 week high on the stock is Rs 1400 and the 52 week low is Rs 113. This implies that the stock has multiplied over 12 times in the last 1 year. The market cap of the company is near 1.5 lk cr. Investment of Rs 1 lakh in this stock last year would have turned into over Rs 12 lakh over a period of 1 year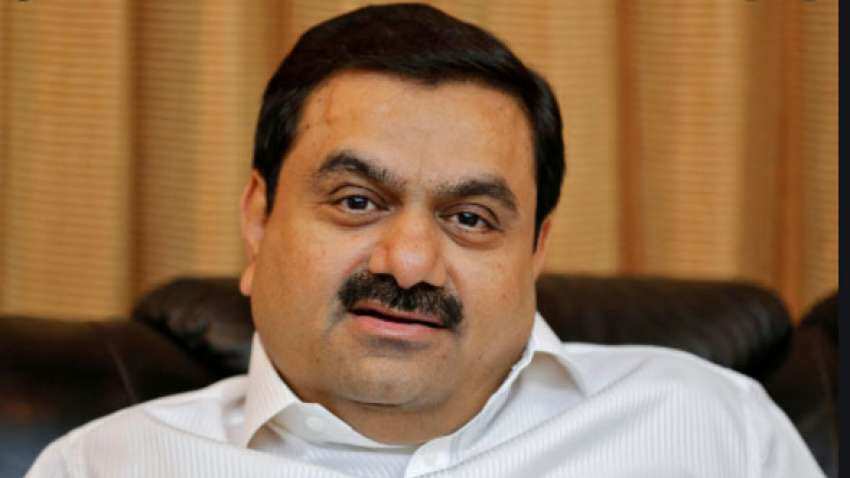 Adani Total Gas is an India-based company which is into the business of development of natural gas. The company is a wholly owned subsidiary of Adani Enterprises: Reuters
Adani Total Gas share price today is 1328, up Rs 34 or 2.6%. The 52 week high on the stock is Rs 1400 and the 52 week low is Rs 113. This implies that the stock has multiplied over 12 times in the last 1 year. The market cap of the company is near 1.5 lk cr. Investment of Rs 1 lakh in this stock last year would have turned into over Rs 12 lakh over a period of 1 year. 
Adani Total Gas is developing City Gas Distribution (CGD) Networks to supply the Piped Natural Gas (PNG) to the Industrial, Commercial, Domestic (residential) and Compressed Natural Gas (CNG) to the transport sector. Natural Gas is a convenient, reliable and environment friendly fuel that allows consumers to enjoy a high level of safety, convenience and economic efficiency.
See Zee Business Live TV Streaming Below:
Adani Total Gas is an India-based company which is into the business of development of natural gas. The company is a wholly owned subsidiary of Adani Enterprises. The firm develops a network for city gas distribution networks to supply piped natural gas to the industrial, commercial, domestic and compressed natural gas to the transportation sector.
In Adani Total Gas Investor presentation, the company mentioned that the combined volume of CNG and PNG achieved 515 MMSCM vs 582 MMSCM in FY20, CNG Stations increased to 217, and added 102 new CNG stations in FY21. Adani Total Gas had over 170 Kms of Steel Pipeline laid in FY21. PNG Home Connection increased to 4.78 Lacs (40,939 New Connections added in FY21). Commercial & Industrial connection now increased to 4,966,  added 500 Customers in FY21 for Adani Total Gas and they Commissioned 3 City Gate Stations (CGS). 
Financial Highlights of Adani Total Gas:
Adani Total Gast Revenue from Operations stood at Rs 1784 cr in FY21 vs Rs 1991 cr in FY20, EBITDA for FY21 has increased by 17% YoY to Rs 749 cr vs FY20 EBITDA of Rs  639 cr. PBT before exceptional Items for FY21 increased by 18% YoY to Rs 646 cr vs FY20 PBT of Rs 547 cr. PAT for Q4 FY21 increased by 8% YoY to Rs 472 cr vs FY20 PAT of Rs  436 cr. Despite Covid, there has been significant progress in developing Infrastructure across Adani Total Gas.
Operational and Financial Highlights: Q4FY21
Combined volume of CNG and PNG achieved @ 166 MMSCM vs 145 MMCM in Q4 FY20.  Average Volume in Q4 FY21 increased to 1.85 MMSCMD as compared to average volume of 1.67 MMSCMD in Q3 FY21 showing recovery of 11% on QoQ basis. CNG Stations increased to 217, 66 New CNG Stations commissioned during the Quarter. PNG Home Connection increased to 4.78 Lacs (21,462 New Connections added in Q4 FY21).  Commercial & Industrial connection now increased to 4966.
 
Revenue from Operations in Q4FY21 stood at Rs 614 cr vs Q4 FY20 Rs 490 cr. EBITDA for Q4 FY21 has increased by 25% YoY to Rs 224 cr vs Q4 FY20 EBITDA of Rs 180 cr. PBT before exceptional Items for Q4 FY21 increased by 25% YoY to Rs 195 cr vs Q4FY20 PBT of Rs 156 cr. PAT for Q4 FY21 increased by 19% YoY to Rs  145 cr vs Q4 FY20 PAT of Rs 122 cr
Updated: Wed, May 26, 2021
03:54 pm
Mumbai, ZeeBiz WebDesk