Will we get to carry outside food in multiplexes?
Movie-goers at large are almost certain that starting August 1 they can consume home-made or outside food and beverages inside the theatre. The reality is far from what's been propagandised.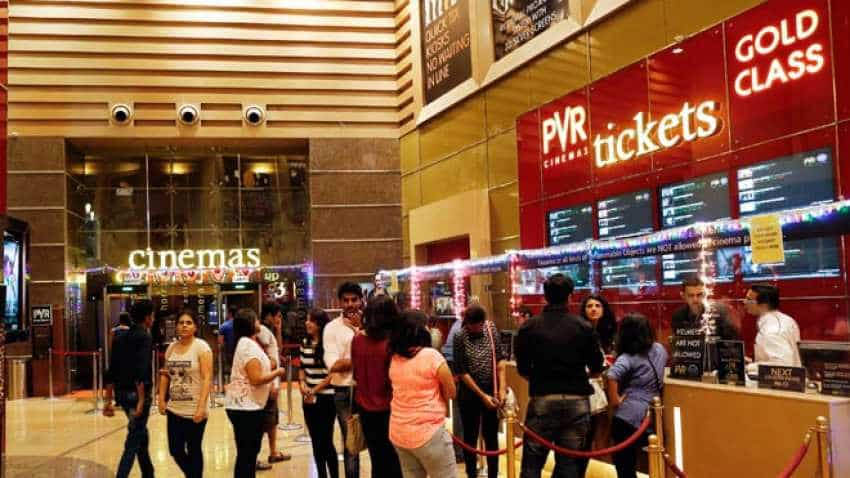 The Multiplex Association of India (MAI) did not mince words while communicating its stance. Image Source: Reuters
Updated: Tue, Jul 24, 2018
12:57 pm
ZeeBiz WebDesk
The recent furore over allowing outside food and beverages (F&B) inside the multiplex theatres in Maharashtra has created a major confusion with no official directive being issued from the Maharashtra government on the same. In fact, movie-goers at large are almost certain that starting August 1 they can consume home-made or outside food and beverages inside the theatre. The reality is far from what's been propagandised.
Clearing the air on this topic, the Multiplex Association of India (MAI) did not mince words while communicating its stance. In a statement issued last week, the MAI said, "None of the multiplex cinema theatres operated by any of our members have received any order, notification or communication to this effect from the government of Maharashtra or any other regulatory authority."
The MAI said that various reports on this topic are based on a statement purportedly made in the Maharashtra Assembly, which seem to suggest that the state government has decided that there shall be no restrictions on taking outside F&B into cinema theatres. Some media reports even suggest that the government intends to control prices at which food and beverages are sold inside the theatres.
According to MAI, a public interest litigation (PIL) on a similar issue has been filed in the Bombay High Court. "At the last hearing, the Bombay High Court granted the government pleader further time to seek instructions and file an affidavit regarding its stand on the matter. The above-mentioned petition is pending and is scheduled to be heard on July 25, 2018," it said.
Deepak Asher, president, MAI, said, "Since the matter is currently sub-judice and since we have no other formal communication from any regulatory authority, we would not like to comment any further on the same."
The statement made by the over-excited Maharashtra state IT minister triggered a southward movement for multiplex stocks post the fears of a business impact on the listed players. The stocks continue to remain under pressure over uncertainties on the government's stance. 
Defending their turf, multiplex operators said that there are various reasons for not allowing outside F&B with safety and security of movie-goers inside the theatre premises being a key area that needs to be ensured by the film exhibition companies. 
"Someone could carry an explosive material inside a tiffin box in the disguise of home food or a food parcel. There could be others carrying alcohol in water or beverage bottles. We cannot afford to risk lives of movie-goers on our premises," said another senior executive from one of the multiplex chains adding that safety and security measures prescribed in Delhi market cannot be different across different states and needs to be uniform across the country as it involves lives of people.
While multiplex operators are well within their rights to disallow outside food in their theatres the uproar is on the exorbitant prices being charged for snacks, food and beverages sold inside the theatre premises. However, multiplex operators said, there is no compulsion to buy from their outlets. Besides, people buying F&B inside multiplexes are fully aware of their purchase so there is no ambiguity in the transaction either.
"We are not forcing anyone to buy snacks, food and beverages from our outlets. It's totally optional. If patrons find it expensive there is an entire food court with choicest of F&B options available outside the theatre premises. Besides, while clearly mentioning (on the ticket) the fact that outside F&B is prohibited, we still allow patrons to take in baby foods, milk etc. on humanitarian grounds," said an senior executive from one of the multiplex chains adding that no multiplex operator across the globe (except in one or two international markets) allow outside food and this is true for entertainment parks, hotels, restaurants, airports or for that matter any private business premises where F&B is a primary or ancillary source of revenue.
On the reasons for exorbitantly pricing their F&B offerings, multiplex chain operators said that's how the business model is structured that makes operations viable. "We are in the highest tax bracket of 28%. Then 50% of the revenue (after provisioning for taxes) goes to the film distributor. What's left with us, in terms of income from film screening, is barely enough to manage costs. The profit after tax (PAT) margins across the multiplex industry are between 5% and 7% and a large part of it comes from F&B revenues and balance from advertising. Our business will be unviable in the absence of F&B revenues thus forcing us to shut down operations," said the executives from multiplex chains.
Pricing of F&B offerings also differs from one location to another so it's incorrect to assume that multiplex chains sell samosa and popcorn or for that matter the dispensed beverages at the same (high) price across their properties in the country.
"What consumers pay for a tub of popcorn in a multiplex theatre in South Mumbai is very different from what they pay in North Mumbai or extended suburbs. Same is the case with movie ticket prices, not just in different locations but also various screening timings during the weekdays and over the weekends. One could be paying a significantly lower price for a movie ticket compared to prime time movie slots. On the contrary, there are people who patronise exclusive properties/ services for the overall movie watching experience paying prices that are way more expensive than what an average movie-goer pays. It's all by choice and not coercion," said a top executive from one of the multiplex chains.
The multiplex industry, which contributes 70% to overall revenues of the film industry and collectively employs over 2.5 lakh people across various skill levels, also has a strong legal case on the grounds of being a 'private business premises'.
"The legal system gives (multiplex) business owners the right to admit people into their premises and also set the terms for their entry. Multiplex chains are operating well-within those rights. The government needs to consider all points of view in terms of the way a multiplex business operates and sustains. I think the government will take a more rational decision as against a populist one that will make our business unviable leading to closures," said a multiplex chain's executive adding in case the government's stance goes against the film exhibition industry, the association will contest the same in higher courts.
All eyes and ears will now be on the PIL petition hearing scheduled on Wednesday, July 25, 2018, wherein court would either announce its stance or extend the hearing to a further date depending on the facts and the resultant discussions between the contesting and the defending parties. The multiplex industry, however, is hoping a resolution to be able to conduct and grow their business while continuing to provide entertainment to the Indian population that's crazy about films and movie stars. 
Get Latest Business News, Stock Market Updates and Videos; Check your tax outgo through Income Tax Calculator and save money through our Personal Finance coverage. Check Business Breaking News Live on Zee Business Twitter and Facebook. Subscribe on YouTube.