Will Rajan meet experts' expectations tomorrow?
Rajan, criticised for following hawkish monetary policy for too long before starting to lower rates, has reduced the benchmark interest rate by 1.5%.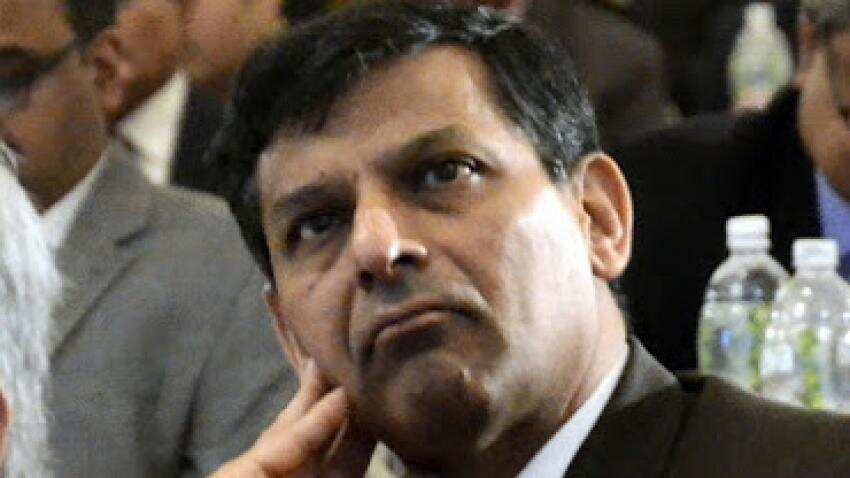 The central bank may wait for the impact of delayed monsoon rains before making the next move. Photo: IANS
Updated: Mon, Jun 06, 2016
08:24 pm
Mumbai, ZeeBiz WebDesk
With inflation rearing its head again and global crude oil prices inching up, the Reserve Bank is likely to maintain the status quo on interest rates on Tuesday at its bi-monthly monetary policy review for the current fiscal, say experts. Besides, the central bank may wait for the impact of delayed monsoon rains before making the next move.
RBI Governor Raghuram Rajan, criticised for following hawkish monetary policy for too long before starting to lower rates, has reduced the benchmark interest rate by 1.5% since January last year. Since then, he has been persuading banks to fully transmit the benefit of the policy rate cut to customers.
The customary post-policy press briefing by Rajan, whose current 3-year term as the central bank Governor ends in September, will also be closely watched for any cues relating to whether he is being given an extension.
IDBI Bank
"I don't see much in this credit policy. Interest rate wise, there would not be any change," IDBI Bank Managing Director Kishor Kharat said. Tomorrow's review could also turn out be the last policy anchored by Rajan if the proposed Monetary Policy Committee (MPC) is put in place before the next review due on August 9.
Shaktikanta Das
Economic Affairs Secretary Shaktikanta Das had said the panel would be vested with powers to decide on interest rates from September onwards. The six-member MPC will include RBI Governor and three nominees of the government, which has a mandate to bring consumer or CPI inflation to the pre-set target.
"RBI is likely to maintain status quo this time. Although there is consistency in inflation numbers, the last numbers do not give much comfort," a senior banker said. "Only positive factor is good monsoon. RBI will wait for it to happen before taking any call on rate cuts," he said.
Retail inflation soared to 5.39% in April on higher food prices, reversing a downward trend seen in recent months.
Nomura
"With inflation remaining sticky at slightly above 5% and growth fairly steady (although uneven), we expect policy rates to stay on hold until end-2016 (including at the upcoming policy meeting on June 7) with the focus shifting to liquidity provision," Nomura said in a report. 
CARE Ratings
The rating agency, CARE said that expect the RBI to maintain a status quo in policy rates for now and retain the repo rate at 6.50%. 
"RBI policy actions would continue to be guided primarily by domestic inflation. Further rate cuts by the RBI can be expected only after a clearer picture of the monsoons and oil price level emerges. The RBI is also waiting for the passage of key global events viz. the US Federal Reserve's interest rate action and the Brexit referendum (Britain's exit from the European Union) and the resultant volatility in domestic markets to make its policy moves".
For the whole year, the agency said that the scope for rate cuts by the RBI are likely to be limited to a total of 25 bps in 2016 i.e. one more rate cut of 25 bps in 2016 which will be in the October-December quarter.
Religare
Believing the same, the financial research institute, Religare said that the RBI will maintain the status quo in its monetary policy review meeting. The reason behind no-rate cut, they said, "We see room for one more rate cut of 25bps in the current easing cycle, but believe the RBI will wait till August until more information emerges on the progress of the monsoon, implementation of the Pay Commission, movements in CPI inflation, the US Fed's stance in its 17 June meeting and the Brexit referendum'.
The company also said that any further further space to cut rates will be a function of disinflation. "We believe that core inflation, which has remained sticky at ~5% during the last 12 months, would have to moderate to entail a sustained fall in inflation levels".
HSBC Global Research
Like others, firm said that they expect RBI to stay on hold in the upcoming 7 June meeting, but deliver a final 25bp cut in August, if early rains keep their promise.
After a gap of six months, RBI had cut repo rate, at which it lends to other banks, by 0.25% to 6.5% in April. It was the first bi-monthly monetary policy review of the current financial year 2016-17. Besides rising inflation, the crude oil price is also looking up and has touched USD 50 a barrel, from a low of about USD 30, and could increase inflationary pressures.
StanChart India
"Personally, I don't expect the Governor to cut the rates on Tuesday given the delay in the monsoons," StanChart India CEO Zarin Daruwala said.
Morgan Stanley
According to Morgan Stanley, the Reserve Bank of India is expected to wait for the onset of monsoon to see the trend in actual inflation before proceeding for the rate cut. However, some experts feel that there is a strong case of rate cut in the upcoming policy.
Yes Bank
"There is a compelling reason for RBI to cut interest rate as inflation is low, monsoon projection is favorable and there is a need to push growth," Yes Bank Managing Director Rana Kapoor said. "My sense is that the central bank would cut rate by 0.25% this time and by similar percentage point in August before the busy credit season starts," he said. 
(With PTI inputs)