Why recent rate hikes won't impact housing sector: HDFC MD Renu Sud explains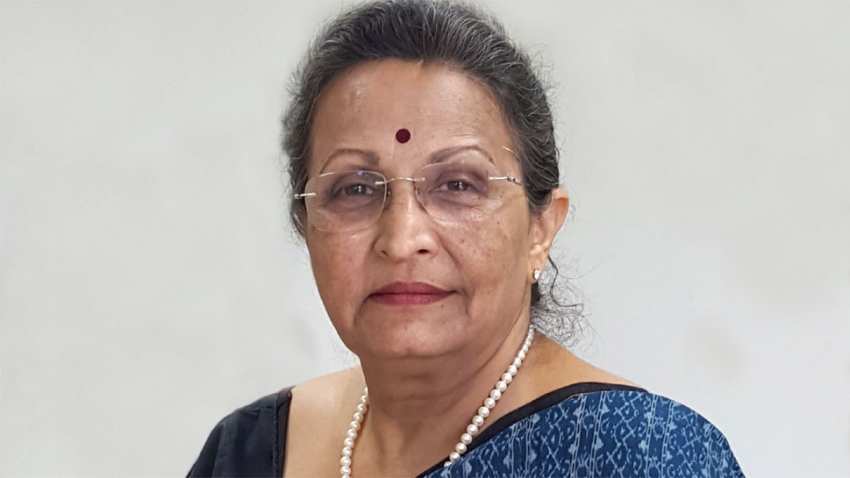 Pradhan Mantri Awas Yojana is a prime reason behind the surge in the housing sector, Renu Sud Karnad of HDFC Ltd told Anurag Shah of Zee Business. Image source: zeenews.com
Renu Sud Karnad, managing director, HDFC Ltd, believes that the recent rate hikes by the central bank will not have any impact on housing demand as it brings no significant change in the loan EMIs. Pradhan Mantri Awas Yojana is a prime reason behind the surge in the housing sector, she told Anurag Shah of Zee Business at Natcon 2018 in Berlin, adding that the premium housing segment will get a boost in next two-three quarters.
Reserve Bank of India (RBI) has hiked the repo rate by 25 basis points in its third bi-monthly monetary policy review of 2018-19. Don't you think that this will have an impact on housing demand that was gaining some momentum recently?
I feel that this slight increase of 20-25 basis points will not bring any huge change in the EMIs of the home buyers, and thus, will not have a great impact on the mood of the real buyers who are in search of a home to live. Definitely, it would have created problems if the rates would have moved up from existing 8-8.5% to 11-12%.
But won't it have any psychological impact on the home buyers?
See, our company has been in the business for the past 40 years and we have provided loans when the rates stood between 14 and 15%. Undoubtedly, such increases will have a small-time impact on the mindset of people, but later, they think of converting their rents into bank EMIs, which may have an impact on their monthly savings for a certain period that lasts for a year or two. I feel such an increase of 0.5-1% is not going to have an impact on the sector.
HDFC's financial results show that there is an increase in demand. Is this demand visible across the board or is it restricted to any particular geographical area or loan size, for example, demand in small-ticket loans but a recession in big-ticket ones?
Recession does exist in the big-ticket projects but I would like to say that it has started ticking. It is recovering but will take time and I would like to say that the growth in big-tickets will be visible in the next six to nine months. I feel Pradhan Mantri Awas Yojana is something that has kicked off the growth in the small-ticket segment. This growth is visible in metros as well as second and third-tier cities.
Reports are suggesting that the sector has witnessed a price correction of 8-10% in the past one year. Have you noticed any price correction?
The price correction has been mostly in the high income or premium segment while there is a slight correction in medium-income houses. I would like to say that there is a correction of 5 to 10%, which can be availed even by visiting the builders. In fact, such price corrections have been made in the past too but they went unnoticed or no one was there to talk about it.
The real estate sector has witnessed three big changes in the recent few years - demonetisation, goods and services tax and Real Estate (Regulation and Development) Act, 2016. Do you think that the outcomes of these three changes have been settled or will take some more time to settle down?
You can get an answer by looking at our post-demonetisation growth results, which were sound enough. Everything settles down with time. High demand is the strength of our system and meeting it will change the face of the sector. The demand is due to the youth and it is here to stay for the next five to ten years.
Reports are there that people are supposed to pay additional 12% GST charges plus 6% stamp duty on new projects and this is the reason that buyers are opting for ready-to-move houses as it will help them save themselves from GST charges. Have you also noticed this?
Yes, it is happening and is visible. It is happening due to the fear among buyers who have a doubt about the completion of the project. In fact, they don't have confidence in these projects. The real estate sector has gone through several ups and downs after demonetisation, including builders abandoning the projects. Secondly, there are regulatory problems related to these projects and you would have noticed it in the Delhi-NCR region. However, new builders have started registering their projects under Rera and this process will help in ending the setback in the next two to three quarters.
The developers have started moving towards private equity (PE) investors instead of banks and housing finance companies.
See, the problem is that the government has banned 13 public sector banks (PSBs) from lending to them. This means very few public banks are there to lend money to them. Many private banks are not interested in investing in the real estate sector. But there are several NBFCs (non-banking finance companies) like HDFC who can lend money for projects. When it comes to PE investors, they sanction loans in no time. In addition, the need for business is allowing them to pursue the opportunities. PE investors have a keen eye on the projects as they monitor the project on a monthly basis. Secondly, RBI has not allowed us to sanction loans for lands, and in the absence of PSBs, the builders have no place to go for loans. That's the reason that they are approaching the PE investors. I think everyone has a role and PE is playing that role.
HDFC has been planning to work on organic and non-organic growth. Are you ready for inorganic growth in the ongoing financial year? If yes, in which segment of housing finance?
See, we have different types of companies in our portfolio and I would like to say that the inorganic growth will be visible in almost every segment. We always look out for good asset in all segments — may it be an insurance company or a housing finance company or an AMC (asset management company).
You were in talks to acquire health insurance company Apollo Munich. Is the discussion still on?
As I said, we are always on a lookout and we share a good relation with Apollo. But they also have a tie-up with Ergo and it is something that is complicating the issue. Talks are not on as of now, but you know that we have shown our interest. Right now, let Ergo and Apollo handle themselves and we will look at it after some time.
Updated: Mon, Aug 13, 2018
01:14 pm
ZeeBiz WebDesk