Why is your petrol, diesel bill rising despite cheaper international crude?
Both petrol and diesel prices in India have reached at 3-year high on the back of higher taxes being levied by the government.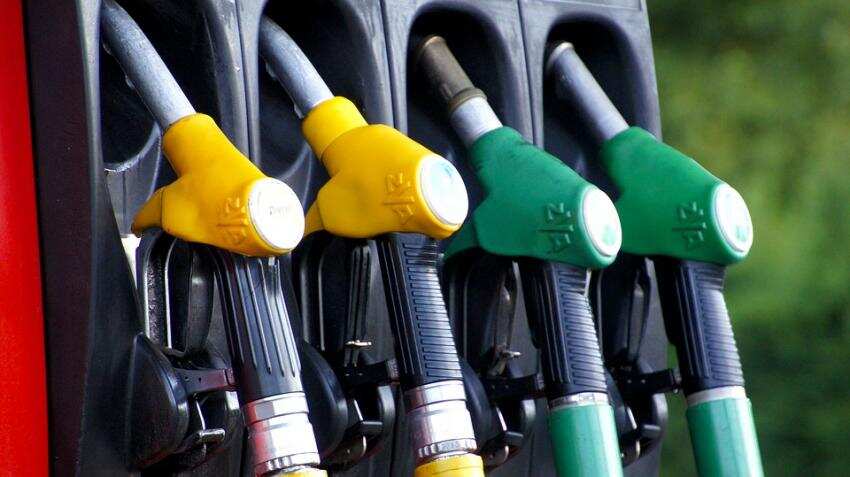 Representational Image. Photo: Pixabay
Updated: Thu, Sep 14, 2017
05:28 pm
Mumbai, ZeeBiz WebDesk
Key Highlights: 

Petrol prices increases between Rs 7 per litre to Rs 10 per litre
Diesel prices surged in range of Rs 4 per litre to Rs 6 per litre
Crude Oil prices in Indian Basket has been hovering near $ 50 per barrel
Earlier this year, India gave up on petrol, diesel subsidy and linked prices to the international markets in hope that consumers will benefit as crude oil prices are trading at a third of their lifetime highs. 
Three months later, petrol and diesel prices in many cities in India have inched up to as close as Rs 80 to a litre. 
Dharmendra Pradhan, Minister of Petroleum of Natural Gas on June 16, tweeted, "After the complete transformation of the LPG sector, dynamic fuel pricing is the first major reform of recent times in Fuel Retailing Sector."
Pradhan added, "With this historic step towards transparency and customer interest, the Indian Oil & Gas industry has joined the elite league of countries like USA and Australia wherein fuel prices are revised on a daily basis."
But what was supposed to be an helping hand for Indian citizen has now turned out to be a nightmare because petrol and diesel prices have now reached a three-year high. 
Petrol prices on September 14, 2017, stood at Rs 70.39 per litre in New Delhi, Rs 73.13 per litre in Kolkata, Rs 79.50 per litre in Mumbai and Rs 72.97 per litre in Chennai – levels last recorded in the year 2014. 
Between June 16, 2017 – till date, Kolkata has seen the highest increase in petrol prices at Rs 9.8 per litre, followed by Chennai Rs 7.53 per litre, New Delhi has seen over Rs 7.33 per litre and Mumbai Rs 6.27 per litre. 
Diesel prices in these cities were no different. On September 14, diesel was charged at a rate of Rs 58.74 per litre in New Delhi, Rs 61.4 per litre in Kolkata, Rs 62.4 per litre in Mumbai and Rs 61.87 per litre in Chennai – once again last seen in 2014. 
In regards to diesel, between June 16, 2017 - till date, Kolkata witnessed hike of Rs 5.79 per litre in this fuel, while Chennai saw rise of Rs 5.74 per litre, New Delhi Rs 5.41 per litre and Mumbai Rs 4.18 per litre. 
Now this comes as a shock considering that the global crude oil prices of Indian Basket has more than halved between January 2014 – till date. 
Where global crude oil price of Indian Basket stood at $109.05 per barrel in June 2014, it tumbled to $28.12 per barrel in January 2016 and has now reached to $53.83 per barrel on September 14, 2017 – a decline of 50.63%. 
SC Tripathi, former petroleum secretary said, "It is true that as international crude prices go down, accordingly domestic petrol and diesel prices also change. If international crude has come down to $50 per barrel then petrol and diesel prices should have been between Rs 18 - Rs 20 per litre for preparing the product."
However, even one would argue that currently crude prices are half of what it was before in 2014, yet the data available indicates that petrol and diesel prices have been moving according to this international commodity in Indian basket. 
From June 16, 2017 – till, global crude oil in Indian has risen by $9.98 per barrel and changes can be seen accordingly in petrol and diesel prices too. 
Tripathi still feels such performance of global crude prices is just a gradual rise which barely effects domestic fuel prices. One key thing that hampers India' fuel is the amount of taxes being charged currently.  
Petrol and diesel prices do not come under the umbrella of Goods and Services Tax – which proclaims the agenda of 'one tax one nation', and thus, as per Tripathi petrol is being taxed at 130% and diesel at nearly 90%. 
In March 2014, excise duty, which stood at just Rs 9.48, per litre has ave now reached Rs 21.48 per litre in case of petrol. While Value Added Tax (VAT) which was levied  at Rs 12.20 per litre on March 2014, is now being charged at Rs 14.96 per litre. 
Ajay Bagga, market expert said, " Last year in an Economic Survey,  when oil prices decline about 65% income was kept with government in terms of taxes and 35% was passed on to the citizen. At present 50% decline in international crude oil has taken place and now the government enjoys 100% income from the oil prices in form of taxes."
From VAT, government earned income of Rs 1,66,378 crore in last fiscal (FY17) compared to the income of Rs 1,29,045 crore in FY14. Income from excise duty touched a whopping Rs 2,42,961 crore in FY17 as against mere income of Rs 77,982 crore in FY14. 
Here's an overview on how the petrol and diesel prices are being charged in India.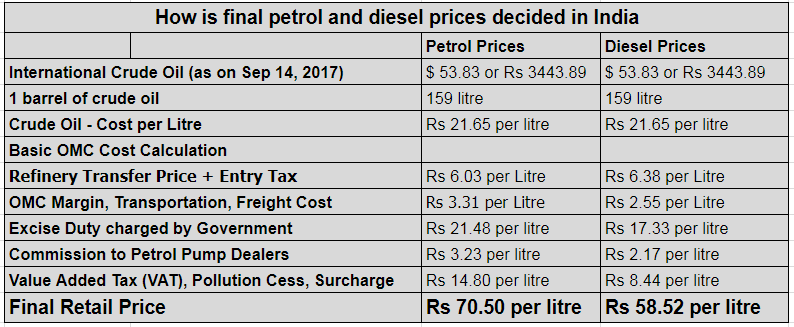 The example above explaines that 70% of total final retail prices of petrol and diesel are tax charges. 
Companies like Reliance Industries, Cairn India Ltd,  Oil India, Oil and Natural Gas Corporation (ONGC) among others in this sector are responsible for producing oil in its crude form. Together these companies cater 25% of India's crude requirement, while remaining is imported. 
This crude is then purchased from Oil Marketing Companies (OMCs), which handle oil from its crude stage till the time it is handed to the dealers in its refined form. Three PSUs- Bharat Petroleum Corporation Limited (BPCL), Indian Oil Corporation Limited (IOCL) and Hindustan Private Corporate Limited (HPCL) control around 95% of this sector; while the two private players- Reliance Industries and Essar cater to the remaining market.
R A Sharma former chairman of ONGC mentioned that such higher rise in tax on petrol and diesel will continue as it is not taken under the umbrella of GST.  Sharma added, "The centre is trying to bring it under this regime but that looks difficult right now, which is why there is no transparency in these prices." 
Pradhan later ruled out government intervention to disrupt the daily revision in petrol and diesel prices, but has also remained non-committal on cutting taxes (excise) to soften the blow of relentless rise in prices since July 3. 
As per the ministry,  the government need to finance huge infrastructure and social projects has to be balanced with consumer needs.
ALSO READ: 
Get Latest Business News, Stock Market Updates and Videos; Check your tax outgo through Income Tax Calculator and save money through our Personal Finance coverage. Check Business Breaking News Live on Zee Business Twitter and Facebook. Subscribe on YouTube.