When tweeting was done by birds and Amazon was a jungle: Modi recalls 1997
Modi said he is the first Indian Prime Minister to come to Devos since H D Deve Gowda in 1997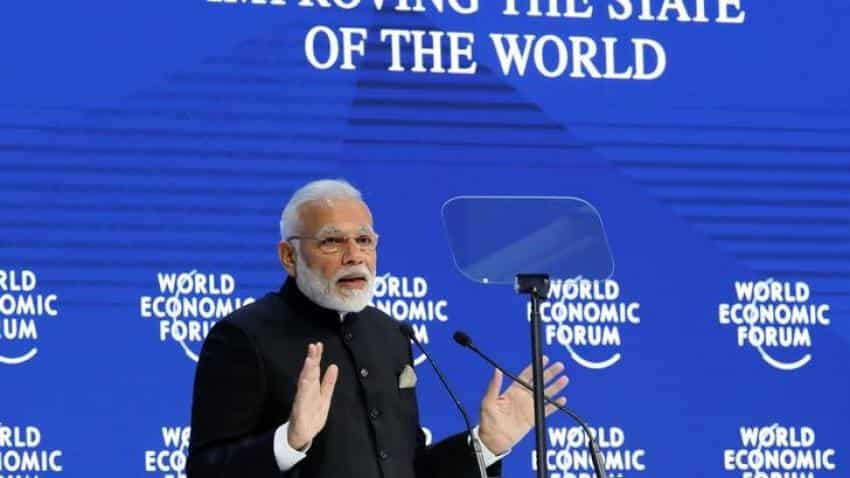 Speaking mostly in Hindi, Modi thanked WEF and the Swiss government for the reception accorded to him. Image source: PTI
Harry Potter was an unheard name, tweeting was done only by birds and Amazon referred to dense forests in 1997, Prime Minister Narendra Modi said today to stress upon the changes the world has seen in the past 20 years.
Addressing the World Economic Forum (WEF) Annual Meeting, Modi said he is the first Indian Prime Minister to come here since H D Deve Gowda in 1997. The Indian economy has changed significantly since then and so has the rest of the world, he noted.
Speaking mostly in Hindi, Modi thanked WEF and the Swiss government for the reception accorded to him.
He also recalled that when Deve Gowda came here in 1997, the theme of the WEF summit was building a networked society. That theme now looks centuries-old as the world today is about big data and so many other new developments, the prime minister said.
Modi said very few people in 1997 had heard of Osama bin Laden and even Harry Potter was an unheard name.
"Also, chess players did not have any big fear of the computer while Google was not there in cyber space and Amazon of that time was about dense forests. Tweeting was done by birds at that time and not by humans," he said.
Modi, however, said at that time also, Davos was ahead of its time and was known for WEF. It is ahead of the times today as well with the theme of 'Creating a shared future in a fractured world'.
"The world is changing fast today and there are new and serious challenges related to peace and security and various other matters.
"We believe in linking people, not bending them or breaking them. But the challenges the world faces are as numerous as they are daunting.
"Mountains of data are getting created and there is a race to control those as the feeling is that the one who gets control of this data would rule the world," he said.
Updated: Tue, Jan 23, 2018
08:10 pm
PTI