What is Rani ki Vav motif on new Rs 100 note RBI will launch soon; has PM Modi link
Rani ki Vav motif has been printed boldly on the reverse of the new Rs 100 note. It takes up a major amount of space on the new currency note. Rani ki Vav is a famous step-well and has been listed as a UNESCO World Heritage Site. Rani ki Vav stepwell is situated on the Saraswati river banks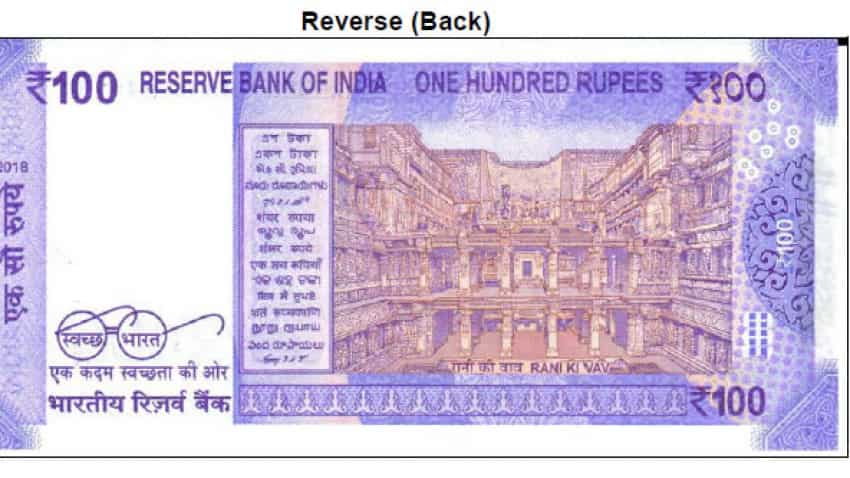 This new Rs 100 note is yet another brand new banknote that has been released during Prime Minister Narendra Modi's almost 5 year tenure. Image source: rbi.org.in
What is Rani ki Vav? A new Rs 100 note will be launched soon said the Reserve Bank of India. This is expected to happen soon and it will be released in the public domain gradually based on the printing and distribution schedule. This new Rs 100 note is yet another brand new banknote that has been released during Prime Minister Narendra Modi's almost 5 year tenure. In the wake of demonetisation, when Rs 500 and Rs 1000 notes were banned, RBI rolled out new Rs 10, Rs 200, Rs 500 and Rs 2000 currency notes. The latest one is the new Rs 100 note and while the note is quite down to earth, what everyone wants to know is what is Rani ki Vav motif that has been imprinted on it in such a big way? Turns out, its origin is in Gujarat and this cultural heritage has now became a pan-India icon that everyone will become familiar with soon enough. Notably, PM Modi was chief minister of the state for a long time.
Rani ki Vav motif has been printed boldly on the reverse of the new Rs 100 note. It takes up a major amount of space on the new currency note. Rani ki Vav is a famous step-well and has been listed as a UNESCO World Heritage Site. Rani ki Vav stepwell is situated on the Saraswati river banks. 
What is Rani Ki Vav?
Rani ki Vav is a beautiful building that boats elaborate carvings and  pillars that was  built in memory of a ruler in 11th century AD. It is located in Patan, Gujarat. This is what Unesco has to say about what is Rani ki Vav: "Designed as an inverted temple highlighting the sanctity of water, it is divided into seven levels of stairs with sculptural panels of high artistic quality; more than 500 principle sculptures and over a thousand minor ones combine religious, mythological and secular imagery, often referencing literary works."  In English it translates into 'The Queen's Stepwell'.
About Rani ki Varv, Unesco description adds: "The fourth level is the deepest and leads into a rectangular tank 9.5 m by 9.4 m, at a depth of 23 m. The well is located at the westernmost end of the property and consists of a shaft 10 m in diameter and 30 m deep."
As far as the new Rs 100 note is concerned, then this is how you can recognise it: 
The base colour of the new Rs 100 note is Lavender. The dimension of the new Rs 100 banknote will be 66 mm × 142 mm.
New Rs 100 banknote is in the Mahatma Gandhi (New) Series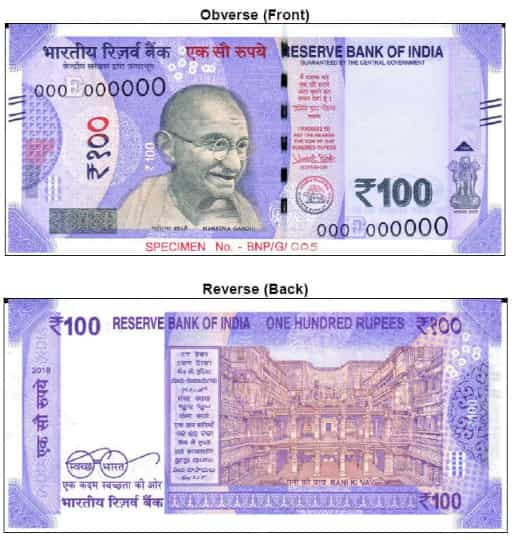 Obverse (Front)
1. See through register with denominational numeral 100
2. Latent image with denominational numeral 100
3. Denominational numeral १०० in Devnagari
4. Portrait of Mahatma Gandhi at the centre
5. Micro letters 'RBI', 'भारत', 'India' and '100'
6. Windowed security thread with inscriptions 'भारत' and RBI with colour shift; Colour of the thread changes from green to blue when the note is tilted
7. Guarantee Clause, Governor's signature with Promise Clause and RBI emblem towards right of Mahatma Gandhi portrait
8. Ashoka Pillar emblem on the right
9. Mahatma Gandhi portrait and electrotype (100) watermarks
10. Number panel with numerals in ascending font on the top left side and bottom right side
11. For visually impaired intaglio or raised printing of Mahatma Gandhi portrait, Ashoka Pillar emblem, raised triangular identification mark with micro-text 100, four angular bleed lines both on the right and left sides
Watch this Zee Business video
Reverse (Back)
12. Year of printing of the note on the left
13. Swachh Bharat logo with slogan
14. Language panel
15. Motif of RANI KI VAV
16. Denominational numeral १०० in Devnagari 
Updated: Thu, Jul 19, 2018
06:46 pm
New Delhi, ZeeBiz WebDesk