We will grow at CAGR of 25% under Affle 2.0 strategy: Anuj Khanna Sohum, Affle India
Anuj Khanna Sohum, CMD and CEO, Affle India, talks about June quarter results and the impact of the pandemic on the numbers, outlook for FY21, merger and acquisition and mobile advertisements among others during a candid chat with Swati Khandelwal, Zee Business.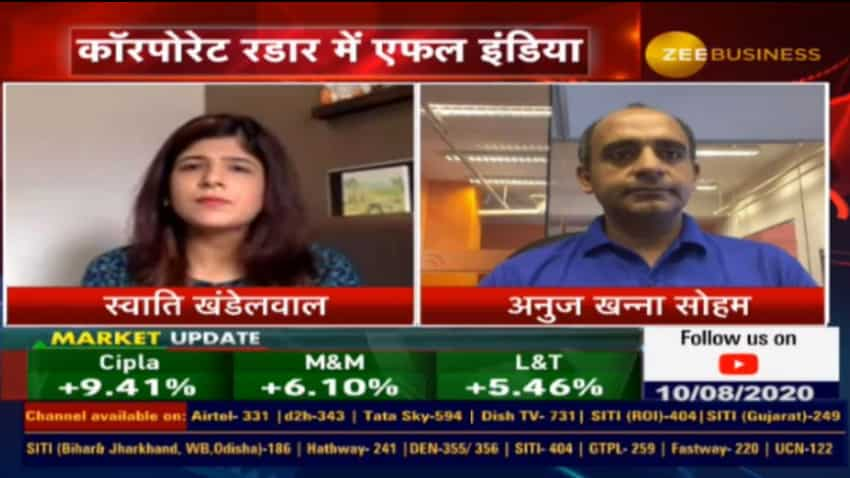 We will grow at CAGR of 25% under Affle 2.0 strategy: Anuj Khanna Sohum, Affle India
Written By:
Jitesh Kumar Jha
Updated: Tue, Aug 11, 2020
01:18 pm
Mumbai, ZeeBiz WebDesk
Anuj Khanna Sohum, CMD and CEO, Affle India, talks about June quarter results and the impact of the pandemic on the numbers, outlook for FY21, merger and acquisition and mobile advertisements among others during a candid chat with Swati Khandelwal, Zee Business. Edited Excerpts:
Q: If we see on Quarter-on-Quarter (QoQ) basis then there was an impact of the pandemic. So tell us about the kind of inputs you are getting? Can you say that the impact of the pandemic has come to an end, if yes, then tell the kind of trends that has emerged?
A: The first anniversary of our IPO was held on Saturday, August 8, 2020, and our board celebrated the IPO anniversary by conducting a meet throughout the day, which ended with the announcement of the results. So thank you to all shareholders for the trust. The results are good but we will have to see that Q1 was the most difficult quarter for us. Given the macroeconomic factors, the COVID-19 has a very negative and strong impact in April and May but in June the business bounced back in the way that it exceeded all our expectations. And our CPCU business, which is our main business and we term it as cost per converted user business, had a run rate of Rs 1 crore per day in June, which was higher than any expectations that we had. So, the overall result for the April-June quarter is based on the performance of June. This also becomes important because the run rate that we achieved in June will decide our performance further. The June's run rate of the total business, like CPCU business as I said about Rs 1 crore per day, has turned up to be a very blessed outcome of Rs 108 crore. If the monthly run rate of Rs 108 crore that emerged from June is seen on the quarterly basis then the quarterly run rate turns up to be Rs 108 crore, then it must be accepted that there has been a blessed recovery in June. We are hoping that our numbers will not be below a century in the second quarter and this is the kind of recovery that has happened.
Q: Do you think that the revenue growth is sustainable and what is your outlook for complete FY21?
A: Our performance in June has been better then these numbers but if we take an average of April, May and June then the result is an aggregated one and is based on the three months. For further momentum, we have taken a very important statistic that 76% of our revenue in the first quarter, i.e. January, February and March, came from the COVID resilient categories. Interestingly, 10 key verticals of the E, F, G and H categories, namely e-commerce, entertainment, education tech, fintech, food tech, FMCG, government, grocery, gaming and the healthcare sector, has contributed more than 90% of the business in the first quarter. So, the categories that were providing 76% business in a quarter have provided more than 90% business in the quarter, which means there is a shift in demand and the demand has come from the COVID resilient categories. They are high-growth categories and this means that these customers were giving good business to us amid COVID and this demand has resulted in good results in the quarter and going forward the trend is positive. Besides, I don't provide short term guidelines. But under Affle 2.0, a strategy planned from 2020 to 2029, we are running with a view of 10 years. So, we have ongoing guidance for at least 25% CAGR growth in revenue. We are convinced and confident about it and are working hard to attain it. 
Q: Over the last few months, you have completed some interesting merger and acquisition (M&A) like stake acquisition in Appnext, Mediasmart, IndusOS. How many new acquisitions opportunities you are looking at in the rest of FY21 and what can be the ticket size of these acquisitions?
A: First of all, let us see that the acquisitions which were completed earlier have been integrated properly and functioning well. In this April to June quarter, we earned a profit after tax (PAT) of almost Rs 19 crore. Interestingly, Appnext and Mediasmart had 5-6% contribution in that Rs 19 crore. So the inorganic business that we have bought is impacting our bottom line and at a faster pace Vs our expectation. This gives us confidence the inorganic strategy is working and it is important because our company has always been doing a bottom line sensible cash flow positive sensible business. So, if every business unit remains profitable and has a good contribution then it will give us the courage to keep doing so further. It is a very important fact that turnaround has been achieved in all the acquisitions that have taken place so far and they are impacting our profitability. We expect that these businesses will have a contribution of 7-10% on our PAT in this financial year (FY21). Going forward our strategy is based on two V's and we call them as Verticalization and Vernacular. The first V, Verticalization, as I told you earlier that we are focusing on the top 10 key verticals and that is from the customer point of view. Advertisers are coming only from the verticals whose growth is sustainable and expected on a long-term basis. The second V, Vernacular, it is expected that around 300 to 400 smartphone users will come in India in the next 3-4 years. Interestingly, these users will like to communicate in their indigenous language instead of English, Hindi or some other language. They will also consume the vernacular content including the advertisements. This is termed as vernacular strategy under which we acquired IndusOS, India's largest independent indigenous app store which supports indigenous languages. The users can go to the App Store and download the apps that are available in his/her language. It also has scopes beyond this facility and we are looking forward to such investments, which will support our strategy and can provide a big platform for good growth to the company.
Watch Zee Business live TV below:
Q: We are seeing a trend in which the time spent on the mobile is increasing. So what is your view on the growth of mobile advertisements for the next 2-3 years? Do you think that exponential growth can be seen in the segment?
A: This is a very good question because if we have a look at a three-year-old trend then the countries were ranked based on internet adoption. 160 countries were ranked in it and in 2017 India was ranked somewhere between 150 and 160, i.e. we were in the lower part of the ranking. But in the recent ranking, India has been ranked at the top position across the world, i.e. India has been ranked at number 1 position in the list of 160 countries in terms of the number of mobiles that are being used, how many applications are being used and the time spent on the mobile. And India is the most important market for Affle, this is why it has been named as Affle India, although our business is global. Our 50% business comes from India and roughly another 50% comes from the international markets. But, India is the most important market for us and that's why we have a special focus in this area. So you must have noticed the kind of internet adoption in India and the huge amount of time that we all spend on the screens. So the advertisers don't have an option and if they want to connect with the consumer then they will have to allocate their biggest advertisement budget on the mobile. This trend is going to be a mega-trend they, the advertisers, will have to spend on mobile marketing for at least the next five years. They can't ignore mobile because the consumer is spending a lot of time on mobiles. Here also there are two big consumer segments and they are (i) Youth, who are spending maximum time on the mobile and (ii) rural segment, where people may not have television or any other device but depend on mobiles. So be it be affordances or preferences, both, the youth as well as the rural segment spend a lot of time on mobile. So in the long term, these two segments are going to be of strategic importance for the advertisers.
Get Latest Business News, Stock Market Updates and Videos; Check your tax outgo through Income Tax Calculator and save money through our Personal Finance coverage. Check Business Breaking News Live on Zee Business Twitter and Facebook. Subscribe on YouTube.