We want to make India a plane and drone manufacturing country: Suresh Prabhu to Zee Business
As a commerce minister, I would like to inform you that in one year (FY 2017-18) our exports registered big growth. And this year, we have plans to increase it further and for that purpose, we had a meeting with all line ministers and created DGFT, Suresh Prabhu, the Minister of Commerce & Industry and Civil Aviation, told Anil Singhvi, Managing Editor of Zee Business.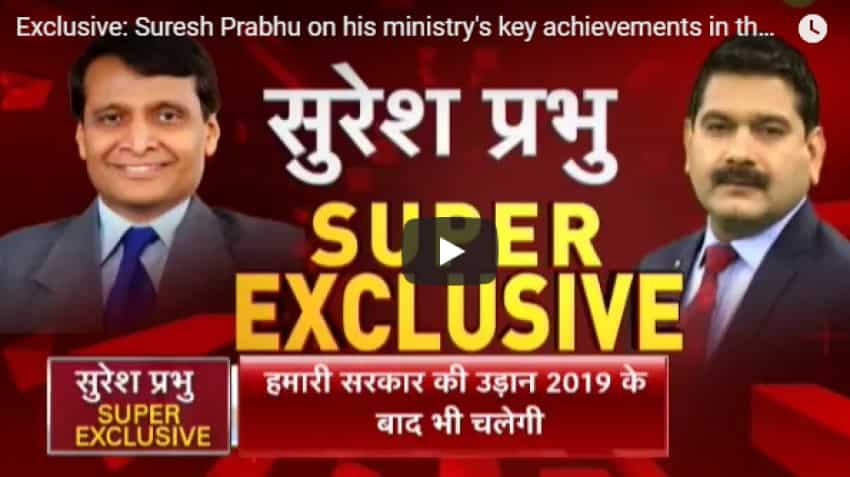 Updated: Thu, Jun 07, 2018
08:24 pm
New Delhi, ZeeBiz WebDesk
Suresh Prabhu, the Minister of Commerce & Industry and Civil Aviation, in an exclusive interview with Anil Singhvi, Managing Editor, Zee Business, said that the launch of UDAN scheme and other ongoing work in the aviation sector over the last 4 years are historic actions in themselves. He added when it comes to the aviation sector, then the government has plans to make it (planes) in India under the Make in India scheme and that too during the fifth year of the Modi government. 
These planes will be developed in India to meet the rising traffic that is likely to get a boost in coming times from airports that are being created in every nook and cranny of the country. Here are the edited excerpts of the interview: 
Q: Prime Minister Narendra Modi led NDA government has completed 4 years in power. On this occasion, I would like to know, what are the 4 big achievements of Suresh Prabhu?
A: First I would like to inform you about my work as Railway Minister. The portfolio with which I was associated for the longest time of three-years in these 4 years.
Railways was facing an acute shortage of investment when I took charge. And this shortage was leading to non-fulfilment of several essential services like the renewal of the tracks or availability of escalators at the stations among others. So, keeping all these things in mind, we announced the Railway Budget of Rs 8 lakh 54 thousand crores. It was a historic budget in itself. The first tranche of this budget, which was of Rs 1 lakh 50,000 crores, was borrowed from Life Insurance Corporation (LIC). This tranche helped us in sanctioning the plan of doubling and tripling of 20,000-kilometre tracks, electrification of 85 per cent of Railway lines, availability of Wi-Fi services at stations, e-catering facility, and cleanliness in the trains and at the stations. We were able to provide trains like Antyodaya and Tejas expresses to people. Apart from this, we also created a plan to save Rs 41,000 crore in 10 years through electrification. In addition, we also issued 85 per cent tenders of the Rs 85,000 crore projects within 1 or 1.5 years. Same goes for safety, which has increased year-on-year and we hope that we will be able to reduce it this year too. 
When it comes to Aviation, the field for which I am responsible, right now. I feel, the kind of work that we have done in the aviation sector in these four years is historic in itself. For example, we have been able to achieve the dream of Prime Minister Narendra Modi in which a person wearing floaters can also fly in a plane (Hawai Chappal Pehenne wala  bhi Hawaai safar karein). Today, we have plans to open 56 new airports with an aim to provide air travel facilities to people in almost every region of the country.
Undoubtedly, the creation of these airports will increase air traffic and call for more planes. To meet the same demand, we have planned to make it in India under Make in India. 
As a commerce minister, I would like to inform you that in one year (FY 2017-18) our exports registered big growth. And this year, we have plans to increase it further and for that purpose, we had a meeting with all line ministers and created DGFT.  
In addition, you would have seen the latest RBI data that says that the industrial sector of the country has seen a leap in growth in past 6-8 months. In yesterday's presentation, RBI retained growth projections for the current fiscal at 7.4 per cent on hopes to further boost investments and higher consumption. For that purpose, we are going to bring a new industrial policy, which will be approved soon by the Cabinet. Our rank in Ease of Doing Business, has turned better, from 144th rank to 100th rank is a commendable achievement. Now, we are trying to take the ranking below 50. 
Besides, to increase the GDP of the nation, we have devised a concept of District Layer Growth, under which we will try to develop every district of the country. 
Q: What do you intend to do in the last year of this term?
A: In the aviation sector, we have constituted a task force that is responsible for preparing a road-map for manufacturing of passenger aircraft in the country. Earlier, on the sidelines of WTO (World Trade Organisation) meet in Paris, I had a meeting with top officials of Airbus and discussed possibilities of the aerospace giant to manufacture aircraft in India. Now, I will be visiting the US to fix the ongoing conflict between us. During this meet, I have called the CEO of Boeing and during the meet, I will invite him to manufacture aircraft in India. 
The second is drones. I say their use is going to expand. I feel, instead of importing them we should manufacture them here. We are also developing industrial corridors with an aim to encourage new industries in those regions. 
To help our farmers, we have drafted an agriculture export policy, which will be approved soon by the Cabinet. To support the policy, we will be developing agri-export hubs at identified centres across the country and will help farmers to export their products to countries like UAE, Saudi Arabia and other Gulf countries. We can export fruits, vegetables and flowers among other things to these countries. 
Q: President Trump is threatening the world in the form of a trade war. His views are a bit scary when it comes to India. Tell us, how are you going to tackle this problem, so that the question mark on our exports is solved?
A: It is a big problem as in this fight no one has been left untouched, may it be America's close friends like Europe, Canada and Japan. I will not say that we will take them together, but will try our best to make them understand our point of view. Our point of view is that we are an economy that never goes or plans something wrong against any country. Thus, the US must not be worried as it has no problem with us. 
Q: The US is in a mood impose new sanctions on Iran, a country with whom our relations have always been good. Interestingly, India is working on a deal under which it will be paying the Persian Gulf nation entirely in rupees for oil imports. It is understood that the banks are saying to finish it by the first week of August as the deal will not run post that period. So what is the government doing on this?
A: Yes, it is true that our relationship with Iran is not limited just to business, but we have a historic and civilisational relationship with each other. US imposing sanctions on a country doesn't mean that we should end our relations with them. We can have sound relationships with both. I feel the US will understand our point of view as it knows that we have a transparent foreign policy and we are not one of those who will do something against anyone in silence. 
Q: My next question is related to the civil aviation sector. We know that there is a pressure on you to make sure that the common man can afford flight tickets and at the same time airlines make money too so that they can expand. So what is your plan to keep a balance between the two?
A: Yes, it is true. If companies fail in making money then they may not expand, which means a loss to the country. Similarly, the fliers must not suffer while travelling due to the high costs. 
The solution to this challenge is the Passenger Charter . The facilities provided under the charter aim at lessening the pressure on the traveller as well as the companies. 
Watch this Zee Business video
Q: No one is ready to buy the Maharaja, .i.e. Air India. Will your government be able to sell it this year?
A: After deregulating the airlines, implementation of UDAN scheme and developing new airports across India, the government felt that we are not in a condition to fly Air India anymore and it came up with a plan to transfer its control to someone else. But failed in getting someone who wants to handle it. 
Now, we have to think about how to run Air India in the best possible way without incurring the losses and how to benefit the common men who can travel on it. 
Get Latest Business News, Stock Market Updates and Videos; Check your tax outgo through Income Tax Calculator and save money through our Personal Finance coverage. Check Business Breaking News Live on Zee Business Twitter and Facebook. Subscribe on YouTube.