We have to change the face of Uttar Pradesh to be economic superpower: Adityanath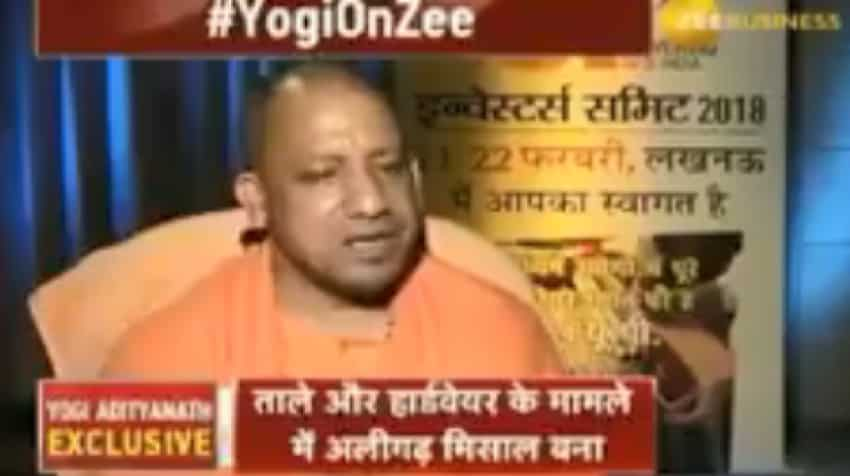 'We have also developed separate policies for the promotion of IT sector in the state'. Image source: Zee Business
The Yogi Adityanath government is gearing up to organise the Uttar Pradesh Investors Summit (UPIS) 2018. The summit will be held in Lucknow during 21-22 February, 2018. The two-day event aims at showcasing the investment opportunities and potential in various sectors of the state. 
 In an exclusive interview with Mihir Bhatt of Zee Business, Adityanath talked candidly on various issues including his government's actions to make the state an investor-friendly avenue. Edited excerpts:
 
A quote from the summit that reads, 'Powering New India', is a change in thought. It says, besides being an influencer in the national politics, Uttar Pradesh is going to play a big role in the economic policy of the country and it is going to be an economic superpower in future. What does it mean? 
Our Prime Minister Narendra Modi has always said that India can be an economic superpower in the world but to achieve the tag, we will have to change the face of Uttar Pradesh. 
I feel, how the country will progress at least when our state, Uttar Pradesh, with a total population of nearly 22 crore remain sick and bad. For that purpose, the state will have to change and contribute to Prime Minister Modi's effort to make India economic superpower. It can be achieved only if we all discharge our duties. 
 
After a long time, we are seeing a summit that is making a buzz across the nation as well as in the corridors of big industrialists who will be participating in it. Should we expect that this summit will be better and fruitful than other summits that held in other states? Or this summit be considered as the big first step to place Uttar Pradesh's identity as an economic power in India? 
This is an opportunity for us.
 I feel, if the Almighty has blessed the state with almost everything like availability of water resources, foodgrain, sugarcane, connectivity along with the biggest population, of which maximum are youth, then why should we let the state to be counted among BIMARU states? 
 Largest population means a scope to create the largest market and market means investment. The summit is an answer to the same. 
 We have invited almost every industrialist and investors in the summit and any investment will help us create employment opportunities for youths of the state. I feel, about 8,000 delegates have registered their names for the summit. Currently, papers for about 700 Memorandum of Understandings (MoUs), which will be signed during the summit, have been prepared. I hope, the number of MoUs will go up by the date when the summit will start. 
 I would also like to inform about 15-16 sectors, identified by us where investments can be made. We have framed policies, including land policy, related to them. In addition, in the past 10 months, we have worked hard to change the traditional image of the state where the files remained trapped in the offices due to bureaucratic mindset. We have also changed the face of law and order of the state. These changes will make investors or people feel safe from the clutches of administration as well as gangs. 
 In addition, our Prime Minister Narendra Modi, who is a Parliamentarian from Uttar Pradesh, and President Ram Nath Kovind belong to Uttar Pradesh, there is no force that can stop us from being the best in the nation. 
 
Sir, you mentioned about the challenges that your government faced in previous 10 months. I would like to know about the level of satisfaction that you have with the work that your government has done in past one year, and in 'law and order' situation of the state? 
We tried our best to change things where it seemed that there was a problem or confusion we took guidance on it. We also asked for solutions from people from different sectors and proceeded on it. 
On the law and order front, I can say that it is better than several other states. But, every better thing comes with a chance of improvement and that improvement will become soon in our state. 
 
When it comes to startups, it seems that you are quite excited and several policies related to the same are the proof of it. You are trying to develop the country's biggest incubator in the state. How much progress has been made and what will be the role of the summit in this regard? 
You can see, the terms like Startup, Standup and Digital India came into existence in the country in 2014, the year when Narendra Modi was chosen as the Prime Minister of India. Ironically, it was never implemented in Uttar Pradesh. But, our government has started working on it.
You will be surprised to know that the vocational education, technological education and Pradhan Mantri Kaushal Vikas Yojana (Skill development plan) has been interlinked in the state. About 6 lakh youths have enrolled themselves in the courses being offered under the scheme. Out of these 6 lakh students, 2.5 lakhs have completed their courses, of which 1.40 lakh students have been placed in different enterprises. Today, they are earning between Rs15,000 to Rs40,000 per month. 
Our work plan under startup is to encourage everything that we have with us. 
Today, we have about 16,500 branches of different banks in our state. And every branch has the responsibility to offer a loan of up to Rs 1 crore to at least one SC/ST entrepreneur and a female entrepreneur. In addition, under Mudra Yojna, the banks were asked to allocate a loan from Rs 50,000 to Rs 10 lakhs to youth entrepreneurs for starting their own business. But we found there was no work in this direction. 
Later, I went to Mumbai and had met with the CEOs of different banks and asked them for a help in regard to startups. In the state-level, during a bankers committee meeting, I asked them why they were not supporting the state in this regard and requested them to cooperate with the state. Interestingly, they gave their nod for the same. 
Secondly, to support the idea of start-ups and generate employment in the state, we have launched 'One District, One Product' scheme. Under the scheme, we will be promoting one particular traditional product of the district, like locks from Aligarh, crockery from Khurja, brass goods from Moradabad, chicken work from Lucknow, carpet from Bhatoi, scent from Kannauj, sports item from Meerut, leather goods from Agra, glass goods from Firozabad, among others. This promotion will help us regain number one position in MSME sector in which we were in leading position once. This promotion of the traditional good of a particular district will help people to be self-employed and create new avenues of employment for others, that too, at a small investment. 
Through this 'One District, One Product' scheme, we will be connecting at least 20 lakh youths with the MSME sector in next three years. 
The objective of the summit is to create an investment environment. Apart from implementing our plans and policies, we are also strengthening our infrastructure to support the environment. In the name of infrastructure, we are developing two expressways, metros, and an international airport at Jewar. The two expressways will be developed in the eastern part of the state and Bundelkhand; while the metros are being developed in Kanpur, Agra and Meerut. Both expressways will be provided with an industrial corridor on both sides. 
 Should we expect that in the coming years, Uttar Pradesh is going to be among the largest contributors to the GDP of India? 
Yes, it is going to be the number one contributor to the GDP of the country in future, but, I can't provide a timeline for my claim. The kind of support being provided by the central government will help us in being the number one contributor to the GDP of the country. 
 
You were talking about MoUs, is there an estimate of how many MoUs will be signed during the summit?
Let's assume that it will be the best till now.
 
You were talking about MSMEs. It is true that once upon a time Uttar Pradesh was the largest hub of MSMEs in both organised and unorganised sector. But now, entrepeneures have moved out of the state. Your actions will definitely help the emerging entrepreneurs. But, is your government has any plan to bring back those who have left the state, and establish them back? 
Yes, arrangements for their return have been planned and that is the core idea of 'One District, One Product' scheme. In addition, we are also working for those who are present by mapping and promoting their products, their technique and designs, among others. 
 
While going through the focus areas of the government that are mentioned on the website, I found that ITEs and defence are given prominence. What is the vision behind it? 
See, the IT sector has a lot of potentials and we have such type of youths in our state. We have also developed separate policies for the promotion of the sector in the state. 
In addition, when comes to the defence sector, we are creating a separate defence corridor on the Bundelkhand expressway. I believe this corridor will attract an investment of up to Rs 1 lakh crore in the state. 
 
Do you think that Uttar Pradesh is going to be a focal/ centre point for Prime Minister Narendra Modi's dream project, Make in India? 
Yes, it is going to be a central point for the project. 
 
Sir, your first year in office is going to end in recent future. What will be the priority areas of your government in the coming year/s? What are your plans to create a new Uttar Pradesh or "Uttam Pradesh"?
In last 10 months, we have worked for the farmers of the state. Till date, we have transferred about Rs 80,000 crores in the accounts of farmers through Direct Benefits Transfer (DBT). 
Today, the farmers are happy due to the power supply in their villages. We are working on the new proposed plan to raise the minimum support price (MSP) for agricultural commodities to 1.5 times of the production cost. Implementation of the plan will definitely bring a smile on the faces of the farmers. 
In the coming 6 months, we will be creating a system to provide water for irrigation in at least 1 lakh hectares of land. Strengthening of the state's infrastructure will definitely pull more investment in the state. 
 
After the summit, a team will be given two tasks and they are: 
1. Implementation of all plans that have been prepared for the promotion of MSMEs under One District One Product. 
2. Implementation of all MoUs that will be signed during the summit. Accountability for implementation of the MoUs will also be fixed. 
The team will be asked to complete the work within a decided timeframe. 
Besides, we have a plan to conduct a global investors summit after a year. I feel by then we will be able to change the atmosphere of the state with a claim that Uttar Pradesh is number one state for investment in the country. 
Sir, you talked about accountability. I would like to share the problem of a section of citizens of Uttar Pradesh, residing in NCR, who are facing the problem of allocation of their homes by the builders. I acknowledge your government's considerable efforts in this direction. Will you like to send some message to those families today? 
Yes, I am aware of the problem. The dispute is mainly concentrated in Noida, Greater Noida and Yamuna Expressway. 
A Group of Ministers has been formed to look into the areas of issue and dispute that exists between the buyer and the vendor. 
Besides, we have ordered an audit of each vendor after which we will be recognising the vendors who are capable of completing the projects of their own and who need a support in form of co-developers. In addition, we will be taking action against those who do not fall in any of the two said brackets. 
At the same time, I would love to inform the two lakh old home buyers that 40,000 homes have been completed and work on other 40,000 homes will be completed in the next 3 months. 
Get Latest Business News, Stock Market Updates and Videos; Check your tax outgo through Income Tax Calculator and save money through our Personal Finance coverage. Check Business Breaking News Live on Zee Business Twitter and Facebook. Subscribe on YouTube.