Virusvault.in Helping Fellow Indians To Fight Against Corona Virus With The Help Of UV Technology
It's the age of Corona Virus we are living in. The grey times, where survival has got an all-new set of rules. Social Distancing, Masks, Sanitizers and Disinfection Tunnels and Chambers, all this have become a part of our day to day life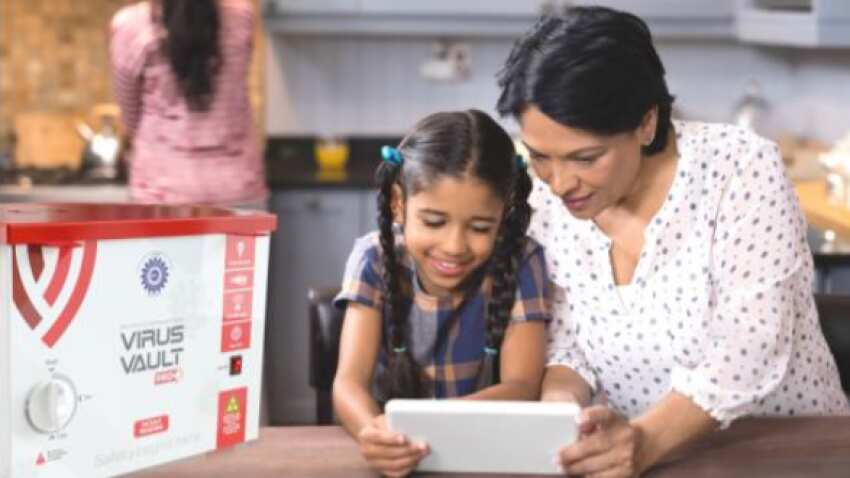 Virus Vault products assure the safety of thousands of these users who have become prey to this foul business.
Updated: Wed, Dec 02, 2020
11:48 am
New Delhi, ZeeBiz WebDesk
It's the age of Corona Virus we are living in. The grey times, where survival has got an all-new set of rules. Social Distancing, Masks, Sanitizers and Disinfection Tunnels and Chambers, all this have become a part of our day to day life. One more Innovation to this has been to use UV lights to combat the situation. Thousands of Devices and products have flooded the market, claiming to remove or kill the Coronavirus from our day to day utilities. It sounds relief, but what if they do not. It merely makes each of the users, standing openly more than ever to the fatal risk of infection. We have Virus world here with us, who is here to help thousands of people to overcome the Corona Virus. Virus Vault products are here to help in the fight against the COVID-19 virus.
Virusvault vs. Covid-19
Virus Vault working in this UV domain for so long, we felt to go for a serious reality check around all this. Unfortunately, it ended up coming across another alarming situation to face—the game of earning money at the cost of human lives. Hard to understand, but it's a dark reality, let us tell you how. To understand the science behind this, you must know that UV light travels through a spectrum of varying wavelengths, out of which UV light with a specific wavelength of 253.7nm is considered capable of killing microorganisms that cannot pass through even a 0.4 mm plastic sheet which is used to hold student's ID cards in schools. Now surprisingly, 99% of these devices have installed their UV lights behind a layer of glass to come through, which allows the blue light to pass through but can never give passage to
253.7 nm UV light.
Virus Vault Advice For The Public
Virus Vault products assure the safety of thousands of these users who have become prey to this foul business. Their lives are at higher risks. So if you have got one such UV lights device for you, we request you to please pay a free visit to our lab, and we will test your device to make sure that you are safe. And thankfully, if you are thinking of buying one for now, here we have our very own trusted and tested disinfection box to ensure your safe survival during this COVID-19 situation. The Virus Vault is here with us.
VirusVault Pro and VirusVault Pro plus devices are the first product in India, which has been validated by CSIR and is certified to deactivate up to 99.99 % of Corona Virus, infected on the surface of thousands of objects within our reach. These devices are lightweight UV-C Chambers that use UV light of
253.7-nanometer wavelength, which is extremely useful and proven worldwide when killing microorganisms and pathogens like the Coronavirus. VirusVault uses high-end technology and ensures that no one touched the UV lamps with a bare hand while manufacturing or assembling products because it carries oil. It may block the UV rays it may contaminate the function of the product. To ensure that virusvault.in the testing team double-checked each product before sending it to buyers.
Benefits of VirusVault Pro and VirusVault Pro Plus
It is designed to benefit diverse conditions, be it home, offices, hospitals, shopping outlets, and whatnot. It can be used to disinfect the surface layer of all routine items such as groceries, stationery, types of equipment, gadgets, and all other utilities.
There are two variants available of different sizes with 6 and 8 UV lights inside for effective cleaning of viruses to meet everyone's needs.
An Innovation which is the outcome of joint efforts of two leading names from the industry, The Motras Scientific and The RP Lasertech, The VirusVault promises to be your life saver amidst this Corona Pandemic.
Virus Vault Functions
VirusVault is an action by RP Lasertech Pvt. Ltd & MOTRAS Scientific Instruments Pvt. Ltd. RP lasertech is a leading manufacturer, suppliers & exporter of high-precision sheet metal components & fabricated products based in IMT, Manesar. The company has robust engineering process capabilities, having implemented the art infrastructure & the latest advanced machinery.
MOTRAS Scientific Instruments Pvt. Ltd. an object of the prestigious ELCINA Award (Electronics Manufacturing Industries Association of India) 2nd position in the excellence R&D level for the best design of Spectrophotometer (MSE category) for the year 2018-19 & selected in Top 10 Sophisticated Analytical instruments Producing company.
Virus Vault Motives
It is introducing Virus Vault, one of the most advanced UV Sanitization box. A perfect mixture of technological excellence and robust build quality for optimum efficient performance. It is available in 2 different sizes of 17 ltrs. & 42 Ltrs. It is an ideal choice for homes and offices to disinfect various items by killing 99% viruses and bacteria in just 6 minutes. Their primary purposes are as follows:
● Cleans Almost Everything.
● 360-degree disinfection of any Object compared to 270 degrees in Other Brands
● 6-8 UV lamps vs 4 lamps used as a standard in other products.
● Lamps used are from genuine part manufacturers (Philips tubes & ballast) & hence extends product life.
● Verified by CSIR – Scientifically tested with proven results.
● Lightweight to support & place at Home / Offices for both Domestic & Institutional use.
● Available in 2 different sizes to suit distinctive needs.
● It is engineered to perfection by a putative manufacturer having 2 decades of Experience in respective Fields.
● Kills 99.99% of the Viruses.
Like Virus Vault On Facebook
Get Latest Business News, Stock Market Updates and Videos; Check your tax outgo through Income Tax Calculator and save money through our Personal Finance coverage. Check Business Breaking News Live on Zee Business Twitter and Facebook. Subscribe on YouTube.