Valentine's Day special: Diamond or gold? This gift will leave a lasting impression on your loved one
Interestingly, on this day, there  is also huge demand for gold, jewelries and diamond, hence, it becomes very important to make sure your gift is wise and helpful in future as well.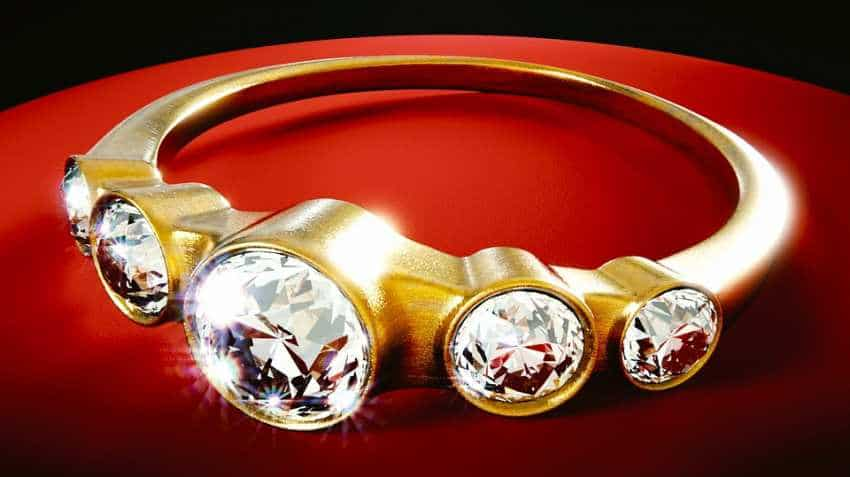 There is an old and very traditional saying that, a diamond is a woman's best friend. Photo: Pixabay
There is an old and very traditional saying that, a diamond is a woman's best friend. To be honest, every shiny metal either be gold or diamond, they both are highly loved. Be it any occasion festival, birthdays or anything, majority of women has an eye for jewelries. With this, on Thursday, currently there is also huge demand for various products in India, a courtesy of Valentine's Day where everyone is surprising their loved ones. Interestingly, on this day, there  is also huge demand for gold, jewelries and diamond, hence, it becomes very important to make sure your gift is wise and helpful in future as well.
One of major issues that, a customer faces while making a buying in gold and diamond, is their purity, where to buy and which quality-product is good. However, the Indian gold market has advanced, with various investment schemes like Gold ETF, gold futures, gold contracts, gold bonds, etc. These are paperless gold, but make note they give hefty return than the physical ones in future course. But did you know, even diamond segment is enhancing, and days are gone of just having this physical shining metal. Because, now the market also has diamond derivatives and exchanges. 
Now that everything is said and done, if you are looking for surprising your loved one with either of the shiny metals, let's take a step back and first think which will benefit most. 
Go beyond physical diamond! 
Sanjeev Prasad, MD & CEO of ICX told Zee Business, "We have brought for the first time diamond derivatives in the world, where you have an opportunity to make a staggered investment plan (SIP).The contract which is at our exchange, holds about Rs 3 lakh. Here, one-one cent which is 100th of 1 karat, can be bought at Rs 3,500. It will be in electronic format, and will be kept in your depository account.This means, 100 cents is equivalent to 1 karat."
What this simply means is that, you can buy staggered investment plan (SIP) in diamond derivatives and can use it as a gift. In future, this will add more returns in your investment. Isn't worth it! 
What should you look into for diamond jewelry?
Danabhai Jewellers who has been selling jewelries since 1931 and holds a strong presence in Mumbai's jewellery hub Zaveri Bazaar. Danabhai's  Ashok Minawala says that,  while buying a  diamond jewelry, if you buy it from a reputed jeweler, automatically there will be everything set and certified. Prices will also not be an issue. 
Minawala states that, if you buy diamond, do not go for quality conscious but whatever you feel like.
How to know your real gold? 
There are many factors a customer should take a note while buying gold. In Gems and Jewelry, Vice Chairman Shankar Singh's view, the first issue that arrives while buying a jewelry is purity. For recognizing the purity of yellow metal, there is BIS Hallmark introduced by Indian government, which needs to be looked into. Every jewelry has this hallmark at their back and is easily recognizable.
Second big thing would be gold prices! According to  Singh, overall in India, the price of gold is somewhat similar, the only difference will be marginal on jeweler-wise because of landing cost.
Further, he explains that, keep a check of gold and diamond price on internet, before buying.
Singh says, "On Valentine's day, jewelers do give discounts on yellow metal and diamond, especially small gifts which begins from lowest Rs 10,000 and maximum Rs 1 lakh."
ज्वेलरी खरीदने की जरूरी टिप्स, जानने के लिए देखें #Valentines गिफ्ट सोना फिट या डायमंड हिट @mrituenjayj के साथ। https://t.co/3kkR4kRogB

— Zee Business (@ZeeBusiness) February 14, 2019
Gold or Diamond?
Vandhana Bharti, AVP of SMC told ZeeBusiness that, there is also a diamond exchange as well. But currently, there gold prices are already in upside, and hence buying can be done in diamond more. 
On Thursday, the price of Gold in 22 karat for 10 gram was up by Rs 10 to Rs 32,380, whereas 100 gram in the same karat was sold at Rs 3,23,800. On the other hand, 10 gram in 24 karat was priced at Rs 35,310 up Rs 10, and 100 gram was available for Rs 3,53,200. 
Gold price have shot up to new high, and many experts have directed not make buying over Rs 35,000-mark. 
Kishore Narne, Head of Research at Motilal Oswal earlier said, "when the gold price comes between Rs 33,800 to Rs 34,000, some profit booking must be done. Then from there one should wait for dips to make buying.
For long-term investment, expert at Monarch said, "In gold, there have been one-way rally seen in January month, which has led the prices to rise by almost Rs 2,000.When the price in gold gets corrected near Rs 33,000 ahead, then only one should enter in this market.Long term its very bullish, considering the RBI is very active in gold."
"Investment demand in gold is very optimistic.I expect gold to reach at Rs 35,000 by March end. Hence, buy when Rs 33,000 mark is arrived," adds Monarch.
Thereby, with gold prices already at peak, diamond can be your best friend this Valentine's Day. When we talk about diamond, one should take a note of diamond derivatives and exchanges, as they are appealing and can add more money in your kitty. You can also say it as,'A Diamond that makes you rich.'
 
Get Latest Business News, Stock Market Updates and Videos; Check your tax outgo through Income Tax Calculator and save money through our Personal Finance coverage. Check Business Breaking News Live on Zee Business Twitter and Facebook. Subscribe on YouTube.
Updated: Thu, Feb 14, 2019
02:09 pm
Mumbai, ZeeBiz WebDesk