UP Investors Summit 2018: Mukesh Ambani, Adani, Birla, ITC vow to invest in state
Emphasising on making Uttar Pradesh an 'Uttam Pradesh', Ambani said India cannot rise to its full potential without the rise of 22 crore people of the state.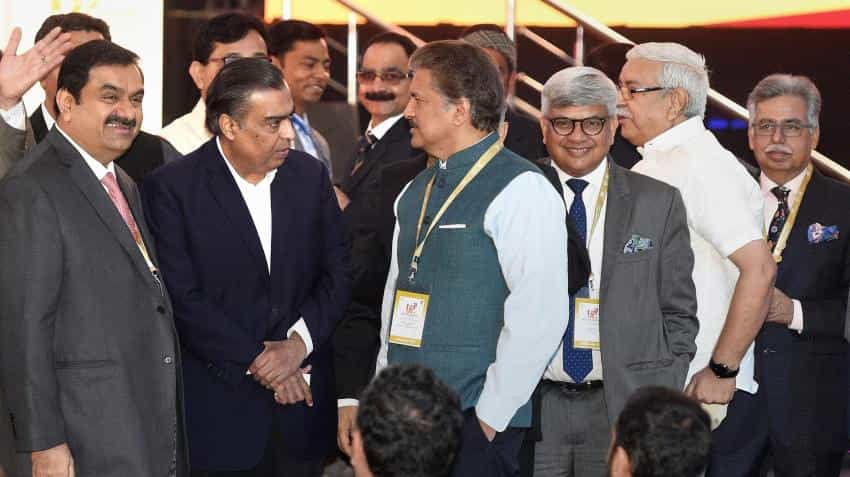 Industrialist Mukesh Ambani, Gautam Adani and Anand Mahindra at the UP Investors Summit 2018. Image source: PTI
Captains of Indian industry today appreciated Uttar Pradesh Chief Minister Yogi Adityanath for bringing a turn around in the state`s environment within a year at the UP Investors Summit 2018, and committed to investments of over Rs 4.35 lakh crore over the next three years.
Also Read: UP Investors Summit: PM announces Rs 20K cr defence production corridor; 1,045 pacts signed
Mukesh Ambani vows additional Rs 10k cr investment
Speaking at the UP Investors Summit, Reliance Industries chief Mukesh Ambani promised investment of another Rs 10,000 crore through Jio in the next three years. He said the investment will be over and above the Rs 20,000 crore Jio has already made in the state in rolling out high-speed 4G telecom venture.
Emphasising on making Uttar Pradesh an 'Uttam Pradesh', Ambani said India cannot rise to its full potential without the rise of 22 crore people of the state.
He said he wanted every youth in the state to be a smart youth and for this Jio will make available over 2 crore phones in the state in the next two months on a priority basis, and added that by 2018, Jio will be present in every village of UP.
RIL will establish a Centre for the Fourth Industrial Revolution within the campus of a reputed university in UP, he said.
Vowing full support to the 'Namami Gange' project, the RIL chief said, "I have a commitment...The Clean Ganga Mission is gathering momentum ...We at Reliance Foundation would deem it as our pious duty to contribute to the success of this mission and are ready to execute whatever part of the project is assigned to us." 
Aditya Birla Group to invest Rs 25,000 crore 
Chairman of the Aditya Birla group, Kumar Mangalam Birla, said the group will invest Rs 25,000 crore in Uttar Pradesh over the next 5 years across various sectors.
"We have been among UP's one of the earliest investors with a significant presence here. So it has been a long-standing relationship," he said, adding that the group will invest Rs 25,000 crore in the fields of finance, cement and chemical, among others.
The group is working in 400 villages under the corporate social responsibility, he said, promising to contribute to the progress of the state.
ITC plans new integrated consumer goods plant 
Diversified firm ITC said it plans to set up an integrated consumer goods manufacturing facility in Uttar Pradesh besides exploring investment possibilities in green energy and a logistics hub in the state in coming years.
ITC CEO Sanjiv Puri said in a statement said the company has implemented significant interventions in agriculture sector in the state strengthening agri and food value chains making a meaningful contribution to the prime minister's vision of doubling farmers' income. 
"In alignment with the government's Make in India vision, ITC proposes to invest in a world-class integrated consumer goods manufacturing facility in the state. The company is also exploring investment possibilities in green energy and a logistics hub in the years to come," Puri said.
Highlighting various steps taken by the company in the state, Puri said through a network of 2,000 e-choupals, ITC is today empowering 12,00,000 farmers in the state, adding "ITC's agro-forestry model in Uttar Pradesh aims to provide food, fodder and wood security and de-risk farmers through alternative sources of remuneration, while contributing to carbon sequestration and soil conservation." 
TCS not exiting Lucknow: N Chandrasekaran
Tata Group chief Natarajan Chandrasekaran said that Tata Consultancy Services (TCS) will not exit Lucknow but continue to increase its presence in the city as well as across the state.
Speaking at the inaugural session of UP Investors Summit 2018, he also announced that TCS will build a new campus for 30,000 people in the state, while adding "We have a holistic presence in UP. Tata Motors is here, TCS has a large presence, Tata Projects have been significantly present here." 
Tata Group will not be confined to any particular sector but will help the state grow across all sectors, he said, adding "We are extremely keen to participate in the growth of UP across sectors such as manufacturing, IT, infra etc." 
Last year, TCS had decided to wind up its offices in Lucknow prompting the employees to approach the state government for help. 
Adani Group to invest Rs 35,000 crore 
Gautam Adani of the Adani Group vowed to invest Rs 35,000 crore in Uttar Pradesh over the next five years in various sectors.
Promising to stand with the leadership in transforming the state, Gautam Adani said energy, logistics, solar power, roads and agriculture are among the core sectors in which his group is working and showed interest in investing in these fields.
"Almost 17 per cent of the total population of the country lives in Uttar Pradesh...The development story of the country cannot be written without the state," Adani said.
Mahindra to invest Rs 200 cr for establishing resort in Varanasi
Mahindra Group chairperson Anand Mahindra announced Rs 200 crore investment for the creation of a 200-room time share resort in Varanasi.
"To tap tourism potential in the state, Club Mahindra will be signing an MoU with the state government worth Rs 200 crore to create a time share resort in the Vindhya-Varanasi circuit of the state, which is known for its spiritual energy," he said.
Given the rising popularity of electric vehicles (EVs) in the recent past, Mahindra said the company aims to set up a manufacturing unit in the state, subject to sufficient support from the government`s legislation on the same.
Mahindra reminisced about his mother`s early life in Allahabad and then as a history teacher at IT College in Lucknow, saying his visit was like a "home coming".
Avaada Power commits Rs 10,000 cr investment 
Avaada Power, a clean energy company, said it will invest Rs 10,000 crore in setting up 1,600 MW solar projects in Uttar Pradesh. The firm signed an MoU with the UP government during Investors Summit 2018.
"The projects will be developed across Mirzapur, Badaun, Gorakhpur and Bundelkhand districts," the company said in a statement, adding that the investment will churn out nearly 3,700 jobs.
Avaada's projects will help UP meet its annual target of 2,000 MW production capacity of solar energy.
Also Read: UP attracts investments worth Rs 4.28 lakh crore: Adityanath
Kamineni, who is also industry lobby CII`s President, said that she had not long ago brought with her a delegation of 60 top CEOs and announced that the Apollo Hospital was working with Cisco on an important project in Varanasi.
Earlier in the day, Prime Minister announced a Rs 20,000-crore defence industrial corridor in Bundelkhand region to bring development in one of the most backward regions of Uttar Pradesh and said the Yogi government has pulled the state out of prevailing negativity.
The two-day mega event being organised in the state capital to attract investments is being attended by top industrial heads, foreign delegates and senior union and state ministers.
(With Agency Inputs)
Updated: Wed, Feb 21, 2018
08:16 pm
Lucknow, ZeeBiz WebDesk