Trade unions accuse govt of unilaterally tightening PF withdrawal norms
The government's decision to tighten PF norms let to protests in Bengaluru which turned violent as protestors torched state transport buses and police vehicles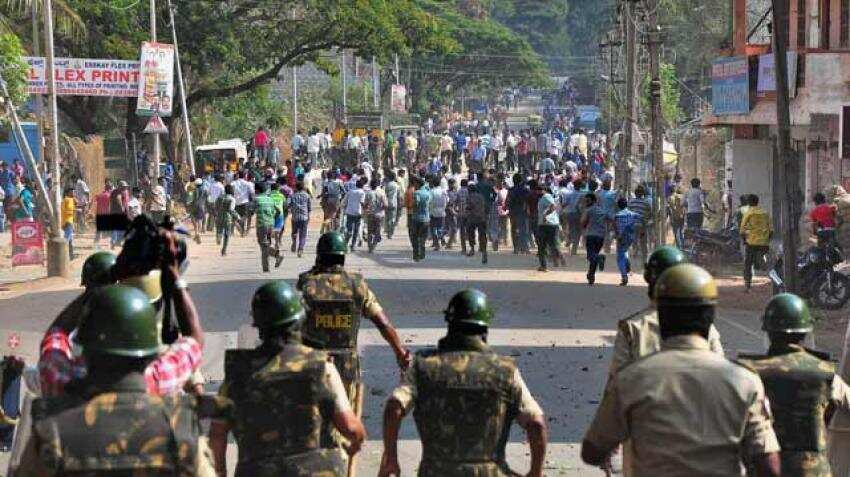 Garment workers protest in Bengaluru against the government's proposal of tightening PF withdrawal norms. Photo: PTI
Updated: Wed, Apr 20, 2016
07:43 pm
New Delhi, PTI
Trade unions, including RSS backed Bharatiya Mazdoor Sangh (BMS), on Wednesday accused the government of unilaterally deciding to tighten the provident fund (PF) withdrawal norms which had led to unrest and violent protest in Bengaluru.
"The notification (issued on February 10 and withdrawn on Tuesday) was a unilateral decision of the government. No trade union gave its consent to that. It is a mismanagement at bureaucratic level," BMS General Secretary and an EPFO trustee Virjesh Upadhyay told PTI.
Retirement fund body Employees' Provident Fund Organisation (EPFO) had issued a notification on February 10 which tightened the norm of PF withdrawals.
The new norms had restricted withdrawal of employers' contribution of (3.67% of basic wages) to PF account till the age of 58 years among others.
In order to oppose the move the garment factory workers organised a protest in Bengaluru which turned violent as protestors torched state transport buses and police vehicles.
Taken aback by sudden eruption of protest, Labour Minister Bandaru Dattatreya announced putting the notification in abeyance for three more months till July end in the morning yesterday and scrapped it all together by the evening.
Another EPFO trustee and All India Trade Union Congress Secretary D L Sachdev said, "The issue of tightening PF withdrawal norms was discussed for the first time in the Central Board of Trustees (CBT) meeting on March 29 about one and a half months after the issue of notification."
"Labour Ministry did not discuss the issue with trade unions during CBT meeting or otherwise. All trade unions including BMS had opposed and criticised the tightening of PF withdrawal norms. Thus it was unilateral decision of Labour Ministry," he said.
Centre of Indian Trade Unions President A K Padmanabhan and an EPFO trustee said in a statement, "In the meeting of the CBT on March 29, 2016, all the trade union representatives demanded withdrawal of this notification or to give an option to the workers to withdraw their money or to continue to keep it in EPFO. The government is trying to mislead by saying that the amendment on February 10 was done as per the suggestions of some trade unions."