Three cities home to 73% real estate barrons: Hurun's rich list
As per Hurun's repory, top 5 cities accounts for 86% of top 100 real estate rich list entrants in India. Growth in the country's middle class is driving strong demand for quality houses, which real estate brands.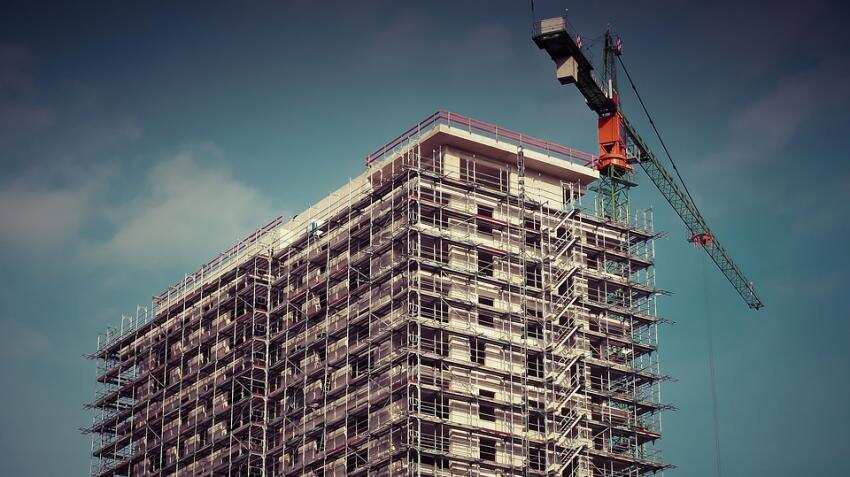 Representational Image. Photo: Pixabay
A leading publishing and event group - Hurun Report on Thursday unveiled the list of richest real estate entreprenuers in India.
The report said, "This is the first time a serious attempt has been made to understand about the real estate entrepreneurs and to highlight their achievement through rich list as a medium."
Anas Rahman Junaid MD and Chief Researcher, Hurun Report India said, "With a growing middle class population, it is imperative that India produces respectable brands in real estate in the next few years."
From the list interestingly - three cities namely Mumbai, New Delhi and Bengaluru turned out to be home to about 74% of the developers.
Mumbai continued to be the most prefferred destination for the developers having 39 entrepreneurs in the list, followed by Delhi with 19 entrepreneurs and Bengaluru with 17 entrepreneurs.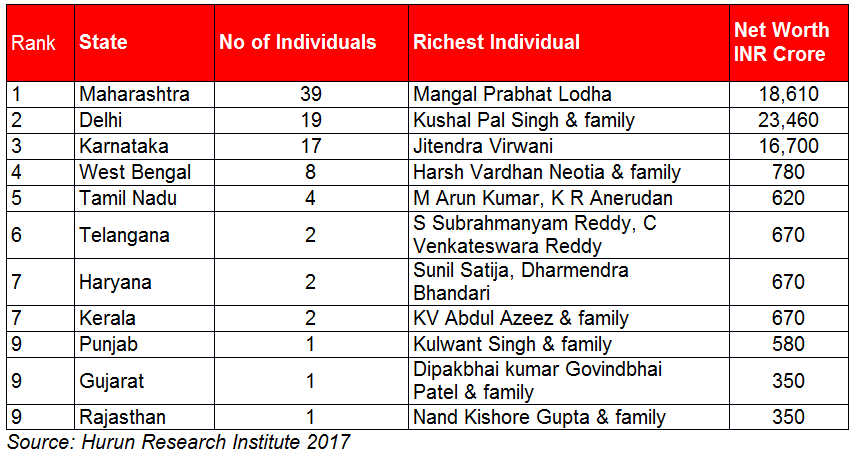 Other states like West Bengal, Tamil Nadu and Telangana were also in the list having 8, 4 and 2 real estate entrepreneurs respectively.
Among the wealthiest real estate baron – the owner of Delhi Land and Finance (DLF) Kushal Pal Singh topped the list with a fortune of Rs 23,460 crore. DLF would be the only real estate company which has developed somewhat 27 million square feet till date.
Singh's commendable work with DLF has took the baron for Padma Bhushan recognituon – one of the highest civilian award in the country.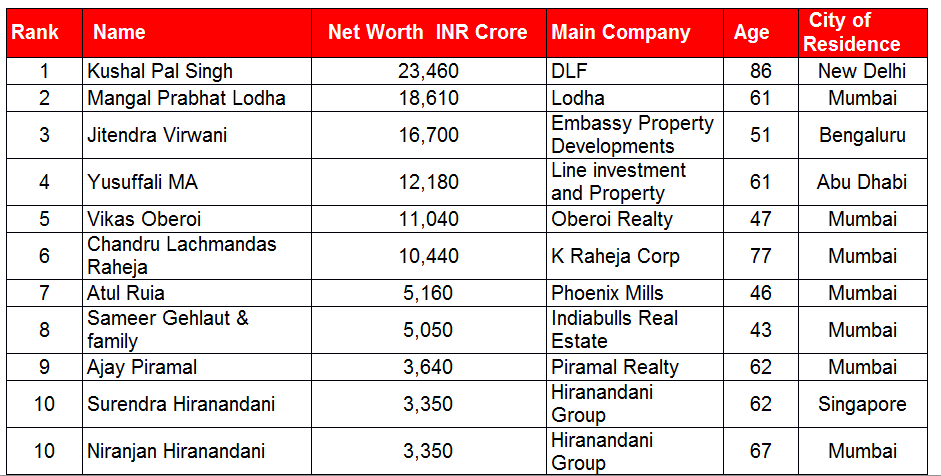 Lodha Group's Mangal Prabhat Lodha would be second on the list having net worth of Rs 18,610 crore. Lodha group is currently developing One Grosvenor Square, which is a premier property and home to the former Canadian embassy
Third in the list was Jitendra Virwani – currently chairman of the Embassy group for having fortune of Rs 16,700 crore. He owns the Stone Hill International School, one of India's largest private owned academies. He is also a member of the equestrian federation of India.
Among top ten India's real estate rich list 2017, about seven barons belonged to Mumbai. These entreprenuers were – Vikas Oberoi (fortune of Rs 11,040 crore), Chandru Lachmandas Raheja (Rs 10,440 crore), Atul Ruia (Rs 5,160 crore), Sameer Gehlaut & family (Rs 5,050 crore), Ajay Piramal (Rs 3,640 crore) and Niranjan Hiranandani with fortune Rs 3,350 crore.
Smitha V Crishna (66), of Godrej properties would be the richest woman with a fortune of Rs 2,210 crore in Hurun's list.
In the Premium segment, Lodha group leads the pack, with total 6 million square feet developed till date. The Oberoi group seconds the list with over 39 prime properties followed by Indiabulls Real estate.
While in the aspirational segment, Bengaluru based Sobha developers lead the pack. Sobha Developers has completed 118 real estate projects till date. Godrej properties falls in the top five with its signature properties in and around the financial capital (Mumbai) and has developed around 90 million square feet till date.
Omaxe tops in the affordable category completed around 101 million square feet projects. Followed by the Mumbai based Kalpataru who have created a niche for themselves in the Maharashtra region.
According Junaid, a further drop in repo rate would result in cheaper loans/ EMIs. Heightened accountability due to RERA and potential benefits transfer to customers due to GST input credits will improve not only developers' sentiments and credibility but also the buying capability of the customers. 
Recent survey of RBI Housing price index indicates that demonetization has a positive impact on housing prices. Housing price index rose 10% for the 9 months ended on September 2017 compared to marginal growth rate of 3% in FY 16. 
"Based on a survey with the real estate agents in and around India, one could expect the house price to go up in the short term and a possible correction in 5 years especially in small cities. This is supported by inventory overhang and possible long term effects of the current GDP slow down, " Junaid said.