This is why rich Indians are leaving lock, stock and barrel for greener shores
Many Indian billionaires such as Lakshmi Niwas Mittal (UK), Micky Jagtiani and Sunny Varkey (Dubai), M A Yusuff Ali and Shamsheer Vayalil (Abu Dhabi) may have taken up residency abroad and turned non-resident Indian, but remained essentially 'Indian' at heart.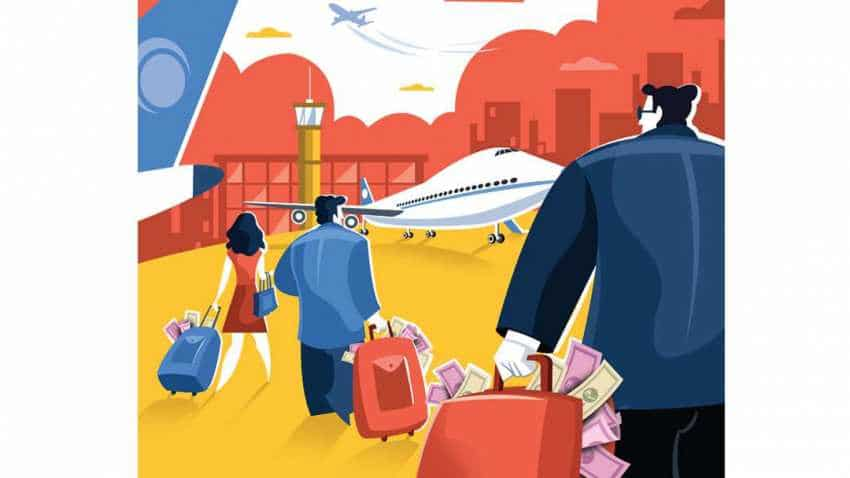 We may think the rich face no troubles, but the truth could be very different. Image source: DNA
Updated: Fri, Jul 20, 2018
11:26 am
ZeeBiz WebDesk
When Delhi's air turned toxic, Vivek Chaand Sehgal and his family didn't bother much. The Delhi-born billionaire promoter of Samvardhana Motherson Group was safe in Australia. He had migrated to the Southern hemisphere nation some years ago to manage his sprawling automotive business. For Sehgal, his Australian citizenship has been a "big help" in managing extensive and frequent global travel.
The 61-year-old Sehgal is part of a growing tribe of wealthy Indians who have left India's shores to seek fortunes overseas.
Out of the four close-knit siblings of the Hinduja Group, Srichand and Gopichand are prominent British citizens while Prakash is a Swiss citizen since 2000. Surendra Hiranandani has moved out to Cyprus. The 'Phantom of Bombay House', Pallonji Mistry had given up his Indian citizenship to become an Irish citizen many years ago following his marriage to an Irish. And his son, Cyrus Mistry never gave up his Irish citizenship even after assuming chairmanship of India's biggest home-grown multinational behemoth, Tata Group.
Many Indian billionaires such as Lakshmi Niwas Mittal (UK), Micky Jagtiani and Sunny Varkey (Dubai), M A Yusuff Ali and Shamsheer Vayalil (Abu Dhabi) may have taken up residency abroad and turned non-resident Indian, but remained essentially 'Indian' at heart.
The list just grows, unarguably raising concerns for the government that is struggling to spread prosperity around and improve employment opportunities.
During 2007-2017, around 38,000 high net worth individuals (those having wealth of $1 million or more) left India to live/work overseas, says a New World Wealth report.
If we assume that they have taken away their wealth (at least $1 million), the minimum loss mounts to a whopping $38 billion (Rs 2.6 lakh crore). But that is a very conservative guesstimate.
In fact, 2017 alone saw as many as 7,000 HNIs bidding adieu and it is estimated that 23,000 dollar-millionaires left India since 2014.
Migration of the rich isn't a new phenomenon, and the numbers not horridly high. Greener pastures always have had a seductive appeal.
Over the years, India has witnessed wealthy people and families taking up citizenship in the US, Canada, UK, Australia, New Zealand, Middle East, Caribbean islands, Europe and even the African continent.
But the alacrity with which the rich leave Indian shores is definitely a cause for concern as the country is now being driven by nationalism. This is despite the fact that India is the fastest-growing major economy, throwing huge opportunities to businessmen.
The collective wealth of these millionaires may not be significantly huge when compared to the total wealth held by people living in India, which rose steadily over the past decade, from $3.2 trillion in 2007 to $8.2 trillion in 2017. The number of HNIs grew from 1.24 lakh in 2007 to around 3.3 lakh in 2017, making India one of the top performing wealth markets in the world (on both a total wealth growth and HNI growth basis). Yet, the loss of HNIs does hurt even though new ones crop up with amazing alacrity.
What makes it stark is the big collective economic loss back home.
Of course, there are also Vijay Mallyas, Nirav Modis and their ilk who left India to escape the law.
The Indian government seems to have taken cognisance of this larger migration trend, and the Central Board of Direct Taxes (CBDT) has in 2018 set up a working group to look into taxation aspects of such HNIs. India does not impose any tax on a change in citizenship. There is no wealth tax, nor inheritance tax under the current tax regime. So, HNIs of India are able to migrate without incurring any tax cost at the time of migration, unlike those in the US.
"Tax or no tax, I had to go. I do not want to be reported on. Moving out of India with pots of money is considered unpatriotic. But after I did my land sale, I came under tremendous pressure with the goons threatening me. Nobody supported me. Some relatives live in Canada, so we made quick arrangements to shift there," says a former Mumbai resident, who sold land worth over Rs 200 crore a couple of years ago.
We may think the rich face no troubles, but the truth could be very different. The wealthy have money, but that does not totally insulate them from the problems.
WATCH ZEE BUSINESS VIDEO HERE
An HNI from Delhi, who now lives in Malta, narrates her harrowing experience, laced with equal measure of family enmity, politics and jealousy.
"Our family business was split in three. But my elder brothers were hell-bent on leaving me out. They tried every dirty trick in the book, and even pressurised me with the help of local political leaders to give up. When my husband was injured in a near fatal car accident, I took a call. I quit. Nobody helped me, nobody," the 38-year told DNA Money on phone.
The drug menace in some northern states is compelling some rich families to pack off their children abroad, especially to Canada, Australia or New Zealand.
High on drugs and wild living, teenagers from wealthy families often land in troubles.
"There are not enough good rehabs in India. So, we sent my son abroad to America. Once, the doctors there told us that his problems might recur, we decided to send him to Sydney. After staying apart for three years, we also moved. There was a good investor visa programme, where we put a few crores and it was done," says P Singh, hailing from a rich farmer family in Punjab.
Many businessmen are looking for the freedom and access that a second passport offers.
This is especially relevant for CEOs and executives who travel frequently, and have a passport that does not offer much access in the form of visa-free travel.
It can be restrictive and these investors are wanting? global travel freedom, rather than necessarily looking to move abroad.
Nadia Read Thaele, CEO, LIO Global, says, "For example, an Indian passport is ranked 78th in the global ranking (based on the number of countries access visa free), and allows the holder visa-free travel to around 59 countries. With a Maltese passport or Grenadian citizenship, they can travel to 182 and 141 countries, respectively. These include the UK and Schengen countries which open many doors for business."
What's more, the living standards in a developed country are strikingly different.
"Seeking better standard of living is not a crime. Educational opportunities for their children – schools, universities, are also big drivers. The quality of life is one of the biggest reasons to migrate. As world's most liveable city, Melbourne has taken top spot for seventh year running. Australia has many such cities like Adelaide, Perth and Sydney. In the recent past, I know a restaurant owner, a director of a known company and someone who made money through Indian real estate came here," says Melbourne-based financial planner Ravi Sharma, who has previously worked as in top management positions in India.
For others, taxes are a big worry. Some HNIs, who have made a fortune from services in India, are leaving due to what they claim are high taxes. The peak tax rate in India, including surcharge and cess, for an individual with income above Rs 1 crore is nearly 36%. Add to that dividend distribution tax and indirect taxes like GST (18%), an individual ends up paying a significant part of his income in taxes. Countries in the neighbourhood like Singapore and Hong Kong have a much lesser peak rate.
"It is an economically logical choice for these entrepreneurs now to move to other jurisdictions which are welcoming them with wide open arms, and lower taxes. Take Dubai, for instance. It has no income tax, no service tax. They are going to have a 5% VAT soon. This makes it a great idea to move your base there. Indian GST has a provision that if someone is selling something online to Indians, then they have to pay GST, but in reality it is very difficult to track or implement," says an online entrepreneur, who is contemplating moving out of India. He has been advised that an online company can shift to a new country literally overnight and increase its profitability by a huge margin by cutting down on taxes.
Some tax havens like British Virgin Islands (BVI) have provisions that help people bypass the laws in their own country regarding inheritance and wills. For example, in India, a Muslim man cannot make a will like people from other religions can. According to the Sharia law, a person can only leave one-third of their property to anyone they wish. The remaining two-thirds will, by law, go to their heir or heirs, equally shared between them. If you want to bequeath all your wealth to one person, it may not be possible under Indian law, but it is possible in BVI. BVI law clearly states that the law of the land regarding inheritance will trump the laws of the person's passport country. This makes many park their wealth in BVI so that they can will it away to any person they like.
It may be nearly impossible for the government to stop migration of Indian millionaires. The country will continue to pay for its utterly slow transition from 'developing country' to 'developed country'.
WORLDWIDE MILLIONAIRES THAT MIGRATED
2013: 51000
2014: 57000
2015: 64000
2016: 82000
2017: 95000
Source: New World Wealth
(DNA Money)
Get Latest Business News, Stock Market Updates and Videos; Check your tax outgo through Income Tax Calculator and save money through our Personal Finance coverage. Check Business Breaking News Live on Zee Business Twitter and Facebook. Subscribe on YouTube.