There was nothing bad in Budget 2020: Vijay Kedia
What is good for the country and the economy will be good for the entire share bazaar. I do not look at the budget only with the perspective of the stock market but how beneficial it is for the overall development and the economy, which is the utmost important thing in life, Vijay Kedia, MD, Kedia Securities said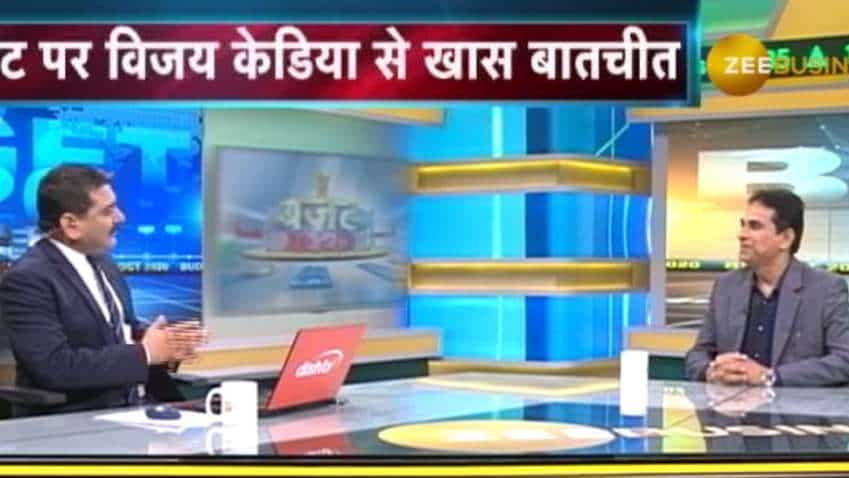 Interestingly, the budget will not have a major impact on the shares, where I have a major holding, Vijay Kedia, MD, Kedia Securities said
Vijay Kedia, MD, Kedia Securities, talks about the budget 2020, how the budget will impact his portfolio, themes & sectors where a retail investor should concentrate among others during a candid chat with Anil Singhvi, Managing Editor, Zee Business. Edited Excerpts: 
Q: Stock Market has reacted positively to the budget. So, what is your view on the budget?
A: The finance minister or the government doesn't have a magic wand that can make everyone happy. Share Bazaar (share market) is not the only business in India and everything doesn't depend on it. They, the government, have to see the whole society and the country and maintain a balance in it. So, what is good for the country and the economy will be good for the entire share bazaar. I do not look at the budget only with the perspective of the stock market but how beneficial it is for the overall development and the economy, which is the utmost important thing in life. 
Q: What are the things that you liked in this budget?
A: I would rather say that there was nothing bad in the budget than saying what I liked in the budget because there is no definition for good. 
Q: It's good to see that nothing is wrong in the budget but have you found anything that's bad in the budget?
A: I won't be able to judge the budget as I am not an economist. I see the positive side of what has been served in the budget rather than what is bad in it. You must look at the budget by keeping a positive attitude. This is why, I am looking the shares were I am invested and trying to find out the shares that can play a role of spoiler and also the stocks and sectors, where I should focus and accordingly maintain my guidelines and investment philosophy. 
Q: So, let us know the kind of changes that have been/will be introduced in your portfolio and the stocks that will be included in it? 
A: Currently, I am fully invested and am out of cash. Interestingly, the budget will not have a major impact on the shares, where I have a major holding. So, I am comfortable with it and price oscillations are the rule of the share market and that's why I don't think a lot about it.  
Q: Can you name the sectors or schemes from which you will maintain a distance and advise people to stay away from them? 
A: I don't have any such sector. The share market, actually, runs on a rotation basis just like the Indian economy, politics and market. Earlier during our discussion, I said that the shares that participated between 2003-08 haven't participated between 2008-14 and those who participated in this period haven't participated between 2014-17. Similarly, there are few stocks/sectors that are coming up like telecom, which has doubled itself, however, people are not paying attention to it. Same is the case with Speciality Chemical, which has grown 50 to 100 times from their lows. So, you will have to find the right shares within the diverse market. It will happen only when you don't have any biased opinions about the shares, don't criticize them or have negativity in the market. At the same time, you will have to see that there is no disruption in the share in the next 8-10 years and this will lead you to success. The unsuccessful rate in the share bazaar stands at 99% just because people are into a habit of buying stocks with a view of six months to one year. Actually, we have a wrong approach towards the market. 
Q: Will the concerns related to the global markets will not allow the market to rise a lot while the budget will not allow falling hugely?
A: I haven't seen a single view in the market, yet. Single view in the market will make it perform bullishly. But, the market has to perform like a cardiogram, i.e. in a zigzag manner, which means the market is moving in a direction. Besides this, other concerns like global view or coronavirus will continue to be there as there are a part and parcel of life. 
I ask a question to myself whenever I get worried about the shares that are present in my portfolio, as the maximum of them are illiquid shares, that will Tanishq and Titan shut down its shop when there is a fall in gold prices? It doesn't do that. Interestingly Gold prices which stood around $2000 in 2012-13 went down to $1000 in 2017-18 and I don't think that Tanishq would have shut down its shop. They will obviously open more of them. With this, I try to teach me that I should have a similar vision while investing in the share market that I have invested in a business. I try to think from the perspective of the promoter. I don't have any targets of holding it up for 10-15-20 years. I may change my mind tomorrow and sell those shares. So, I judge the market with the same feel. If the promoters think there will be a slowdown in the market, then they won't sell their companies but instead, they will focus on risk management. This is exactly what we are supposed to do in the share market.  
Q: What kind of themes and sectors shall the retail investors focus on?
A: Sectors keep changing but I can just tell about where I am invested at present. I am invested in speciality chemical like Sudarshan Chemicals, it is not a recommendation, which has grown well. Search for shares in speciality chemicals because they have great future majorly due to the problems in China. It feels that a new structure and life of this segment has started in the last 2-3 years. They may perform for the next 7-10 years. 
Besides, I am also invested in modern technology-based companies, like Vaibhav Global, it is also not a recommendation, as I bought it at cheap rates and it has gone up. You will have to choose the shares by keeping the credibility of the promoters in your eyes. Promoters credibility can be judged by looking at his/her track record like his statements related to expansion or projection or something end and has it been completed or not. If you feel that the product won't disrupt in the coming 5 years and the R&D of the product is strong, you should select that share.
See Zee Business Live TV Streaming Below
If you have a view of 5 to 10 years about a good company and you don't want to become rich suddenly then you should invest in the companies that carry these terms. I had tweeted once that " Rome was not built in a day but Hiroshima and Nagasaki were destroyed in a day." And such Hiroshima and Nagasaki were destroyed during February 1, 2020, mayhem. There is less than 1% success rate in trading so ask yourself is it really worth investing or not.
Get Latest Business News, Stock Market Updates and Videos; Check your tax outgo through Income Tax Calculator and save money through our Personal Finance coverage. Check Business Breaking News Live on Zee Business Twitter and Facebook. Subscribe on YouTube.
Written By:
Jitesh Kumar Jha
Updated: Mon, Feb 01, 2021
06:48 am
New Delhi, ZeeBiz WebDesk