The changes proposed in allocation method will impact only fresh H1-B visa applicants, says JM Financial
The proposed changes in the US presidentail executive order on visa programs is likely to impact only fresh H1-B visa applicants.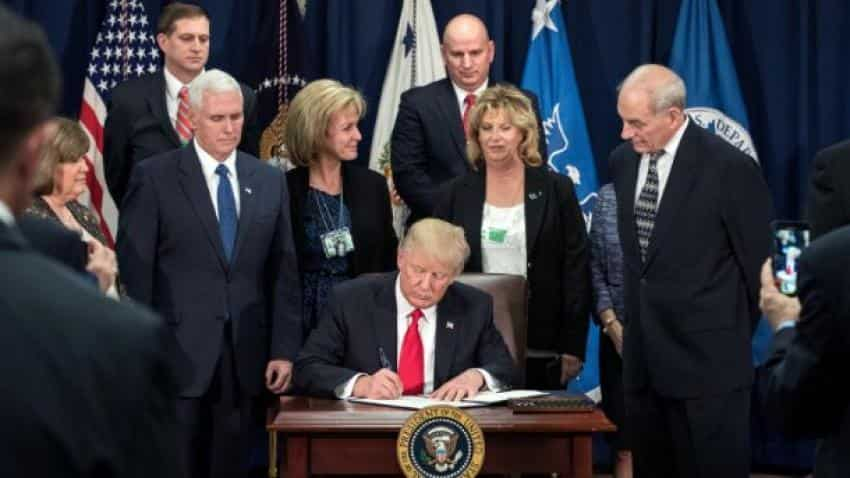 The H1-B and L1 visas are used by Indian Information Technology (IT) professionals to work in the US. Image Source: Donald Trump/Twitter
Written By:
Tejal Yerunkar
Updated: Mon, Feb 06, 2017
06:14 pm
Mumbai , ZeeBiz WebDesk
With the recent US presidential executive order of 90-day window period for the Department of Homeland Security to propose changes to the H1-B and L1 visa programs, JM Financial on Monday said that the changes proposed in allocation method will impact only fresh H1-B visa applicants. 
"There are limitations to changes that can be brought by an executive action; significant alterations such as changes in the visa allocation system will need to go through the formal congressional rule-making," cited JM Financial in a research note on its analysis of the draft executive order and the bills  tabled so far coupled with its discussion with the US-based immigration law expert.
The US government has recently introduced two bills in the House of Representatives- a) increasing the minimum wage requirements for 'exempt' H-1B visa immigrants from $60,000 per annum to $100,000 or c$130,000, b) increase in the minimum wage limit every three years in the ratio of increase in the CPI, c) reduce the number of visas in the open category (effectively c42,000), d) replacing the existing lottery system by a market-based allocation system for H1B visa applications in the open category if demand is more than the limit.  Besides, a separate bill was introduced in the Senate restricts H1-B dependent companies from applying for fresh visas.
The H1-B visa is a non-immigrant visa that allows US companies to employ foreign workers in speciality occupations that require theoretical or technical expertise in specialised fields. The technology companies depend on it to hire tens of thousands of employees each year, according to earlier PTI report. 
The H1-B and L1 visas are used by Indian Information Technology (IT) professionals to work in the US.   
The exports of Indian IT services to the United States (US) stands at 62%, according to earlier ICRA report. 
Zoe Lofgren from the Democratic party of the US in the proposal had proposed to change the minimum wage requirements for H1-B visa holder, reservations in fresh visa issuance, changes in computation of prevailing wage levels and replace the existing lottery-based system of award by a market-based allocation in case the applicants exceed the numerical limit. 
ALSO READ: US H1-B visa restrictions unlikely to impact Indian IT firms 
On the wage front, the proposal said that wages for H1-B exempt employees at least 35 percentile points more than the median wage for the most recent national annual wage estimates for Computer and Mathematical Occupations. 
"The minimum wage level the bills seek to increase is applicable only for applicants seeking exemptions from various compliance obligations (non-displacement of a US citizen, mandatory notifications, etc)," JM Financial said in a note. 
The securities firm has projected the new proposal to increase minimum wage to at least $130,000 as per the latest data from $ 60,000 at present.
On allocation of visa method, the Lofgren in the proposal asked to give first preference to employers willing to pay wages that are 200% of the level 3 wages followed by employers willing to pay 150% and then 100%. This is followed by employers willing to pay 200%/150%/100% of level 2 wages and then of level 1 wages. 
This is likely to result in increase in the effective cost of acquiring an H1-B visa.
" The changes proposed in allocation method will impact only fresh H1-B visa applicants," JM Financial said. 
Further, JM Financial analysis noted that the bills do not specify if the proposed changes in minimum wages are for fresh H-1B visa applications or they impact the renewals/existing holders as well. 
ALSO READ: Donald Trump warns US firms moving jobs offshore, singling out pharma
It believes that the low unemployment in the US IT industry which is approximately less than 3% versus the share of H1-B visa population which is 13% of the total IT employed base will limit the potential backfilling.
"...we believe potential regulatory actions could be punitive (leading to increased costs and hence affect margin) rather than restrictive (limiting the ability to participate in RFPs and hence negative for revenues)," it said. 
According to JM Financial, the congressional rule-making goes through a typically long process with an uncertain outcome so it believes the near-term policy changes could be centric on process reforms feasible through an executive order. 
It said the changes could include a) discourage bulk-filing by significantly raising the costs of applications; b) modifying/replacing the current lottery system (that does not require congressional approvals); and c) increased compliance requirements on non-displacement/local recruitment with stringent penalties for violation. 
In order to decrease the impact of the US presidential executive order on the companies dependent on its work visas, JM Financial has suggested Indian companies to reduce applications for exempt H-1B visas (currently 100%) and go through the normal route.
 
It said, "While the consequential increase in timelines is headline negative, we believe its business impact could be managed by higher local hiring plus active deployment of existing visa pool."
"We expect companies could also accelerate building an onsite bench – organically or inorganically – and lower fresh applications (and thereby prevent triggering of the market-based allocation). A higher offshore/near-shore delivery component for project components that require lower experienced resources (where the differential between actual wages and the proposed minimum requirement is high) is a likely option," it added. 
ALSO READ: H-1B reform bill introduced in US House of Representatives
Get Latest Business News, Stock Market Updates and Videos; Check your tax outgo through Income Tax Calculator and save money through our Personal Finance coverage. Check Business Breaking News Live on Zee Business Twitter and Facebook. Subscribe on YouTube.