Sugar profitability should also be linked to ethanol realisation and power: Atul Chaturvedi, Shree Renuka Sugar
There can be mills that are selling sugar below the price but by large it will be sold at Rs31.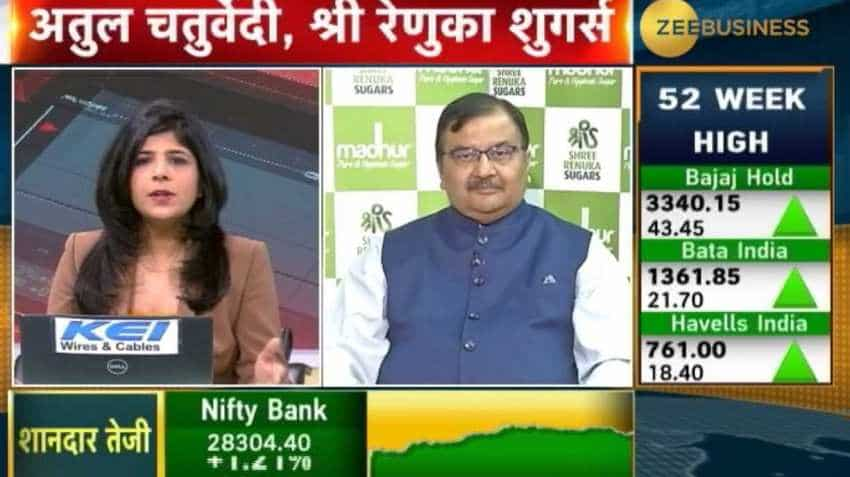 Sugar prices may go up in the international market just as the access sugar of the world is lying with India. Image source: Zee Business
Updated: Wed, Mar 13, 2019
11:00 am
ZeeBiz WebDesk
Atul Chaturvedi, Executive Chairman, Shree Renuka Sugars Limited, speaks about benefits of SOPs that were announced for the sugar industry, sugar price, plans for ethanol production and Brazilian operation among others during an interview with Swati Khandelwal, Zee Business. Edited Excerpts: 
Will the announced government SOPs from loan facility to sugar companies through the package to ethanol production have any positive impact on your company? 
It will have a positive impact on our company as we are quite active in ethanol, at present. In fact, we have also doubled our capacity in ethanol. We also produce power and have been active in the sugar sector. Thus, the announced SOPs, subsidy and incentive schemes, will benefit the sugar sector and have a far-reaching effect. I feel, the sugar sector, which was suppressed from quite some time, will rebound and regain the strength. 
Can you quantify its effect majorly in terms of top line and bottom line?
It is a right question, but I will not discuss the financials at present as March has not come to an end yet. But can assure that this year's results will be far better than the last year. In fact, it was visible in the December quarter figures, which is available in the public domain, where we returned to profit after a gap of almost two years. I feel that it will have an impact on the year's balance sheet. 
There is an increase in sugar prices, but the hike is not visible in the numbers. What can be the reason behind it? Also, talk about the levels to which the prices can reach?
As far as the domestic sugar price is concerned, then the sugar will be sold at the price that has been fixed by the government. After realisation, sugar prices were increased from Rs29 to Rs31. There can be mills that are selling sugar below the price but by large it will be sold at Rs31. When it comes to a spike at sugar prices in India then I don't think that it is going to happen at least as surplus sugar is available in the country. In fact, the surplus sugar will cap the price rise. 
Watch this Zee Business video here:
Possibly, the sugar prices may go up in the international market just as the access sugar of the world is lying with India. There are talks that sugar production will decline by 2 million tonnes in the European Union (EU) and 1 million tonnes in Thailand. It may see, slight growth in Brazil, but the prices will not see a big jump across India. Interestingly, Sugar's profitability is just not liked to its prices, but it is also linked with the realisation of ethanol and power that is being produced by the companies. 
Update us on your plans related to Ethanol and its production?
I think, sugar should be termed as energy sector instead of the sugar sector. The government has a special focus on this renewable fuel and that is why we have planned to double our production capacity from around 12 crore litres and I feel that we will be producing 24 crore litres by next sugar season. And, when it comes to production than we have a capacity of 12 crore litres and it is being fulfilled. This year's sale will be 3-4 crore litres more than last year's sale. 
Let us know about the investments that will be made for expansion purposes and how it will be made?
We have a plan to invest about Rs400 crore for doubling our capacity. In fact, it has been financed. Renuka Sugars is a subsidiary of Wilmar Sugar, one of world's largest player in the sugar sector. In addition, the banking sector has changed its attitude towards us. This change is an outcome of the management change. So, fundraising is not an issue for us. 
Throw light on the performance of the Brazilian operations of the company and there is a buzz that you are planning to sell it off?
As far as our Brazilian operation is concerned then the company is in judicial protection at present. So, we are not paying any attention to it as we don't have any control over it. It is under judicial protection. We don't have anything new to say on it as there is no specific plan on it yet. But at the end of the day, we will have to remove it from our portfolio. 
Any timeline by which it will be removed from your portfolio?
It is a bit difficult today anything, but it is in process. The judicial process takes times in resolving and that's why will not be able to provide any timeline for it. But we are making efforts in the direction. 
Tell about the kind of expectation that you have from ice cream and cola manufacturers in the upcoming summers?
See, sugar crushing season has come to an end. Practically, the crushing season is over in Karnataka, where our mills are concentrated. So, the sugar which was supposed to be processed has been processed and are lying in the inventory and its release mechanism is decided by the government. We release around 32,000 to 35,000 tonnes of sugar per month. So, we have a special focus on Madhur, which is a branded sugar developed by us. The remaining sugar is earmarked to MNCs like Nestle, Coca Cola and Pepsi. As far as pricing is concerned, the price is decided by the government and our prices revolve around the fixed prices. 
Government has mandated sugar exports of 5 million tonnes of sugar. What are the present situation and talk about the export realisation that has been reached?
See, we believe that about 1.5 million ton of sugar has been exported physically from India. About 5-6 million tonnes of sugar is lying at various stages of exports. I feel around 300-350 million tonnes of sugar will be exported from India this year. 
In addition, certain developments at the global level are also good for India like US sanctions on Iran. The sanction will make Iran look towards India to fulfil its raw sugar needs, which means an additional 5-6 million tonnes of sugar may be exported to Iran. Brazil and Sri Lanka have always been our primary customers and goods are being exported over there. 
As far as our export targets are concerned then we have fulfilled the quota. In fact, we have also bought the obligations of other players in the market and will be able to complete them too. Besides, we have special attention towards exports and our Kandla sugar refinery is completely dedicated for the purpose. 
Let us know about the debt situations of Shree Renuka Sugars and the mechanism that will be adopted to reduce it. 
Lot of restructuring including pruning of the loans were made at the stage when the company was taken over by Wilmar. In the coming days, we will have close eyes on the debts and try to prune it down. We are working in that direction too. 
 
Get Latest Business News, Stock Market Updates and Videos; Check your tax outgo through Income Tax Calculator and save money through our Personal Finance coverage. Check Business Breaking News Live on Zee Business Twitter and Facebook. Subscribe on YouTube.