Stocks slide, ATMs run dry after India rupee shock
The government's latest move to fight black money and corruption by banning Rs 500 and Rs 1,000 notes from circulation have impacted the Indian markets on Wednesday.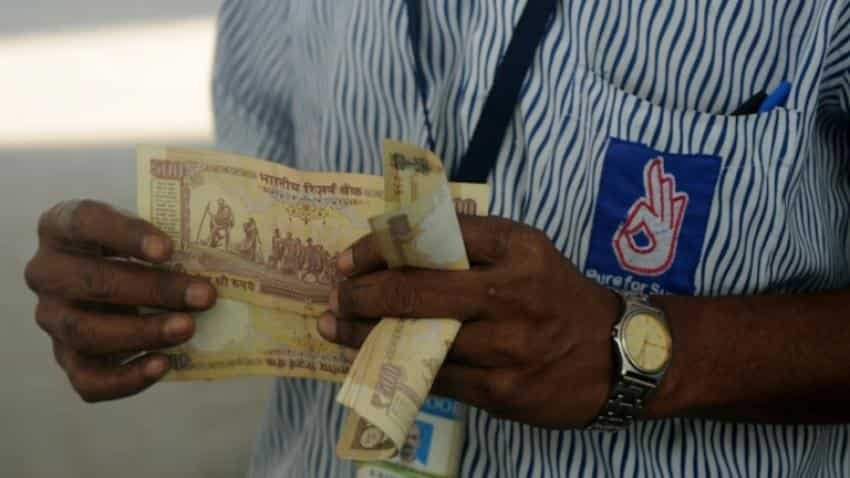 The government plans to print new Rs 500 and Rs 2,000 notes, which will be rolled out later in the week. Image Source: AFP
Cash machines ran dry and stocks tumbled in India on Wednesday after Prime Minister Narendra Modi ordered the withdrawal of Rs 500 and Rs 1,000 notes from circulation in a dramatic blitz on tax evasion.
In a televised address to the nation late on Tuesday, the Indian premier announced the notes would no longer be legal tender from midnight in order "to break the grip of corruption and black money".
The government plans to print new Rs 500 and Rs 2,000 notes, which will be rolled out later in the week. 
ALSO READ: LIVE: Sensex, Rupee, fall on US Election, currency demonetisation
All banks and cash machines were ordered to close on Wednesday in preparation for the turnaround, triggering a late night rush by customers to withdraw smaller notes from ATMs.
Customers will be able to exchange their old bills for new notes or deposit them into their accounts but face the prospect of major scrutiny by tax authorities if they cannot account for a sudden swell in their balance.
ALSO READ: India abolishes larger banknotes in fight against graft, 'black money'
While the move was praised by business leaders and commentators, Indian stocks plunged 6% in early trade -- a fall also partially attributed to uncertainty sparked by Donald Trump's surprise strong showing in the US election.
Commentators warned the markets would react negatively to Modi`s shock move.
"With the noose tightening on black money, the consumption story goes for a complete toss," market analyst Ambareesh Baliga told The Hindustan Times, predicting stocks would take a big hit.
Major queues built up outside cash machines ahead of the midnight deadline as customers tried to withdraw Rs 100 bills. 
There was also a rush by motorists to gas stations, which will continue to accept the old bills until the end of the week as will transport operators and hospitals.
Multiple Withdrawals
The Rs 500 and Rs 1,000 notes, which are worth around $7.50 and $15, are the largest bills in use in India which is still a massively cash intensive economy.
"I waited for 20 minutes in a queue at the ATM outside my office," Delhi resident Puneet Raheja told AFP.
"The person in front of me made a total of 18 transactions on multiple ATM cards, withdrawing cash in only Rs 100  notes."
Many machines ran out of cash before midnight while other customers had to trudge away disappointed after failing to access their funds in time. 
Ashok Kumar, who rushed to a gas station after Modi`s speech, found around 50 people ahead of him in the queue.
ALSO READ: 9 steps you must take to exchange your old Rs 500, Rs 1,000 notes
"I had to wait almost 40 minutes to get my tank filled," he said.
Delhi resident Surjeet Singh, who was heading to a family wedding in Punjab, had to beg friends to give him smaller bills.
"I have to collect as many Rs 100 notes as I can before I leave," he said. 
"It`s a wedding in a small town and plastic doesn`t work everywhere."
While the use of debit and credit cards has increased in the last decade in India, many small businesses insist on taking cash to evade tax or else ask for mark-ups to cushion the blow.
Some $439 billion left the country illicitly from 2003-2012, according to estimates from the Global Financial Integrity group in Washington.
Many of India's wealthiest citizens channel money to tax havens and convert it into jewellery and antiques to avoid tax.
ALSO READ: New Rs 500, Rs 2000 notes: Here are the new features
Domestically, targets for investigation include temples and ashrams, where lavish donations can be a front for money laundering, and cricket betting. The property sector too is awash with black money.
Only 2.89% of Indians pay any income tax at all, India`s previous finance minister told parliament in 2013.
Since coming to power in 2014, Modi has pledged to crack down on so-called black money with a series of new measures, including 10-year jail terms for evaders.
The latest announcement comes a little over a month after the government raised nearly $10 billion through a tax amnesty for Indians to report undeclared income and assets.
"This is a logical next step in cleaning of the system and weeding out the black money," said Dhiraj Relli, chief executive of the India-based brokerage HDFC Securities Limited.
"This will clean up the real estate sector and bring down the cost of doing business... As there will be no motivation to generate black money, the economy will see more inflows and the GDP will go up."
ALSO READ: Resale property market, small builders to be hit by note ban
Get Latest Business News, Stock Market Updates and Videos; Check your tax outgo through Income Tax Calculator and save money through our Personal Finance coverage. Check Business Breaking News Live on Zee Business Twitter and Facebook. Subscribe on YouTube.
Updated: Wed, Nov 09, 2016
12:23 pm
New Delhi , AFP