Closing bell: Market sheds RBI rate cut gains; Sensex slips below 37,000 levels, Nifty sustains above 11,000 mark
After the closure of Wednesday markets above 11,000 levels, the 50-stock Nifty is now trading in the range of 10,800 to 11,200, says equity experts.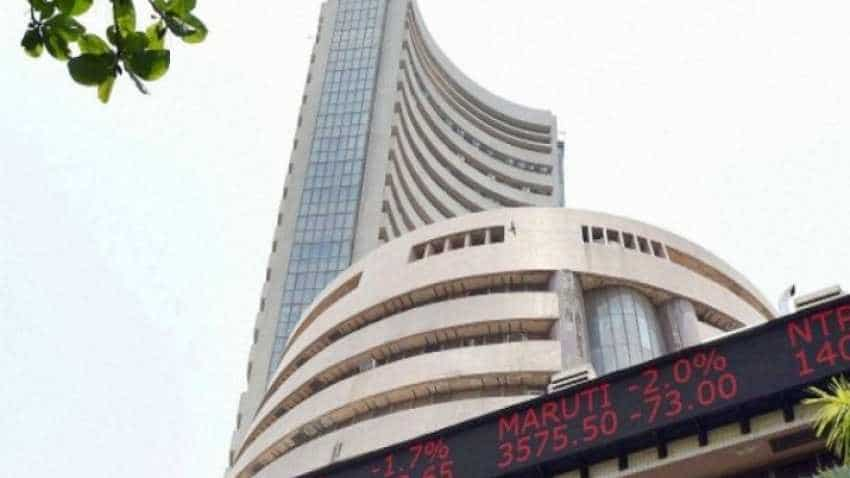 The index Nifty, at last, managed to rip-off the strong and psychological hurdle of 11000 mark on closing basis. Photo: PTI
On account of profit booking in last trading hours, the Indian indices lost all the gains that it registered post RBI Monetary Policy decision to cut Repo Rates by 25 bps to 6.25 per cent. The BSE sensitive index edged down 4 points to 36,771 while the Nifty edged up by 6 points to 11,069 from its Wednesday close. Meghmani Organics, Siemens, Vakrangee, GIC Housing Finance and Avanti Feeds were the top gaining stocks on Thursday while Reliane Infra, Reliance Capital, Kwality, Reliance Communication and IL&FS Transportation counter were the top losing stocks today.
Dharmesh Kant, Head - Retail Research, IndiaNivesh Securities Ltd told, "It is a bipolar market where the main index has gained but bulk of the stocks remain in negative territory. The uncertainty around elections, concerns regarding leveraged companies and possible debt defaults is dragging down the broader market. The flows from global exchange-traded funds, which typically deploy cash in few heavyweights in times of uncertainty. Foreigners have bought a net $144 million shares this month after withdrawing $75 million in January. The market may begin to broaden now that the Nifty has reclaimed the key psychological level of 11,000."
See Zee Business Live TV streaming below:
2:55 PM
Push for realty sector on increase in liquidity
Ravindra Sudhalkar, ED & CEO of Reliance Home Finance, also Co-Chairman of ASSOCHAM National Council Committee on Real Estate, Housing & Urban development told, "The Reserve Bank of India's decision of a 25 basis point (bps) cut in repo rate is a welcome move. The market has been liquidity thirsty for quite some time and a rate cut may ease the liquidity situation. We are hopeful that the banks will pass on the cuts, which would help to bring down the cost of funds for NBFCs/ HFCs," says Ravindra Sudhalkar, ED & CEO, Reliance Home Finance. "Importantly, the rated exposures of banks to all NBFCs will be risk-weighted as per the credit rating assigned to the respective NBFC. This will allow banks to lend more to well-rated NBFCs thereby easing the liquidity scenario."
See Zee Business video below:
#ViewersWithZBiz | #Budget2019 के दिन #ZeeBusiness को मिला दर्शकों का भरपूर प्यार..मार्केट मतलब ज़ी बिज़नेस..@AnilSinghviZEE @amitdutta09 @SwatiKJain @BrajeshKMZee @kunalsaraogi @iamrakeshbansal @nitinmurarkasmc @iamVishChauhan @pallavi_nagpal @SumitResearch @dkalra81 pic.twitter.com/9LEBYT8V1v

— Zee Business (@ZeeBusiness) February 7, 2019
2:40 PM
Expert view on RBI rate cut decision
Dinesh Jain, Managing Director at Exotica Housing told, "Repo rate cut by MPC (Monetary Policy Committee) of RBI to 6.25% from 6.50% is first after August 2017 and seems very good decision for loan borrowers- perspective and existing both. Now banks will get fund at low rate from RBI and I expect that banks will pass the benefit to loan seekers and end users. In this case, either monthly EMI will come down or duration of loan term." He went on to add that after  big sops of budget 2019 including extended tax limit for individuals, no notional rental on second home and hike in TDS limit of rental income, now repo rate cut will attract people to invest broaden savings in property market and avail home loan at low interest rate. Overall the move will push demand of housing sector.
Surendra Hiranandani, Founder & Director, House of Hiranandani, "The repo rate cut today and the "neutral" stance adopted by the Central Bank is a welcome move and will positively impact the economy ahead of the elections. Higher Interest rates have prevailed for a longer period than necessary even as Inflation as per the WPI index remained muted. It held back growth and halted investments in capital intensive sectors of the economy, particularly in infrastructure. A rate reduction will act as a catalyst and provide the much needed impetus to build upon the various initiatives announced in the Union Budget. The overall direction of the monetary policy is oriented towards growth and the change in stance provides the Cental Bank much needed flexibility to meet growth challenges in the future. This augurs well for the real estate sector and could lead to fence sitters coming back to the market. It is now up to the banks to reduce lending rates and ensure that the common man reaps the benefit of this move."
While the street was divided on the policy cut, we were of the view that a rate cut is impending and there is no merit in the logic that MPC should wait in February and ease later, merely for the sake of acting in step-function - i.e. stance change first, followed by a rate cut in ensuing policy. The RBI did deliver a cut today and the opportunity indeed was ripe for RBI to cut amid
(1) consistent inflation undershoots
(2) ability to make most of the current global Goldilocks scenario. 
"The policy statement was clearly dovish with RBI again revising down its inflation outlook significantly for CY19. Inflation is projected to remain soft and sub 4% by end-CY19. The RBI rightfully chose to wait for more data evidence to reach a definite conclusion on stickiness in core inflation in December -- driven by strong sequential gains in health, education category, particularly in rural basket. Fiscal impulses risks on inflation have been downplayed. Importantly, the MPC now noted that the output gap has turned negative, implying limited demand push inflation risk in the near term. The rule-based MPC policy regime calls for headline inflation-targeting which remains quite comfortable in the near-term, and with the tone of the policy decisively dovish, we continue to see one more cut coming in April. We do not rule out further cut after April, but the bar will be a tad higher and will be data-dependent. We see upside risks to RBI's inflation trajectory and will closely watch out for the evolution of inflation amid various idiosyncrasies and fiscal fragilities," comments Edelweiss Securities.
Dhiraj Relli, MD & CEO, HDFC Securities, "The RBI MPC has delighted market participants by changing stance to neutral and cutting repo rate by 25 bps. Q3FY20 inflation expectation cut to 3.9% means some more rate cuts can be expected in the course of the next few meetings. While Bond yields are yet to respond to the rate cut, we think they may start to fall materially when FPIs revise their short term view on India (overcoming their fears on fiscal situation). Equity markets could rise some more, welcoming an attempt to address recent issues in the credit markets, ultimately leading to higher growth."
2: 32 PM
RBI rate cut decision fuels IT stock rally
TVS Electronics countr surge by more than 11 per cent, HCCL Infosystem shares rose 4.76 per cent, HCL Tech stocks went up by near 1.2 per cent, L&T Infotech counter witnessed a rise of 2.3 per cent, NIIT shares went up by 2.18 per cent, NIIT Tech stocks went up by around 1.8 per cent, Infosys edged higer by near half a per cent while Sonata Software shares rose by 1.06 per cent.
2:25 PM
Energy stocks rally post RBI policy decision
After the RBI decision to cut Repo Rates by 25 bps to 6.25 per cent, the BSE Sensex and Nifty doesn't react too much and witnessed some profit booking but in the meantime energy stocks extended their margin. Hindustan Oil Exploration Company gained by over 2.8 per cent, Selan Exploration Tech surge near 3 per cent, Panama Petrochem went up by 2.66 per cent. But, the energy major and Sensex heavy weight Reliance Industries extened its losses up to 1.3 per cent.
12:20 PM
Marker experts reacts to RBI rate cut stance
Dharmesh Kant, Head - Retail Research, IndiaNivesh Securities Ltd told, "Rate cut of 25 basis points an Act of fine balance between maintaining real income & boosting economic growth. Benign inflation trajectory & low private capex were key enablers for rate cut good for mid & small cap companies. Double bonanza for NBFC's low cost of funds & boost in consumption on account of low inflation/ high disposal income. What Budget 2019 missed for corporates has been largely compensated by Monetary policy change in stance to neutral will bring stability to financial environment."
12:10 PM
Key take away from RBI Repo Rate cut:
Bond market to get more liquidity; 
Equity markets to scale further; 
More liquidity may put pressure on Indian rupee against the US dollar; 
Chances of rise in inflation can't be ignored as more liquidity would fuel demand; 
Good news for home buyers as rate cut would increase liquidity for banking transactions; and
Banking sector can have a sigh of relief as bad loans have hit their merchandise to a larger extent
11: 47 AM
RBI cuts Repo Rate by 25 bps
The Reserve Bank of India has cut the repo rate by 0.25 per cent to 6.25 per cent that may fuel the bond market and the equity market in India.
11;35 AM
BANKEX surge on RBI Monetary meet
Ahead of RBI monetary meeting, the Nifty Bank index rose near 0.26 per cent to 27,475 levels. Banking major Yes Bank went up by around 2.25 per cent, Federal Bank surge by near 1.9 per cent, SBI stock rose by near 1.4 per cent, City Union Bank shares rose by around 1.16 per cent while Axis Bank had a minor bull run of near 0.9 per cent. Shares of bank of Baroda and ICICI Bank too went up by more than half a per cent.
11:00 AM
Auto stocks catching the market rally
Fuelled by the market rise, auto stoks are taking leap at faster rates. Auto major TVS Motors company surged by more than 4 per cent, shares of Tata Motor jump by near 2.75 per cent, Hero MotoCorp rose by nera 2 per cent, Bharat Forge rise by more than 2.5 per cent, Apollo Tyres stok rose by more than 3.5 per cent while Bajaj Auto and Ashok Leyland counters surge by more than 3 per cent.
10:26 AM
Toss before RBI Monetary meeting
Anindya Banerjee, Deputy Vice President, Kotak Securities told Zee Business Online, "If the RBI lowers interest rates, it can knock down the Rupee. That is a risk worth taking as anyways the Rupee in 2019 is not responding to high real rates, as inflows are lacking. If RBI can lower rates by 25 bps and keep the option open for another 25 bps in April, it can juice up the bond market and also rate sensitive stocks."
10:00 AM
Buy GAIL for 30% gains, advises Narnolia Financial Advisors
Gail is gradually shifting from Gorgon volumes to US LNG. The company has received 58 LNG cargoes in 9 months of FY19 out of which it has sold 31 cargoes in international market. Company has gained significant marketing margins in trading US LNG in the last two quarters and management expects margins to be remained at almost same level in Q4 FY19. Company has taken hedges to secure its margins for at least one more quarter.
On suggestion for investors in regard to GAIL counter Aditya Gupta, Research Analyst at Narnolia Financial Advisors informed Zee Business online in a detailed research citing, "The fundamental of the counter is indicating strong upside potential for 30 per cent. An investor can buy the stock for target price of Rs 433 per share." The counter is currently oscillating around Rs 333 per stock levels. 
9:55 AM
How the heavy weights are performing
Energy major and Sensex heavy weight Reliance Industries stock went up by around 0.4 per cent while Oil India Limited went up by near 0.9 per cent. In banking sector Yes Bank continued its rally by logging around 1.4 per cent gains from its Wednesday close, SBI scrip too went up by around 0.9 per cent, shares of Federal Bank, City Union Bank and Axis Bank went up by more than 0.75 per cent.
9: 50 AM
Buy Capacite Infraprojects for 67% gains, advises HDFC Securities 
Capacite  Infraprojects Limited (CIL)  reported  strong  3QFY19  execution  at Rs 4.5bn (5% beat, despite   around Rs 500mn lower revenue owing to NGT ban and NBFC crisis). EBITDA margins  dipped  80bps  QoQ  to 13.7% (due to negligible revenue booking on initial  stage  projects;  also  resulted  in  lower  amortization  of site establishment  costs).  Despite  the  margin  dip,  a  23%  QoQ  decline in depreciation led to PAT coming in line with our estimate at Rs 239mn.
On suggestion for investors in regard to Capacite Infraprojects counter Parikshit D Kandpal, Analyst at HDFC Securities told Zee Business online in a detailed research citing, "The fundamental of the counter is indicating strong upside potential for 67 per cent. An investor can buy the stock for target price of Rs 352 per share." The counter is currently oscillating around Rs 210 per stock levels.
9:47 AM
Buy Tech Mahindra for 17% gains, advises HDFC Securities 
Tech  Mahindra  delivered  healthy  performance  both on revenue and margin front. Revenue stood at $1,261mn (+3.5% QoQ, +4.3% CC), ahead of our est of  $1,244mn. Enterprise (59% of rev) grew 4.2% QoQ led by Digital (33% of  rev,  +10%  QoQ)  and  recovery  in  Manufacturing and BFSI.
On suggestion for investors in regard to Tech Mahindra counter Amit Chandra, Analyst at HDFC Securities told Zee Business online in a detailed research citing, "The fundamental of the IT counter is indicating an upside potential for 17 per cent. An investor can buy the stock for target price of Rs 880 per share." The counter is currently oscillating around Rs 750 per stock levels.
9: 42 AM 
Top five gaining stocks
Shares of Vakrangee, Siemens, Meghmani Organics, Shankara Buildings and Avanti Feeds were the top five gaining counters in early morning session. Vakrangee stok rose by around 6.8 per cent, Siemens shares went up by 7.1 per cent, Meghmani Organics stock went up by 4.8 per cent, Shankara Buildings stock rose around 5 per cent while Avanti Feeds shars went southward by around 4.2 per cent.
9: 35 AM
Top five losing stocks
Shares of Reliance Infra, Reliance Power, Reliance Capital, IL&FS Transportation and Adani Power were the top five losing counters in early morning session. Reliance Infra stok crashed by around 13 per cent, Reliane Power shares slide by 5.5 per cent, Reliance Capital stock went down by 4.8 per cent, Adani Power bleed by around 5 per cent while IL&FS Transportation shars went southward by around 4.8 per cent. 
9:25 AM
BSE PSU leads rally
The BSE PSU index rose maximyum by logging 0.35 per cent gains. In PSU sector stocks, Gujarat Mineral Development Corp rose near 1.67 per cent, HUDCO stocks rose nera 1 per cent, GIC shares rose by around 0.77 per cent.
9:10 AM
Buy Marico Limited for 25% gains, advises Narnolia Financial Advisors
Marico's numbers for Q3FY19 remained inline with market estimates; sales, EBITDA and PAT were up by 15%,16% and 13% respectively to Rs 1861 cr(expe. Rs 1847 cr),Rs 999 cr(expe. Rs 981 cr) and Rs252 cr( expe. Rs 260 cr). Domestic volume growth for the quarter remained 5% while International business (IB) grew by 11%in cc terms led by better performance of Bangladesh (16% cc growth) and Vietnam (15% cc growth).
On suggestion for investors in regard to Marico counter Rajeev Anand, Research Analyst, Narnolia Financial Advisors informed Zee Business online in a detailed research citing, "The fundamentals of the Marico counter suggests an upside potential for 25 per cent. An investor can take a buy position in this stock for the target of Rs 460 per shares." Currently, the stock is oscillating around Rs 368 per counter.
Asian share markets were in a muted mood on Thursday and looked set for a sleepy session with China still on holiday and no major economic data on the diary.
MSCI's broadest index of Asia-Pacific shares outside Japan was little moved in early trade after ending almost unchanged on Wednesday.
Japan's Nikkei dipped 0.2 per cent, while E-Mini futures for the S&P 500 were off 0.06 per cent in very thin trade.
Wall Street had already snoozed through a subdued session, though disappointing revenue forecasts hammered shares of the major videogame makers.
The Dow fell 0.08 per cent, while the S&P 500 lost 0.22 per cent and the Nasdaq 0.36 per cent.
Markets are still waiting on developments in the Sino-US trade dispute after President Donald Trump offered little new to chew on in his State of the Union speech.
Get Latest Business News, Stock Market Updates and Videos; Check your tax outgo through Income Tax Calculator and save money through our Personal Finance coverage. Check Business Breaking News Live on Zee Business Twitter and Facebook. Subscribe on YouTube.
Updated: Thu, Feb 07, 2019
04:05 pm
New Delhi, ZeeBiz WebDesk