State Elections 2017: What it means for the Markets?
Many believe that demonetization was announced keeping in mind these state elections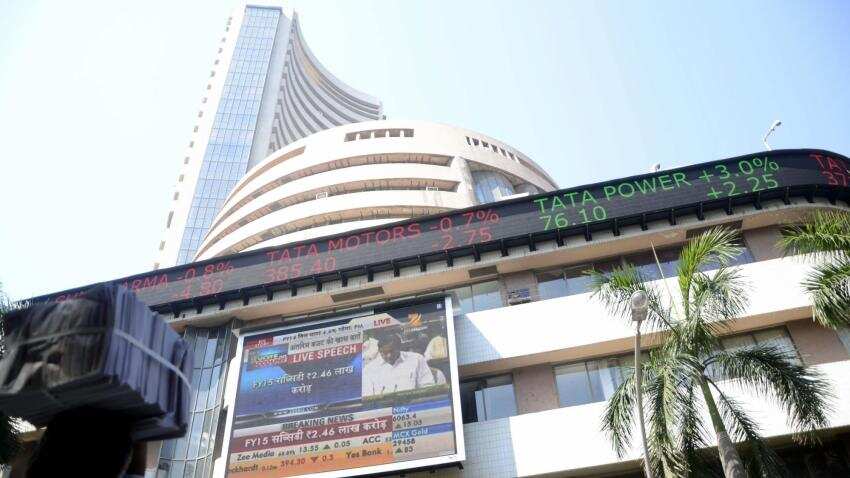 The results for all the 5 states will be declared on 11th March 2017. Photo: IANS
Updated: Tue, Jan 17, 2017
10:35 am
Mumbai, ZeeBiz WebDesk
When assessing the impact of forthcoming state elections on Indian stock markets, we were reminded of this quote by father of Value Investing (Benjamin Graham): "In the short run, the market is a voting machine but in the long run, it is a weighing machine."
And given the current context of state elections, it does seem to be a little tonguein-cheek.
But no one can question that atleast in short term, there is a definite link between politics and market performance. And since we strongly believe in investing in fundamentally sound companies for long term, we are not much bothered about the short-term volatility.
And with election for 690 legislative assembly seats in 5 Indian states round the corner, most market participants are trying to prepare themselves for coming months.
These polls in the backdrop of demonetization are being seen as a test for Modi-led BJP government in center.
Election Schedule & What is at Stake?
The polling is to begin from 4th February 2017 and continue up to 8th March 2017. Votes would be casted for several hundreds seats in all the five states: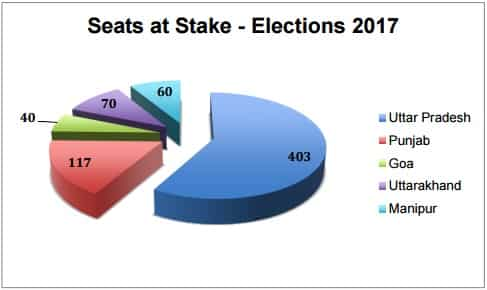 The results for all the 5 states will be declared on 11th March 2017.
For ruling party at the center (BJP), there is a lot at stake. Many are considering these elections to be a semi-final before the final 2019 general elections. And with government having surprised the nation with the demonetization just a couple of months back, it could be an acid test for BJP in true sense.
Many believe that demonetization was announced keeping in mind these state elections. It is common knowledge that political parties use cash bribes in exchange of votes in many areas of the country. So with cash being tracked and in shortage, the parties that were planning to take the cash-for-vote route will face big troubles in these elections.
Now ideally, voters should understand the difference between state and general elections and vote accordingly. State elections atleast theoretically should be decided based on local issues. But demonetization has touched the life of every Indian - though some have taken it positively while few others have take it negatively.
So how people vote in these elections where BJP has a lot at stake, will be keenly watched.
No doubt, local issues and state dynamics will dominate. But demonetization will also be kept in mind while voting. 
Uttar Pradesh holds the key
The spotlight is clearly on Uttar Pradesh (UP). BJP did extremely well in UP in 2014 general elections by winning a massive 71 of the 80 parliamentary seats in the state.
Given this enormity of victory against mighty state-strong parties like SP and BSP just three years ago, the most predictable outcome would have been a big BJP victory again in 2017.
But 2014 was about general elections and 2017 is about state elections. Also BJP lost the Bihar elections of 2015 just after 2014's national victory. So there are no guarantees and there is considerable excitement in the power corridors of the state.
Talking of 2017 and other parties in UP, Samajwadi Party (SP) had been a strong contender but is struggling with its own father-son power struggle.This is a big positive for BJP and Mayawati-led BSP, as the family feud has left SP's own voters confused. Congress is no longer a relevant contender in the state but is looking to enter into an alliance with SP.
As for BSP, the party is again playing its reservation card and trying to woo Dalits. In addition, it is trying to corner Muslim voters post SP's internal crisis. But BJP is not leaving any stone unturned to woo the community as it tries to highlight the issue of Triple Talaq & Uniform Civil Code for the benefit of Muslim females. If it succeeds in this, it might mean migration of at leasta smallpercentage of Muslim voters towards BJP.
All in all, UP has a huge say in Indian politics. And it is rightly getting more highlighted than the polls in Punjab, Uttarakhand, Goa and Manipur.
So a win here for BJP will mean that Modi's charm and development politics still has takers in UP. But a loss could dent Mr. Modi's credibility to some extent.
Other states
Ruling alliance in Punjab is of BJP and regional party. They will try to hold on to the power but it will be difficult. BJP's state partner has many corruption-led questions to answer. 
This is in addition to a substantial threat from Aam Aadmi Party's (AAP) rise in the state. Infact, chances of Aam Aadmi Party (AAP) upsetting the power dynamics of the state cannot be ruled out.
Goa, Manipur and Uttarakhand too will see parties competing each other. But the impact of elections in these states will not have much consequence on national policies or markets.
What do these Elections mean for Stock Markets?
The results of these state elections will be taken by market as an indication of trends for 2019 general elections. There is bound to be volatility around the elections.
Market and investors want BJP to win as it has increasingly taken steps that are pro-economy. So a strong BJP showing (especially in UP) is bound to cheer up the market as well as foreign investors.
On the other hand, a weak result for BJP could dent market's perception about BJP's ability to return to power in 2019. It will also put forward a lot of questions about whether Mr. Modi's policies have any acceptance among the people of country now.
Depending on BJP's performance in key states of UP and Punjab, markets could be volatile at least in the short term. 
A poor show by BJP might lead to short term impact on markets, which long-term investors can utilize to buy stocks of fundamentally sound companies at bargain prices. But a strong performance by the party will prove its strength to have won elections in major states even after executing bold moves like demonetization.
So for next couple of weeks, it is a wait and watch for all of us.
(The article is written by Mr. Manish Goel, Founder and Director, Research & Ranking  and Mr. Gaurav Goel, Founder & CTO, Research & Ranking)
Get Latest Business News, Stock Market Updates and Videos; Check your tax outgo through Income Tax Calculator and save money through our Personal Finance coverage. Check Business Breaking News Live on Zee Business Twitter and Facebook. Subscribe on YouTube.