#ShiftingGearsWithSwatiK: Commercial Vehicles are the backbone of Indian economy, says Satyakam Arya, Daimler India
The first is the cyclical storm in which the CV industry after strong growth of four years till 2018 started contracting in 2019 even before COVID started. We had more than 35% contraction in 2019 and what is happening right now I am sure that you are well aware of it.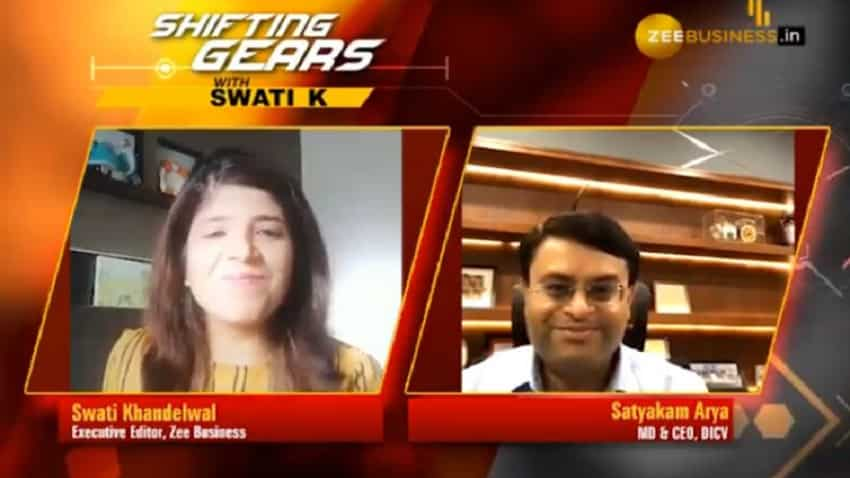 Commercial Vehicles are the backbone of Indian economy, says Satyakam Arya, Daimler India
Daimler India is setting a benchmark in CV industry by providing 8-year-warranty and 10-year maintenance package to our customers in BS-VI vehicles, says Satyakam Arya, Managing Director & CEO, Daimler India Commercial Vehicles. During a candid chat with Swati Khandelwal, Zee Business, in a Facebook live session, Mr Arya said, we will invest more to bring technologies to India to further move to the next level of safety, comfort and efficiency. The chat was live on Zee Business Facebook page.
Talking about the commercial vehicle (CV) sector of India and challenges that Daimler has faced during this pandemic situation, Mr Arya said, CV sector is a very important sector for our economy and it is quite well understood that CV is the backbone of the economy, that is how I would call it. Definitely, this sector has contributed a lot to the growth of the economy and has been supporting the economy in different aspects. Adding to it, he said that the entire automotive industry, typically the CV sector, is going through three storms, altogether. 
The first is the cyclical storm in which the CV industry after strong growth of four years till 2018 started contracting in 2019 even before COVID started. We had more than 35% contraction in 2019 and what is happening right now I am sure that you are well aware of it. 
The second storm that the industry is facing is a structural storm and it is coming from different angles and it includes (i) segmental shifts are happening by the choice of customers, (ii) there are geographical shifts happening due to the fact that how the economy is behaving between different geographies and (iii) shifts are happening due to regulations. There is a lot of impact on structural shifts. 
The third storm is a transformational storm. That is nothing unique in it but CV has had a different impact on it. When I am talking about transformation then I am talking about digitalization, which will greatly and hopefully change the industry for the better. The second is about the alternative propulsion system. For decades the vehicles have been running on gasoline or diesel and now we are talking about altogether different propulsion system and more than one. And with digitalization, we are talking about the upcoming business models which could be created around your products. 
So, we had three storms together, but the best we could have had at the top and it is COVID, now. If you ask me what will be the impact of COVID on the industry then I think that COVID will weaken and lengthen the impact of all these three storms. So this is what the industry is going through and at the same time, we should be optimistic about the future. It is a great chance for the industry to reinvent itself in times of this crisis. 
When asked about the Daimler's focus on products and the kind of products that will fit into the Indian market well, he said, undoubtedly, India is an important market for us and this is why we have invested a lot in India and recently, we have announced that we will still continue to invest here in spite of this crisis. Actually, our confidence is very strong in the Indian market. 
As far as demand is concerned then just do a simple graph of population of a country and the number of CVs sold then you will know that India is an outlier, which means there is large headroom for the Indian CV company to grow. This is a reason why we came to India and have invested that much. Our products are designed for India and are developed in India and that's why they are so successful and accepted by the customers. In addition to this, these products have been launched in different markets as well. As on day, more than 50 markets are covered by these products from India. Our plant in Chennai is the only plant of Daimler, where all the brands of Daimler are manufactured. Bharat Benz is manufactured for India, FUSO for more than 40 markets, Mercedes-Benz and even Freightliner, which is exported to Mexico from India. As far as our plans related to products are concerned then the first important thing is that BS-VI was launched just two months earlier and we have invested a lot in this technology. We term it as profit technology plus for a simple reason, just pick up any trucker and you will get that just 10% of his cost is product cost when he buys it, and the balance 90% is the cost which is used in running and we have focused on that 90% in BS-VI. 
The E-commerce segment is a growing segment in which trucks are used extensively for delivery to the customer on time is very-very important. In the case of BS-VI, we have offered 10% better fuel efficiency as compared to BS-IV. Normally there is a 5% loss while migrating from BS-IV to BS-V or BS-VI but we have improved it by 10% when compared with Bharat Benz BS-IV. The maintenance cost of the product increases when the emission is upgraded because more technology is used in it but Bharat Benz maintenance cost will be 6% lower than BS-IV.     
Besides, we have made a paradigm shift in India and that is about liability. There was a common understanding that after 1 lakh or 2 lakh kilometres, when a new vehicle was bought, you will have to overhaul the entire drive connect in terms of transmission and all. But, Bharat Benz the first truck that we sold in 2012 have covered 1 million kilometres with the same engine and transmission and they are still going fine. So that is setting a new benchmark or paradigm in the CV industry and that gives us the confidence that in BS-VI, we are providing warranty up to 8-year and maintenance up to 10-year and this is the package that we have offered to our customers. 
Scepticism occurs in the mind of the customer that BS-VI is complex and we have made sure that the peace of mind is given to the customer to buy a 10-year AMC (Annual Maintenance Contract) and we will maintain it. It doesn't end here of course. This was BS-VI that we launched in April and we will now continue to ramp up. I am happy to share with you that we have got a phenomenally good acceptance of the product from the customer. We have a solid pipeline. Now, what next then I think it is on two sides (i) on the product side and (ii) beyond product and we call it at our company as beyond truck or beyond the bus. When you look at the product itself, we are leaders in terms of safety, comfort and efficiency but we will not stop here. We will further invest in bringing more technologies to India so that we can further go to the next level of providing safety, comfort and efficiency. 
Watch Zee Business live TV below:
#ShiftingGearsWithSwatiK is a Zee Business exclusive series that has been created to reveal the extent of COVID-19 impact on the world's leading auto brands, their pivot strategies in the New Normal and much beyond that.
Get Latest Business News, Stock Market Updates and Videos; Check your tax outgo through Income Tax Calculator and save money through our Personal Finance coverage. Check Business Breaking News Live on Zee Business Twitter and Facebook. Subscribe on YouTube.
Written By:
Jitesh Kumar Jha
Updated: Thu, Jul 30, 2020
04:17 pm
Mumbai, ZeeBiz WebDesk