Share market LIVE Budget 2019: Market cheers Piyush Goyal's announcements; Sensex, Nifty closes 0.6% upside
After the presentation of budget 2019 that had something for all to cheer, trickled down to the markets hailing Narendra Modi government by jumping near 0.6 per cent.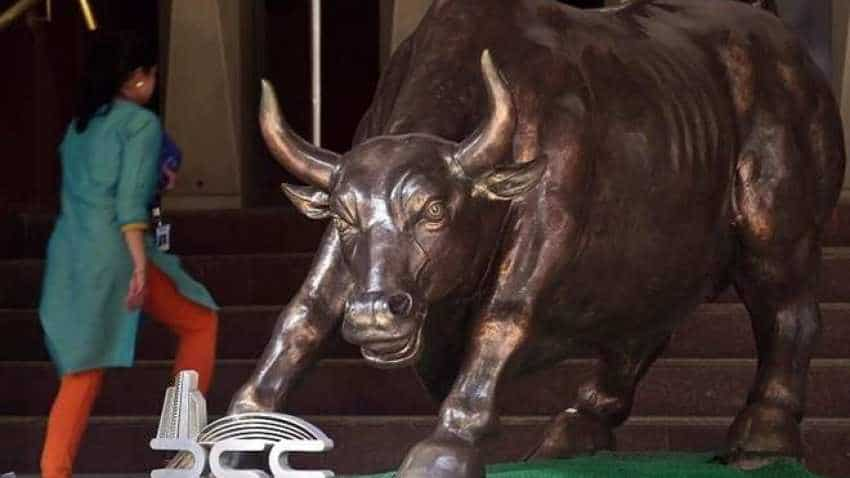 Sensex, Nifty investors are suggested to keep an eye on tech stock and announcement of GDP and fiscal deficit numbers in budget 2019. Photo source: PTI
Share market LIVE Budget 2019:  Taking a cue from the strong global sentiments, the BSE Sensex closed 212 points to 36,469 levels after the completion of Piyush Goyal's budget speech. The 50-stock Nifty rose by 62 points to 10,893 levels. The market investors are in a 'Wait and watch the situation' as the Indian indices already rallied on strong global cues on Thursday, a day ahead of budget 2019. The major gaining sectors were auto, capital goods and consumer goods. While banking sector remained red. The market experts are expecting the BSE Sensex and Nifty to extend it rally as those strong global cues still exist. Since, the budget 2019 had some special focus on real estate, banking, and middle class, experts are expecting some positive movement in banking, realty, and consumer durable stocks.
Mehul Kothari, Senior Technical Analyst at IndiaNivesh told, "Post the 'Doji' formation on Tuesday, index Nifty underwent some recovery and yesterday we witnessed an extension of the same. As of now, this could be termed as a pre-budget rally. At this juncture, Nifty is resisting just below the placement of 200 DSMA. Further, this resistance coincides with 61.8 per cent Fibonacci retracement of the recent fall. Thus going ahead, only a move above yesterday's high of 10838 might extend this rally. For the medium term, this pullback should be used to exit long positions of creating shorts since a new bullish leg would start only above 11000 marks." He said that on the downside, 10680 might act as strong support in case of any negative surprise from the budget. A move below the same might resume the downside momentum which could drag the index towards 10580 – 10530 levels. Traders are constantly advised to remain stock specific and avoid over-leveraged positions.
Budget 2019 LIVE Streaming on Zee Business:
3:30 PM Market closing: Despite huge recovery just after the Budget 2019 speech of Finance Minister, Piyush Goyal, markets closed 0.6 per cent up from the last closing. Sensex closed upside at 36,469, surging 212 poits or 0.58 per cent.  While Nifty 50 closed at 10,893, jumping 62 points or 0.59 per cent strong. However Bank Nifty tumbled 0.77 per cent to 27,085, dipping massive 209 points at the closing. 
12:35 PM Market cheers as Piyush Goyal's budget is welcomed by investors. Sensex is up by 440 points 36,698, While Nifty 50 recovers to 10,957 surging 126 points.
11:54 AM Atul Gupta, Senior Director, Deloitte India told, "Introduction of PM Kisan Yojana - Direct income support of Rs.6000 per year for small farmers who own less than 2 hectares is a step in right direction to support small farmers."
11:24 AM To double farmer's income, there is a need to provide structured income support for farmers. to provide assured income support to small marginal farmers the Pradhan Mantri Kisan Samman Nidhi announced.
11: 22 AM  AIIMS hospital for Haryana. It would be 22nd AIIMS Hospital in India
11:20 AM LED bulb drive saved Rs 50,000 crore in electrical spendings by the public in general, indicates save of power and wastage of electricity.
11: 18 AM Fund allocated under Pradhan Gram Sadak Yojna tripled for the year 2019-20. Push for infra sector and the related sector.
11: 16 AM Foodgrain for poor Rs 1.7 lakh crore fund allocated, MNREGA fundraised to bridge the urban-rural divide. Real estate can cheer as it would spark infrastructural development in rural part of India.
11: 12 AM Banking sector reforms take center stage in Piyush Goyal's speech may spark investors view on the banking stock.
11: 10 AM Piyush Goyal speaks on the rising NPA (non-performing assets) of the Public Sector Band and the centre-RBI spat that helped contain the bank NPA.
11: 08 AM  Inflation in basic necessities goods being curtailed down by around 35% to 40%, says Piyush Goyal CAD (Current Account Deficit) is likely to be only 2 per cent of the GSP in 2018-19. 
11:03 AM  Piyush Goyal begins his budget speech with a vow to Indian economy 'solidly back on track.'
10:52 AM    Buy Ashoka Buildcon stock for 58% gains, recommends Elara Securities
Ashoka Buildcon (ASBL IN) quarterly revenues surpassed our expectation to scale a new high at Rs 10.6bn (up 62 per cent YoY) driven by Rs 8.1bn from road segment and Rs 2.5bn from power T&D segment. Nearly 50 per cent of the road project revenue contribution came from HAM projects. EBITDA margins also stood healthy at 14 per cemt against the expected 13 per cent. As a prudence policy, the company booked one-time exceptional loss of INR 398mn on account of provisioning for GVR Infrastructure which is undergoing insolvency proceedings at the preliminary stage. PAT stood at INR 622mn (up 32 per cent YoY). 
Speaking on the outlook of the Mold-Tek Packaging stock Ankita Shah, Analyst at Elara Securities told in a written statement, "The action on the ground is expected to continue with anticipated receipt of appointed dates for four HAM project before the fiscal end. Utility shifting activity on new projects has already begun and land acquisition process is in advanced stages. Also with revenue recognition commenced on CGD business (contribution of Rs 350-400mn in 3Q), the project has the potential to contribute around Rs 1bn every year.  Newly bagged railway projects worth INR 8bn too would add to the momentum. Order backlog of INR 95bn provides b-t-b visibility of 3x. We believe the company is on track to achieve targeted 35-40% revenue growth in FY19 and planned 30-35 per cent growth in FY20."
On what does he suggest to the market investors Akhil Parekh of Elara Securities told, "Fundamentally the stock looks upside with the potential to gain around 58 per cent. We recommend investors to buy for the target of Rs 189." Currently, the stok is oscillating around Rs 119 per stock levels. 
10:35 AM    Buy Mold-Tek Packaging stock to double your investment, recommends Elara Securities
Mold-Tek Packaging's volumes grew by 8 per cent during the quarter with IML contributing 60 per cent to the total volumes against 54 per cent in 2QFY18. IML volumes grew by 20 per cent while non-IML volumes declined by 6 per cent (due to weakness in lubricants which declined by 7 per cent) during 3QFY19. 
Speaking on the outlook of the Mold-Tek Packaging stock Akhil Parekh, Analyst at Elara Securities told in a written statement, "Value-wise IML's contribution stood at 64 per cent against 60 per cent in 3FY18. Healthy growth in IML is led by increasing contribution from Food & FMCG (F&F) segment. F&F's contribution increased from 20.5 per cent in 3QFY18 against 25 per cent during the quarter. MTEP continues to gain traction in the edible oil segment."
On what does he suggest to the market investors Akhil Parekh of Elara Securities told, "Fundamentally the stock looks upside with the potential to gain around 98 per cent. We recommend investors to buy for the target of Rs 431." Currently, the stock is hovering around Rs 218 per stock levels. 
10:20 AM  Credit line solution for the Indian real estate sector
Direction to the Banks to start lending to the Real Estate sector - the industry is starved of funding - the NBFC's have slowed down post the IL&FS crisis and the Banks (especially the PSU ones) have curtailed lending to RE Developers. Funding is critically required for the survival of a lot of Developers and any steps towards addressing this would be a big step forward.
10:15 AM    Big relief expected for real estate sector in budget 2019
Gagan Randev, National Director at Capital Markets and Investment Services says, "The Real Estate industry is waiting with bated breath to see some positive steps that the Govt would take to reduce some of the stress that the sector has faced in the last couple of years. While there are a lot of expectations, the industry would be keenly awaiting good news on the following: reduction in the rate of GST for under construction units from 18 per cent to 12 per cent with Input Tax credit intact, reduction in GST on Cement from 28 per cent to 18 per cent, enhancement in PMAY limit from Rs 25 lakh and enhancement in 80C limit." 
10:07 AM The 10-year benchmark government bond yield is at 7.49 percent, barely changed from Thursday's close of 7.48 per cent, while the rupee was almost steady at 71.14 to the dollar compared with its previous close of 71.09.
9:48 AM After bleeding profusely in previous sessions since Monday, Adani stocks have shown some sort of recovery today. Adani Transmission shares went up by around 1.53 per cent but Adani Ports and Special Economic Zone Limites shares went southward by around 1.2 per cent. 
9:45 AM Among energy sectoral shares Reliance Industries went up by around 0.6 per cent, Oil India stock rose by around 0.9 per cent, GP petroleum shares rose by 3.8 per cent while Castrol India stocks went northward by around 0.4 per cent.
9:23 AM Realty major DLF went up by around 0.8 per cent, Oberoi Realty rose by around 1.2 per cent, Suntech Realty was jup by more than 3 per cent, Shobha stock rose by near 2 per cent while Phoenix Mills shares went higher by around 0.4 per cent.
9:21 AM Banking major Yes Bank stocks rose by near 1.25 per cent, Bank of Baroda stock rose by around 1,35 per cent, SBI shares went up by around 1 per cent while IndusInd Bank and Kotak Mahindra Bank shares went northward by around 0.3 per cent.
9:20 AM On account of the budget 2019 getting presented today and expected meeting of Sino-US president, the BSE Sensex and Nifty extended its yesterday's rally on Friday. The BSE Sensex rose by around 100 points to 36,307 levels while the 50-stock Nifty went up by around 30 points to 10,861 mark  
9:00 AM On account of positive speculations in regard to real estate and banking sector, stocks of the concerned sectors are in investors focus.
8:02 AM Big relief to the real estate sector being speculated in Piyush Goyal's budget speech like rising in fund allocation to affordable housing, relief to the home buyer and tax relief to the middle class may give some movement to the realty stocks ahead of the budget presentation.
8:00 AM    Buy Jubilant Foodworks for 21% gains: Narnolia Financial Advisors
The strong sales growth trajectory continues for JUBLFOOD with the company reporting SSG of 14.6 per cent even on a higher base. The company opened 35 stores in the third quarter indicating the expansionary strategy to be adopted for future growth. With more than 50 per cent of these stores being opened in the existing geographies by splitting the stores and the management's commentary of demand being strong, brings confidence that the growth going ahead would be on the new stores with SSG around 10% for FY20 on the strong base of FY19.
Commenting upon the outlook of ICICI Bank stock Pratik Poddar, Research Analyst at Narnolia Financial Advisors told, "We expect the revenue to grow at a CAGR of 18% over FY18-20. The company's strategy to focus on stringent cost policies have been working well over the past whole year. The Dunkin' Donuts brand (DDI) has achieved EBITDA break-even in quarter three which would now eliminate its drag on the overall margins for the company. With the new EDV strategy in place, lower discounts, better product mix, and cost rationalisation along with prudent store expansion will continue to drive operational efficiency for the company. We largely maintain our sales estimates and revise our estimates for PAT by 4 per cent to 6 per cent upwards in FY19/20 to factor in strong margins and DDI break-even." 
On his suggestion, to market investors, Deepak Kumar said, "Fundamentals of the stock suggests further upside growth potential of around 21 per cent. We recommend buying the stock for the target of Rs 1,448." Currently, the stock is hovering around Rs 1200 per stock levels.
7:50 AM    Buy ICICI Bank for 22% gains, advises Narnolia Financial Advisors
Stress pool (BB & Below) declined by 14 per cent sequentially and 93 per cent of corporate slippages were from the stress pool. Declining slippages number and robust recovery & up-gradation helped the assets quality to improve significantly during the quarter. Slippage was the lowest in the last 14 quarters but some stress account bulky in nature can create volatility ahead. However, management continues to increase the provisions to strengthen the balance sheet.
Commenting upon the outlook of ICICI Bank stock Deepak Kumar, Research Analyst at Narnolia Financial Advisors told, "We expect normalization of credit cost in FY20. PCR increased by 700 bps to 76 per cent (including prudential write-offs) and remains one of the highest among peers. Loan growth is expected to pick up going ahead. We expect NIM to improve going ahead given the strong liability franchise and change in assets mix. Gradual MCLR reset and recovery of NPAs will boost the NIM. Management had earlier guided for 15 per cent RoE for the near term. ICICI BANK is currently trading at 1.9x BVPS FY20e." 
On his suggestion to market investors, Deepak Kumar said, "Fundamentals of the stock suggests further upside growth potential of around 22 per cent. We recommend buying the stock for the revised target of Rs 445." Currently, the ICICI Bank share is hovering around Rs 365 per stock levels.
7:40 AM Asian markets go flat, lose early gains. Japan's Nikkei ceded early gains of near 60 points. Currently, Nikkei is mere 14 points up from its Thursday close. Shanghai index is 0.3 per cent up while Hang Seng index is down by around 0.05 per cent.
7:25 AM         Buy Bajaj Auto for 26% gains, advises IndiaNivesh
Challenges like lower export realisations, higher discounts, and sales promotion costs to generate sales, concerns in financing availability, and higher commodity prices impacted the quarterly performance for Bajaj Auto. However, with the onset of marriage season, liquidity concerns fading away and newer launches. So, Bajaj Auto will be able to deliver double-digit growth in the coming quarters.
Commenting upon the outlook of Bajaj Auto stock Mayur Milak, Senior Research Analyst - Auto at IndiaNivesh told, "New launches and softer raw material costs should assist growth. The management expects that the newly launched Pulsar Neon and Platina 110cc will assist volume growth in the coming months. They guided for a double-digit volume growth in Q4. Also softening in major raw material items like steel, aluminum and lead should lead to higher gross margins and assist earnings going forward. Even on the three-wheeler segment, the management has guided for a 10 per cent organic growth sequentially while Egypt markets are expected to give a boost to its exports." 
On his suggestion to market investors, Mayur Malik said, "Fundamentals of the stock suggests an upside growth potential of 26.8 per cent. We recommend buying the stock for the target of Rs 3,170." Currently, the stock is hovering around Rs 2,500 per stock levels.
7:00 AM Asian shares ticked up to four-month highs on Friday on hopes the leaders from the United States and China could strike a trade deal and as the Federal Reserve appeared to have all but abandoned a plan to raise borrowing rates further.
MSCI's broadest index of Asia-Pacific shares outside Japan rose 0.1 per cent after a stellar 7.2 per cent gain in January. Japan's Nikkei gained 0.5 per cent.
US President Donald Trump said on Thursday he will meet with Chinese President Xi Jinping soon to try to seal a comprehensive trade deal as the top US negotiator reported: "substantial progress" in two days of high-level talks. 
Trump said he was optimistic that the world`s two largest economies could reach "the biggest deal ever made."
Get Latest Business News, Stock Market Updates and Videos; Check your tax outgo through Income Tax Calculator and save money through our Personal Finance coverage. Check Business Breaking News Live on Zee Business Twitter and Facebook. Subscribe on YouTube.
Updated: Fri, Feb 01, 2019
03:49 pm
New Delhi, ZeeBiz WebDesk