Sentiments are Buoyant; Farm loan waiver will improve cash flow in Rural India: Ramesh Iyer, Mahindra Finance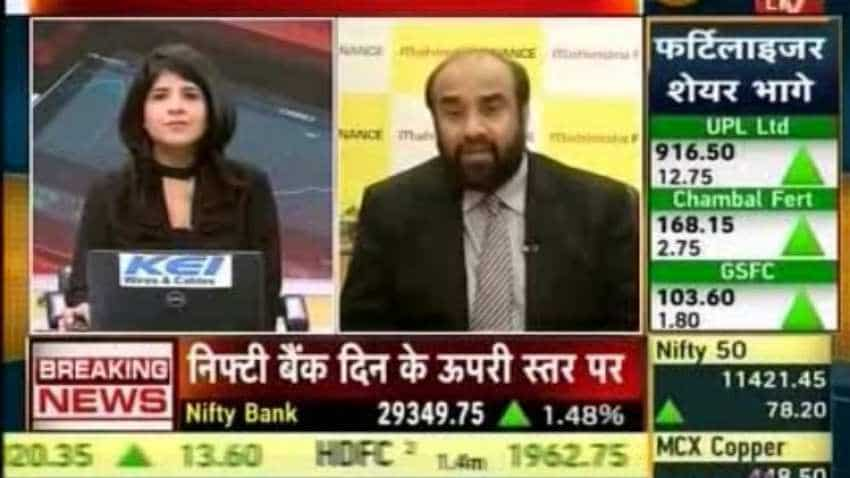 Good yield and support price has created a positive sentiment in rural India and this will benefit Mahindra and Mahindra Financial Services.
Updated: Mon, Mar 18, 2019
02:54 pm
Mumbai, ZeeBiz WebDesk
Ramesh Iyer, Vice Chairman and MD, Mahindra and Mahindra Financial Services Ltd (MMFSL) during a chat with Swati Khandelwal of Zee Business said that good yield and support price has created a positive sentiment in rural India and this will benefit us. Edited excerpts:
Q: It's election season in India and your business is quite connected to it. Talk about the kind of growth that the sector can reap from the event? 
A: Sentiments are quite buoyant and positive as the yield has been quite good this time and it is backed by the support price that has been quite good across the country. So, farm cash flows are good. Secondly, the ongoing work on the infrastructural front has also increased the infra cashflow in the region. Thus, if you have a look at both the things, farm cash flow and infra cashflow, then you will find that the rural sentiments are quite positive, and it will benefit us. 
See Zee Business video below:
#LIVE | जानिए बाजार के हर कन्फ्यूजन का सॉल्यूशन #FinalTrade में @AnilSinghviZEE और बाजार के दिग्गजों के साथ। https://t.co/CcDy48gwlv

— Zee Business (@ZeeBusiness) March 18, 2019
Q: Let us know about the kind of impact that the announced farm loan waivers will have on NBFC business?
A: As, I have said that farm loan waiver will improve the cash flow will enable a customer to look forward to a fresh loan, as they will not be liable to pay the previous amount. This means improved cash flow will help them to invest. Thus, it can unfold a new consumption story and it will benefit us in two different ways (a) They will increase their asset in which their purchase will benefit us (b) Customers with improved cash flow will help us and we are seeing that as there is a significant improvement in collection and our NPAs are going down. Thus, it will benefit us on both fronts. 
Q: You have a presence in tractors, cars, utility vehicles (UV) and commercial vehicle (CV) and you provide a loan in all these segments. Talk about the expected growth across each of these segments and tell about the strategy that will be adapted to penetrate deeper into rural markets?
A: See, we have always said that our strategy always revolves around penetration and we will be adding at least 100 more branches in the process. At the same time, it must be seen that we have our customers in more than 3.60 lakh villages and we want to use these customers to generate more customers. This 'Direct Marketing Initiative' has helped us in increasing our volume by 18-20 per cent.  
Apart from this, the new and existing branches will also help us in expanding our coverage to more one lakh additional villages in the next twelve months. So, today, we have our customers in 3.60 lakh villages in India and we will try to extend this list by adding one lakh more villages in the list in next twelve months through multi-products like second-hand vehicle financing or financing the cars, utility vehicles and tractors among others. Thus, we have a strategy to add at least one lakh more villages in our list. So, the two things will benefit us. 
Q: How is the cash flow and how it is shaping up?
A: A look at our collection, NPA correction and volume growth will make it clear that their sentiments are still positive, and we are marching on the same sentiment. Secondly, we are not in a month's or year's business, but we lend for a period of at least 3-4 years. We always have a partnership approach with our customers while doing the business. There can be a time when buoyancy doesn't exist in this period and this is when we get a benefit. As a company that has been working there for last 20-25years understands it and partners with the customer to get a solution. This benefits us. 
Q: There are liquidity concerns in the sector, but your company has been able to manage its balance sheet even in this difficult time. Going forward, if we talk about the strategy than talk about the process that will be adopted to increase your market share?
A: First of all, it is necessary to understand that it, Mahindra and Mahindra Finance, is a part of Mahindra Group and our promoter's image and its brand value in the market benefits us. Secondly, we always have a focused balance sheet and we are not functional into several assets and we are a vehicle and tractor focused company. We reap the benefits of the clean balance sheet. We are a triple-A rated company. We had always had a multi-product liability in both segments, products and assets, and had been able to maintain a good growth rate in last 20-25years. 
In addition, during difficult times, we talk about the situation, what pushed us into it and the time by when we will recover from it. Even, this transparency has paid off to us. If you look at everything, then you will find that a company that has been working in the rural area for 25 years, whose promoter banking is good, and it's the brand image is so clean and good, then such companies will reap the benefits and we are also reaping the same. 
Q: You have been able to retain your growth guidance despite the challenges that the industry has seen in the near past. Will you be able to stand by the growth guidance of growing by 20 per cent in FY19 and FY20?
A: See, our growth rate is dependent on the growth rate of the OEMs (original equipment manufacturers) and it is decided after looking on their growth forecast and our market share. If there is any cut in the growth forecast by the OEMs, then we will have to correct our forecast and vice versa happens when they increase their forecast. So, the growth rate that we talked about earlier is based on the growth rate forecast of the OEMs. 
Q: Now, I will talk about asset quality. We have seen an improvement in the third quarter. Can we expect further improvement in asset quality? Also, talk about the gross NPAs and provision cover?
A: I have always said that the first two quarters of the year, when NPA numbers go up, has seen NPA reduction this time and the same trend has continued in the third quarter. So, we don't have any reason to think differently. We are seeing at the efficiency of the collection that has been good, sentiments that are strong and overall cash flow that is fine. We are being benefitted of the same. We have always said that positive market sentiments, good rural cashflow, in both farm and infra sector, will benefit us and we can see an improvement in asset quality.
Get Latest Business News, Stock Market Updates and Videos; Check your tax outgo through Income Tax Calculator and save money through our Personal Finance coverage. Check Business Breaking News Live on Zee Business Twitter and Facebook. Subscribe on YouTube.