Sensex, Nifty slip nearly 3% this week on global cues
The BSE Sensex has shed around 1,900 points and the NSE Nifty over 500 points since the start of this month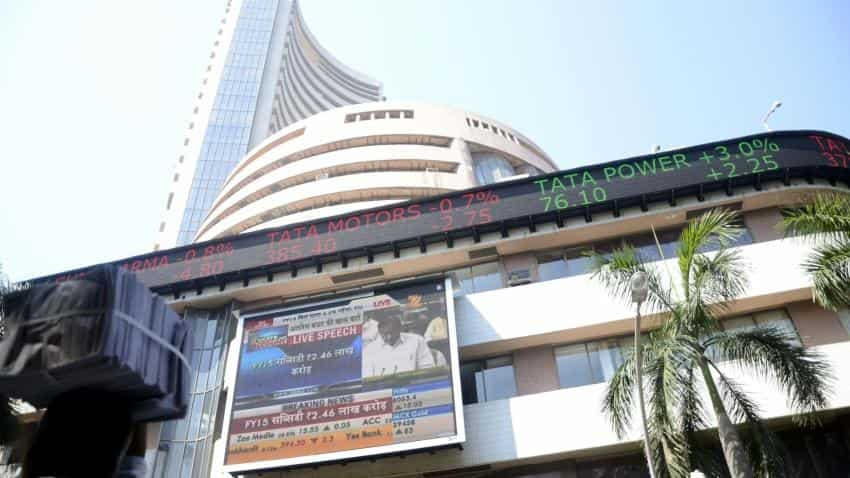 The wider Nifty50 of the National Stock Exchange closed the week`s trade at 10,454.95 points. Image source: IANS
The Indian equity markets turned bearish for the second consecutive week, with the BSE Sensex dropping over a 1,000 points and the Nifty50 index over 300 points following a massive global sell-off.
BSE Sensex tanked 1,060.99 points or 3.02 % this week to close trade at 34,005.76 points while Nifty50 of the National Stock Exchange (NSE) closed the week`s trade at 10,454.95 points, shedding 2.84% from its previous week`s close.
The BSE Sensex has shed around 1,900 points and the NSE Nifty over 500 points since the start of this month.
Across the global markets like US, Asia and Europe indices tanked sharply, with the US market declining over 4% on Friday on onconcerns over rising inflation and bond yields, sparked by jobs report. US bond yield spiked to 4-year high of 2.88% on expectation of US Fed hike in interest rate in the next policy meeting. 
There was a selling pressure across the global markets. Nikkei and Hong Kong Index nosedived 2.5% and 4%, respectively, and  China index slipped 4%. 
European market declined after the Bank of England said interestrates probably needed to rise sooner than previously expected. IndiaVIX gained over 8% at 19.23 due to increased intra-day market volatility.
However, market recovered partially from the intra-day low after US Future gained. 
Auto, banking & NBFC, FMGC, tech and pharma stocks declined. However, metal stocks witnessed fresh buying. Both mid-cap and small-cap indices bounced back into positive territory. 
Nifty 500 stocks advance-decline ratio was nearly 1:1 despite which Nifty declined 122 points.
Nifty Future closed negative with the losses of 0.83% at 10,485. On the option front, maximum Put open interest (OI) was at 10,000 followed by 10,500 strike while maximum call OI was at 11,100 followed by 11,000 strike. 
Major call writing was seen at all the strikes from 10,400 to 10,700 strikes while Put unwinding was seen at10,500, 10,600 and 10,800 strike. Fresh Put writing was also being witnessed at lower strikes like 10400, 10100 and 10200. 
Option data suggests that trading range was slightly shifting lower and upside was restricted because of negative global cues, higher volatility and fresh Call writing activities. 
India VIX moved up by 8.55% at 19.29. Higher volatility could continue to keep volatile swings in the market with limited upside, according to brokerage Motilal Oswal. 
Built up of long positions were seen in Hindpetro, Hindzinc, SAIL, Torntpharma, DCB Bank, Cipla and Reliance capital while shorts were seen in Glenmark, Indusind Bank, Srtransfin, HDFC Ltd, PCJeweller, IDEA, ICICI Bank and Heromotoco.
Updated: Sun, Feb 11, 2018
11:22 am
ZeeBiz WebDesk