SBI plans to merge Mahila Bank with self; has the women-centric bank failed?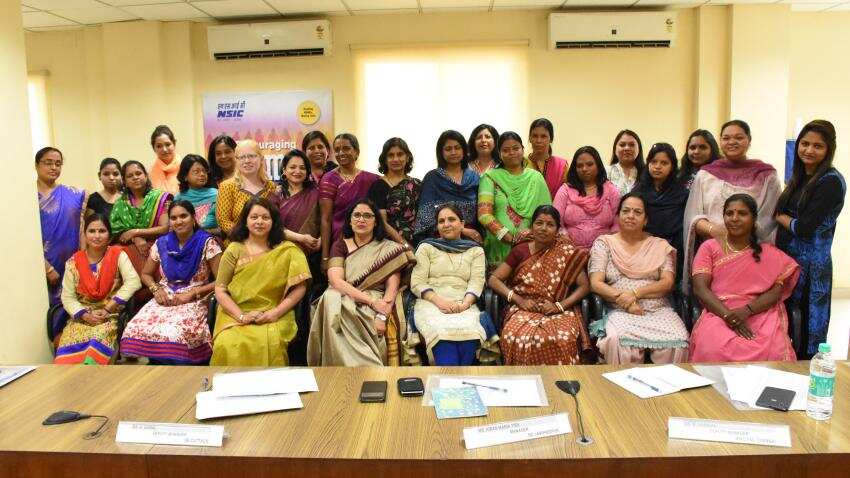 Bharatiya Mahila Bank staff group photograph. Image Source: Company website
Updated: Wed, May 18, 2016
12:00 pm
Mumbai, ZeeBiz WebDesk
Launched with much fanfare by the then UPA Government, Bhartiya Mahila Bank may soon cease to exist.
The State Bank of India (SBI), on Tuesday, said that it is looking to merge five associate banks with itself — along with the Bhartiya Mahila Bank. It has sought the Government's approval for the move.
The bank is looking to acquire businesses, assets and liabilities of its associate banks, namely, State Bank of Bikaner and Jaipur, State Bank of Hyderabad, State Bank of Mysore, State Bank of Patiala, State Bank of Travancore and Bhartiya Mahila Bank.
What was the Bharatiya Mahila Bank (BMB) initiative?
A product of the Manmohan Singh-government for specialised lending to women entrepreneurs, the Bharatiya Mahila Bank Ltd was the first of its kind in the banking industry in India formed with a vision of economic empowerment for women. It was initially incorporated under the Companies Act 1956 on 5 August 2013 and was declared open on November 19, 2013.
About 60% of its 250 employees are women.
Expansion:
The Bank currently has 100 branches.
At the launch of BMB, former finance minister P. Chidambaram had stated the bank would break even in the next three-five years.
Its total business—advances and deposits—would be Rs.60, 000 crore by 2020, when it would have a 770-strong branch network and would be listed in the stock exchanges in due course, he had added.
What went wrong?
In a story reported by LiveMint on November 21, 2014 it was said that even after a year the bank had gone nowhere.
It had a deposit base of around Rs.520 crore, advances of around Rs.275 crore and 75,000 customers, out of which 82% are women.
Profits were seen growing rather slowly -- only around Rs. 13 crore was recorded as profit, primarily on treasury operations.
Its Rs 1,000-crore capital is entirely invested in government securities. And in the first half of FY14, its profit was around Rs 26 crore, again based on treasury income.
Initial objective:
The bank's website states that the sole purpose of the bank is to lend to economically neglected, deprived, discriminated, under banked, unbanked, rural and urban women to ensure inclusive and sustainable growth.
With the usual savings bank rate of interest for Rs 1 lakh and above being 5% and for amount less than Rs 1 lakh, the interest rate is 4.5%, the bank has designed many women centric products.
Most of the products are offered with a concession in the rate of interest for women customers.
E-banking facilities
The bank offers Smartbanking, opening of Recurring Deposits, Fixed Deposits etc through internet banking.
A premature facility available on fixed deposits when customers were in need.
The bank's Mobile banking app can be downloaded from Google Play Store for Android mobiles and Apple Store for iphone for free.
It is one of the pilot banks for the introduction of the new payment system UPI, launched by National Payments Corporation of India (NPCI).
Educating our women
The bank also conducts programmes on financial literacy, skill development, training for women of all segments of the society so that women in turn generate more income, more jobs and growth opportunities and contribute significantly for the economic growth of the nation.
Awards
The Bank has received two awards – The Asian Banker Achievement Award 2015 for Technology Implementation in the category of Best Outsourcing Project (New Bank) and the Core Banking Initiative Award 2014 by Asian Banking and Finance, Singapore.