Safe haven: Not just gold prices, even ETFs have rallied in midst of geopolitical tension, US Fed rate cuts hope
Gold ETFs trading on BSE, over the past five days, have shown similar upward trend like gold prices.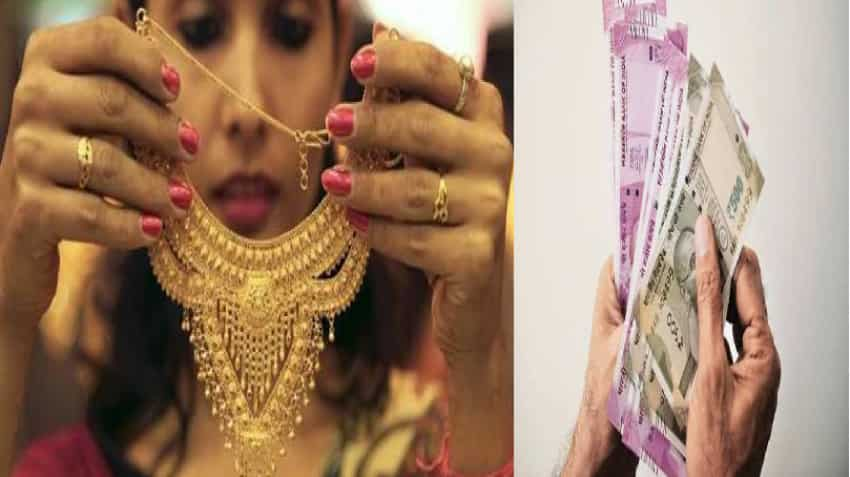 When we talk about invisible gold, the first thought would be definitely Gold mutual funds or simply Gold Exchange Traded Funds (GTF). Photo: Reuters/PTI
After soaring to all-time high of over Rs 35,000, gold prices are now seen skyrocketing further. Predictions are Rs 36,000 to Rs 40,000 in nearterm. Currently, gold has become the most loved investment across the globe, because of its character of being non-yielding investment and a safe haven. This has been caused by geopolitical tension and US Federal Reserves further rate cut expectations. The US trade war with China, while tension escalating further with Iran all have pushed investors to opt for alternatives to survive the volatility in equity markets. That alternative is none other than safe haven aka gold. Interestingly, it's not just physical gold, even 'invisible' gold has given a stellar performance on exchanges. 
When we talk about invisible gold, the first thought would be definitely Gold mutual funds or simply Gold Exchange Traded Funds (GTF). Yes you have read it right, even Gold ETFs have turned into an appealing investment for investors. Few major gold ETFs trading on BSE over the last five days have shown similar upward trend like gold prices. 
Gold ETFs Tuesday:
Data given on BSE showed that, HDFC Gold ETF finished at Rs 3140 on Tuesday, above Rs 44.48 or 1.44%. In 1 day, overall gains was even higher than 2%. Similarly, after gaining over 2%, the UTI Gold ETF rose by 1.58% or Rs 47.74 ending at Rs 3,060.
On the other hand, Kotak Gold ETF rose by a little over 1%, but completed at Rs 300.10 or 0.87% on the index. Meanwhile, the SBI Gold ETF scheme growth option jumped by over 1.50% on Tuesday, before ending at Rs 3,078 up by Rs 33.92% or 1.11%. Interestingly, Axis Gold ETF touched an intraday high of Rs 3,069.99 up by 2.22%, however, gave away gains and ended at Rs 3,010 slightly up by 0.23%. At last, the ICICI Prudential Gold ETF completed at Rs 31.01 up by 1.01%, after clocking intraday high of Rs 31.25.
Similar trend of gold price:
On Tuesday, 10 gram of gold in 22 karat was priced at Rs 33,650 up by Rs 450. However, the price of same gram of gold was unchanged at Rs 32, 650 in Chennai, Rs 33,350 in Delhi and Rs 33,610 in Kolkata, as per GoodReturns website. 
While 10 gram of gold in 24 karat, was available at Rs 34,650 up by Rs 450,  followed by Chennai price at Rs 35,650 above Rs 40. Meantime, price remain unchanged at Rs 34,550 in Delhi and Rs 35,010 in Kolkata compared to previous day. 
Past five days rally:
Gold prices have reached to all-time high, by cracking over Rs 35,000. Also, the MCX gold August Futures price swung above to Rs 34,468 per ten grams, slightly near to their second all-time of Rs 34,549 which was last witnessed in the same September 2013. 
Gold prices saw massive buying sentiments in past days with HDFC Gold ETF rising by 4%. While nearly 5% gains each have been witnessed in UTI Gold ETF, Kotak Gold ETF and ICICI Prudential ETF. The Axis Gold ETF has rallied by nearly 7% from June 20 uptill date. While, the SBI Gold ETF jumped by nearly 3% so far. 
Also, the SPDR Gold ETF which is commonly known as SPDR Gold Trust managed by State Street Global Advisors, latest reading is 802 tonnes, from 764 tonnes a week ago and 739 tonnes a month ago. 
Yes Securities in its research note says, "Gold prices are trading at a six-year peak, as ongoing tensions in the Persian Gulf, coupled with a wave of easing initiated by global central banks have spurred the rally. Plunging US and European yields, along with a weaker dollar have provided further support as well."
On gold ETF, Sachin Jain, Research Analyst at ICICI Securities says, "Many central bankers have bought gold in the last few months including the Reserve Bank of India. Investor demand in global gold ETF is also witnessing some interest with the holding increasing."
If gold is expensive, why not buy Gold ETFs. Here's why the latter is best investment option.
Gold ETFs are open-ended mutual funds which are based on every fluctuation in the cost of gold. One would wonder why they should opt for Gold ETFs than physical gold? Well to your answer, physical gold does not generate income and they come with host of charges such as making, custom duty and production cost. Whereas, one gold ETF is almost equal to 1 gram gold. The ETF gives both gold investment and stock trading benefits. If you have invested in Gold ETF, then as the price of gold rise so does the value of ETF which means more gains in your kitty and vice versa. 
Investors who are looking to diversify their portfolio along with some exposure to gold, can always choose Gold ETFs as their investment resort. They are best suited to conservative investors. Every penny that you invest in Gold ETF, goes to standard gold bullion of 99.5% purity. This indicates that even though being traded like companies on stock exchanges, the gold ETF comes with low risk. 
Jain explains that, "Gold prices in the near term may find support due to concerns on trade war and higher volatility in capital markets. The medium term outlook, however, remains benign given the rising global interest rate trajectory and reducing monetary stimulus."
Historically, the performance of gold is not structural. Generally, it performs in specific short periods of time, especially during capital market meltdown or global recession or geopolitical tension, etc. Therefore, Jain says, gold may not be an ideal long term asset class.
Get Latest Business News, Stock Market Updates and Videos; Check your tax outgo through Income Tax Calculator and save money through our Personal Finance coverage. Check Business Breaking News Live on Zee Business Twitter and Facebook. Subscribe on YouTube.
Updated: Tue, Jun 25, 2019
09:15 pm
Mumbai, ZeeBiz WebDesk