RBI rate hike boosts key Indian equity indices
The Reserve Bank of India`s (RBI) decision to hike the repo rate by 25 basis points boosted the investor sentiments, which in turn lifted the key equity indices during the week ended on Friday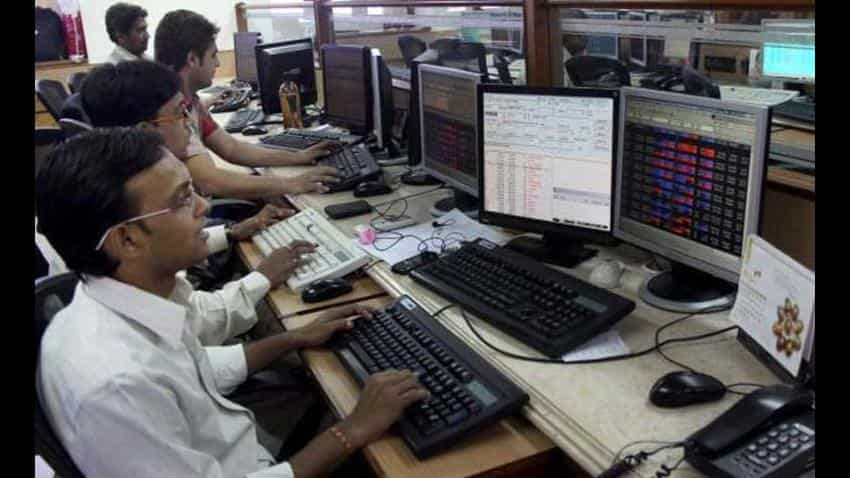 The wider Nifty50 of the NSE closed the week`s trade at 10,767.65 points -- up 71.45 points or 0.67 per cent -- from its previous close. Image source: PTI
The Reserve Bank of India`s (RBI) decision to hike the repo rate by 25 basis points boosted the investor sentiments, which in turn lifted the key equity indices during the week ended on Friday. Weak global cues and depreciation in the rupee, however, weighed on the indices and limited the gains during the week.  The barometer 30-scrip Sensitive Index (Sensex) of the BSE rose by 216.41 points or 0.61 per cent to close at 35,443.67 points on a weekly basis.  The wider Nifty50 of the NSE closed the week`s trade at 10,767.65 points -- up 71.45 points or 0.67 per cent -- from its previous close. 
"Market sentiments got a boost as RBI retained its neutral policy stance raising hopes that probably there would be no more rate hikes in the near future," said Rahul Sharma, Senior Research Analyst at Equity99.  Hem Securities` Director, Prateek Jain said: "This was a week of two halves for the market. The first saw the market falling in anticipation of a rate hike by the central bank."
"But when the RBI announced a rate hike markets shot up and recovered the losses. In fact, it closed 0.6 per cent higher than the previous week despite a 25 basis points hike announced by the central bank," he added. Following a cycle of rate cuts begun in January 2015, the RBI on Wednesday raised its key interest rate for the first time by 25 basis points to 6.25 per cent. "The reverse repo rate under the liquidity adjustment facility (LAF) stands adjusted to 6 per cent and the marginal standing facility (MSF) rate and the Bank Rate to 6.50 per cent," the RBI had said.
Rupee meanwhile hit a one month low of 67.54 during the week due to an appreciation of the dollar against all major currency and outflows of funds from India, Jain said. On Friday, the rupee closed at 67.51 against the US dollar depreciating by 45 paise from its previous week`s close of 67.06 per greenback.
In terms of investments, provisional figures from the stock exchanges showed that foreign institutional investors bought scrips worth Rs 1,367.22 crore, while the domestic institutional investors purchased stocks worth Rs 2,131.56 crore during the week. Figures from the National Securities Depository (NSDL) revealed that foreign portfolio investors (FPIs) invested equities worth Rs 3,757.94 crore, or $560.40 million, in the week ended on June 8.
The top weekly Sensex gainers were Sun Pharma (up 9.38 per cent at Rs 528.20); Tata Motors (up 7.96 per cent at Rs 310.05); Tata Motors (DVR) (up 7.96 per cent at Rs 186.20); Tata Steel (up 6.99 per cent at Rs 599.50); and Dr Reddy`s Lab (up 6.26 per cent at Rs 2,062.90 per share). The major losers were Power Grid (down 3.59 per cent at Rs 198.50); HDFC Bank (down 2.82 per cent at Rs 2,050.10); Larsen and Toubro (down 2.02 per cent at Rs 1,343.60); Adani Ports (down 1.98 per cent at Rs 379.50); and NTPC (down 1.64 per cent at Rs 161.55 per share).
 
Updated: Sat, Jun 09, 2018
03:24 pm
IANS