RBI may have softened stand on 4% inflation target to kickstart economy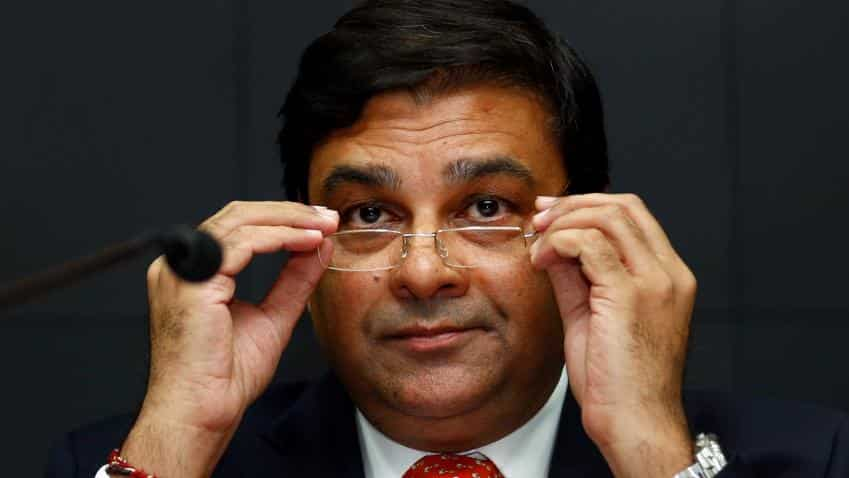 RBI Governor Urjit Patel at MPC press conference in Mumbai on Tuesday. Pic: Reuters
Reserve Bank of India's (RBI) Monetary Policy Committee (MPC) has decided to cut repo rate by 25 basis points giving the markets and India Inc a reason to cheer. 
Industry body FICCI's president Harshavardhan Neotia said, "RBI's move to cut the repo rate is welcome and is very timely. We hope that going ahead this would translate into a greater pass through by the Banks and would yield into further lowering of lending rates". Rana Kapoor, MD and CEO, Yes Bank, too, echoed the sentiments and said, "Today's rate cut will boost sentiment and contribute towards reinvigorating growth impulses in the infrastructure, construction & manufacturing sectors. Backed by a healthy set of domestic macros and sustained global deflation, I expect 75 bps further easing in the coming months."
Shanti Ekambaram, President – Consumer Banking, Kotak Mahindra Bank said, "The first MPC meeting announced a repo rate cut of 25 best, has been as per expectations, in-line with the softening of inflation. The normal monsoon and record agricultural sowing have softened food prices, indicating that inflation will be on the desired trajectory. Monetary policy stance remains accommodative. It is likely to be data driven on inflation, with caution on the impact of 7th pay commission.
In August this year, India adopted a monetary policy framework to focus on macroeconomic stability to boost growth. The framework laid down an inflation target of 4% for the next five years, plus or minus 2%. 
RBI, in a statement said, "The decision of the MPC is consistent with an accommodative stance of monetary policy in consonance with the objective of achieving consumer price index (CPI) inflation at 5% by Q4 of 2016-17 and the medium-term target of 4% within a band of +/- 2%, while supporting growth."
However, a look at the fourth bi-monthly monetary policy statement shows that inflation target may just be out of reach for RBI to tackle. RBI said, "While the second round impact of the 7th CPC award in the form of salaries and pensions is incorporated in the baseline forecasts, the effect of house rent allowances (HRA) is not, since its implementation was deferred, pending a review. As and when the revised allowances are awarded, they will have a direct impact on headline CPI inflation through an increase in housing inflation (house rents have a weight of 9.5% in the CPI). In addition, indirect effects could arise through inflation expectations. Assuming that (a) the revised allowances are implemented from early 2017, (b) the increase proposed by the 7th CPC is retained, and (c) state governments implement a similar order of increase in allowances with a lag of one quarter, headline CPI inflation in 2017-18 could be 100-150 bps above the baseline. The impact on inflation is expected to persist for 6-8 quarters, with the peak effect occurring at around 3-4 quarters following the implementation."
Urjit Patel, Governor, RBI said that the 4% plus and minus 2% range is quite large. He said, "If I look at the next 7-8 quarters, the government has introduced policy reforms which are done to ease supply constraints. There is a larger investment in railways and in roads which will improve infrastructure." While there are issues relating to the upside risks, the effects of HRA and its consequences will have to be seen, he said.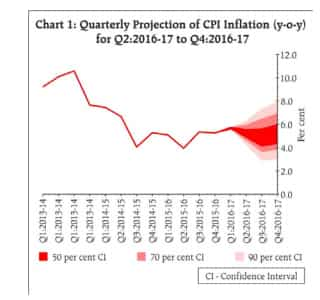 RBI said, "The Committee took note of potential cost push pressures that may emerge, including the 7th pay commission award on house rent allowances, and the increase in minimum wages with possible spillovers through minimum support prices. The fuller play of these factors will need vigilance to prevent a generalised cost spiral from taking root."
It further said, "On balance, the Committee envisages a trajectory taking headline CPI inflation towards a central tendency of 5% by March 2017, with risks tilted to the upside albeit lower than in the second and third bimonthly monetary policy statements of June and August respectively."
RBI said, "The September round of the Reserve Bank's survey of professional forecasters indicates a greater degree of anchoring of their inflation expectations, relative to other agents, around the Reserve Bank's inflation targets," adding, "Staff's baseline model forecasts, taking into account the revisions in assumptions on initial conditions and augmented by information yielded by these forward-looking surveys of various classes of economic agents as well as from lead indicators, set a trajectory that takes consumer price index (CPI) inflation down from 5.7% in Q1 of 2016-17 to 5.0% in Q3 before it firms up moderately to 5.3% in Q4 (the 70% confidence interval lies in a range of 3.9-7.0%)" 
Index of Industrial Production (IIP) continuing to show signs of sluggishness but RBI expects the momentum of growth to pick up. It said, "The momentum of growth is expected to quicken with a normal monsoon raising agricultural growth and rural demand, as well as by the stimulus to the urban consumption spending from the pay commission's award. The accommodative stance of monetary policy and comfortable liquidity conditions should support a revival of credit to the productive sectors."
source: tradingeconomics.com
 Accordingly, the projection of growth of real gross value added (GVA) for 2016-17 is retained at 7.6%, with risks evenly balanced around it, it said. 
Crisil, in a statement, said, "The MPC highlighted that the recent drop in inflation reflects a downward shift in food inflation momentum and opens up space for policy action. That said, it emphasised that the implementation of the Seventh Pay Commission recommendations, especially the increase in house rent allowance, and the increase in minimum wages due to possible spillovers through minimum support prices, could pose a challenge going ahead."
It said, "we expect inflation to trend lower and average 4.8% in the second half of fiscal 2017, because of the good monsoon and supported by steps taken by the government to manage food supply.In our view, the good monsoon will also push up rural incomes and boost private consumption by 90 bps this fiscal, supporting GDP growth. Overall, we expect inflation to average 5% and GDP to grow at 7.9% in fiscal 2017."
Get Latest Business News, Stock Market Updates and Videos; Check your tax outgo through Income Tax Calculator and save money through our Personal Finance coverage. Check Business Breaking News Live on Zee Business Twitter and Facebook. Subscribe on YouTube.
Updated: Tue, Oct 04, 2016
05:50 pm
Mumbai, ZeeBiz WebDesk