Q4FY18 GDP tomorrow: Where does Indian economy stand; all you need to know in charts
The Central Statistics Offices (CSO) will be presenting India Gross Domestic Product (GDP) numbers for fourth quarter of fiscal year 2017-18 (FY18) tomorrow.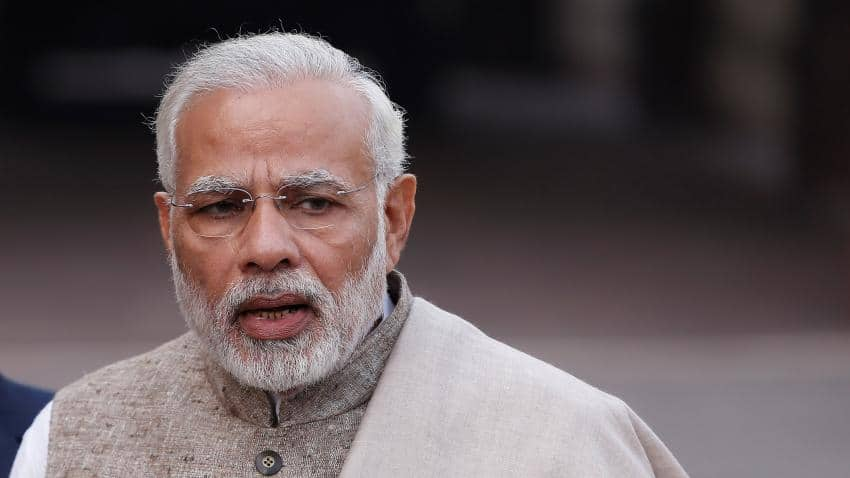 Representational Image: Photo: Reuters
Updated: Wed, May 30, 2018
07:18 pm
Mumbai, ZeeBiz WebDesk
The NDA government under premiership of Narendra Modi celebrated its 4th anniversary recently. Modi led the BJP campaign in the 2014 general elections, which led to the party bagging a massive majority in the Lok Sabha. Thereafter, PM Modi in his four year reign has introduced various schemes that affected virtually each aspect of the citizens' life, from toilets, affordable housing to delivery of subsidies in new form. Not to forget, he also launched a drive against black money through his demonetisation move and also brought the country under the umbrella of Goods and Services Tax (GST) regime. 
The latest situation will be known tomorrow as the Central Statistics Office (CSO) will then be presenting India's Gross Domestic Product (GDP) numbers for fourth quarter ended of fiscal year 2017-18 (FY18). This calls for some analysis on how Indian economy performed in these four years of Modi government. 
Here's where Indian economy stands in four years of Modi, as per Care Ratings. 
Subdued GDP growth 
Economic output and growth has not witnessed the expected pickup in the last 4 years. Growth did appear to be on the upward path in FY15 and FY16 when it peaked at 8.2% - highest since FY12.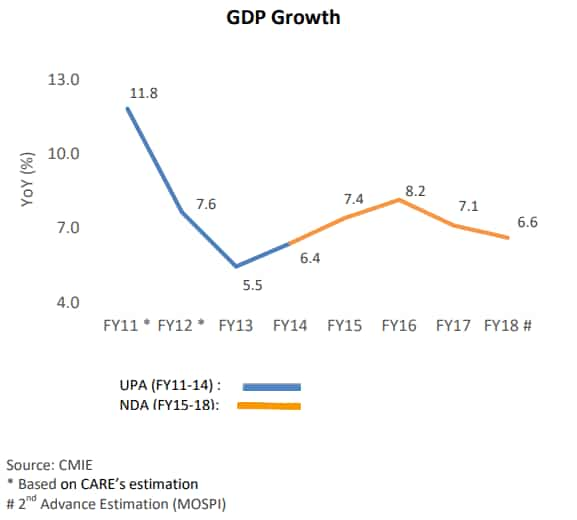 Disruptions caused by the structural reforms of demonetization followed by GST implementation along with the paucity in investment demand lowered/ reversed the domestic economic growth trajectory in the last 2 fiscals. 
Fall in Investment rate
India's  investment rate as denoted by the gross fixed capital formation rate has witnessed a noticeable decline in the last 4 fiscal years. Decline has been mainly on account of a combination of several factor such as the NPA overhang, excess capacity in several industries, high cost of funds and tepid demand conditions.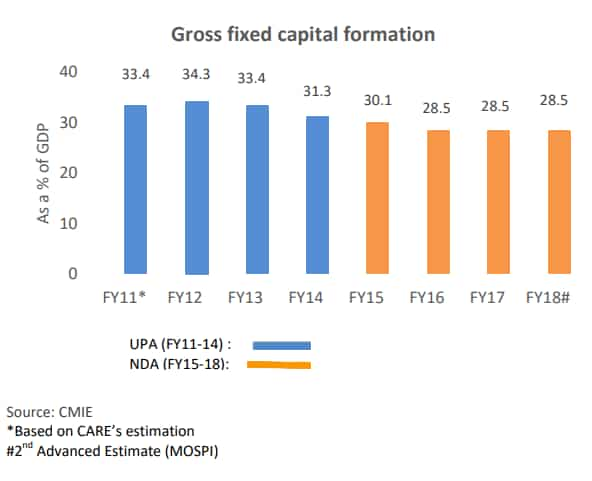 Industrial Output 
Industrial output has remained stable at the lower level in the last 4 years. It has been range bound between 3- 4.5% during FY15-18. In fact, growth has improved over the 2012-14 average of 3.2%.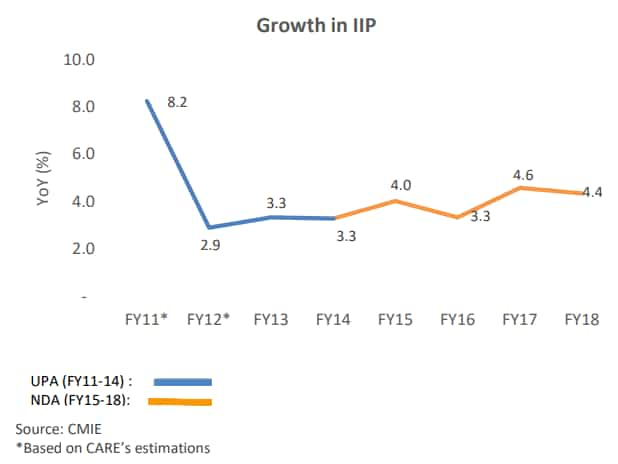 Demonetization and GST implementation and shortfalls on the demand front limited the growth in industrial output in the last 4 fiscals. 
Fall in capacity utilization rate
Capacity utilization rate has decline from FY14 levels and has been fairly stable in the last 4 years. The average capacity utilization rate was 76.4% during FY11-14, which declined to 72.4% in the subsequent 4 year period.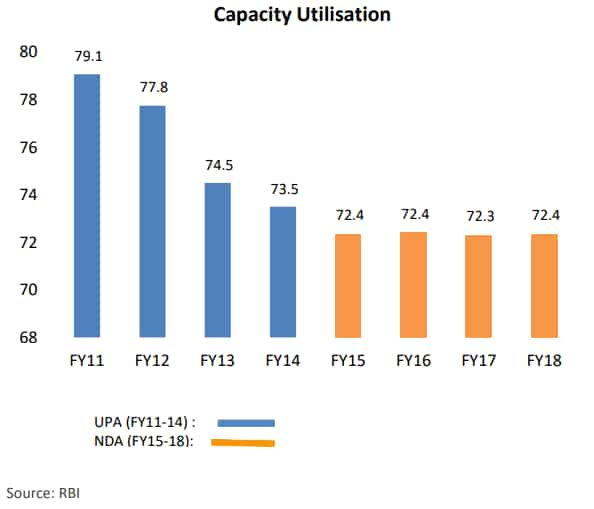 Fiscal Situation 
Fiscal deficit as a percentage of GDP has declined by 0.6% during FY15-18, compared with the 0.5% fall in FY11-14.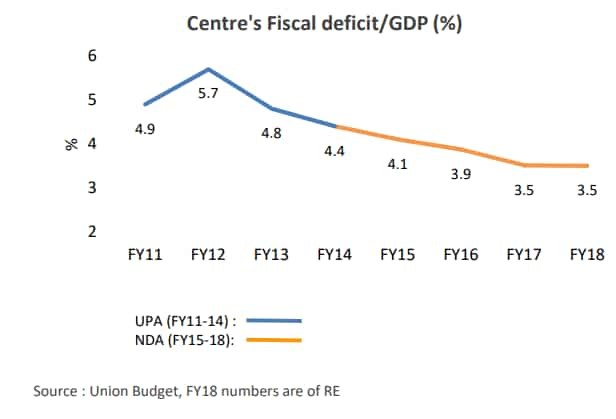 Market Borrowings- moderation in growth rates 
Market borrowings recorded a sustained increase during FY11-FY14 from Rs 4.3 lkh crs to Rs 5.9 lkh crs while it remained more or less stable during FY15-FY18 (growing at an average rate of mere 2%).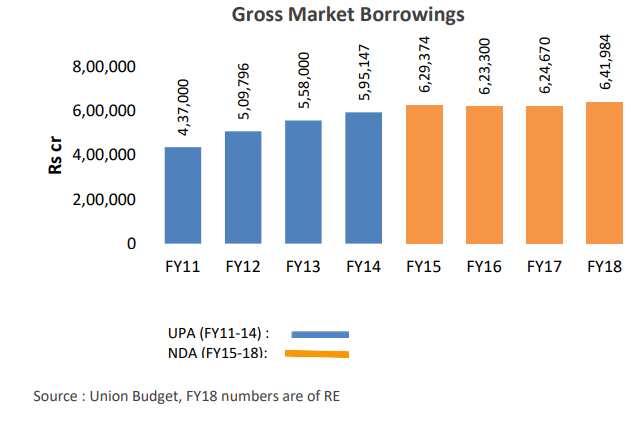 Monetary Scenario 
The RBI's key interest rate; the repo rate, has seen a sustained reduction of 200 bps in the last 4 years, aided by the moderation in inflation due to benign global commodity prices.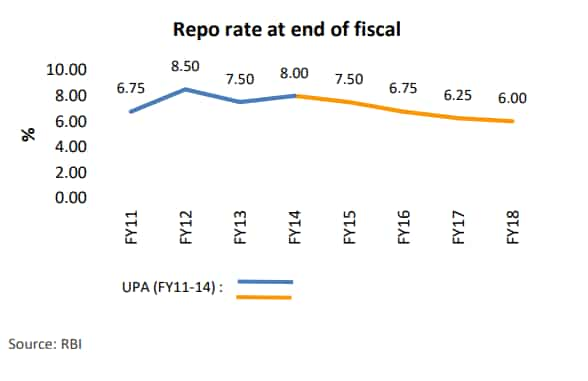 The RBI did not hike policy rates in the last 4 years unlike that during FY11-14, wherein the RBI raised rates by as much as 175 bps in FY12 before lowering the same subsequently. 
Decline in deposit rates 
Bank deposit rates have moderated in the last 4 years. The cut in the RBI policy rates coupled with lower bank lending led to banks lowering their deposit rates to manage their margins.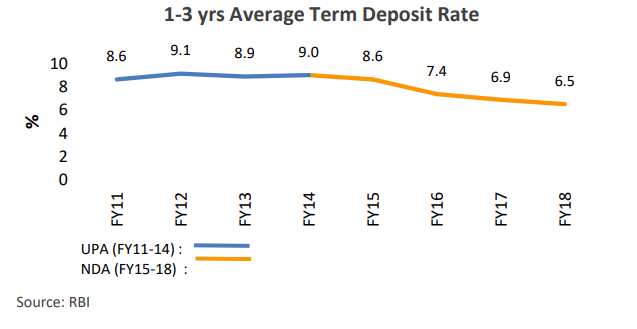 The average deposit rate on 1-3 yr deposits has fallen by over 2% in the last 4 years. This as mentioned earlier has come in the way of savings of households. 
Lending rates- limited transmission of rate cuts 
Although the lending rates have declined since FY15, the transmission of the RBI rate cuts has been slow and limited. Even as the cost of deposits have fallen by over 200 bps in the last 4 years, the lending rate have declined by around 100 bps.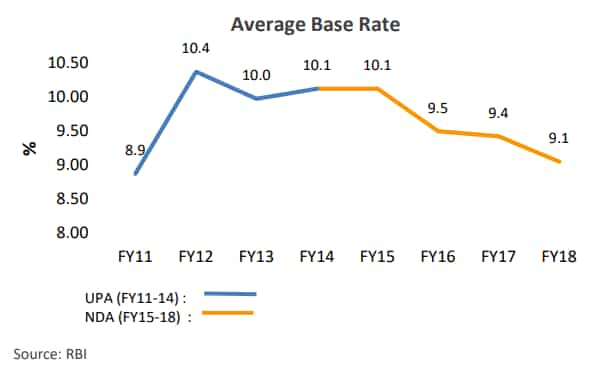 Slump in bank credit growth 
Credit offtake from banks has witnessed a significant decline in the period of the NDA government. The lower credit growth in the last 4 years has been on account of the weakness and stressed financial position of banks coupled with low investment demand and pressured finances of corporates.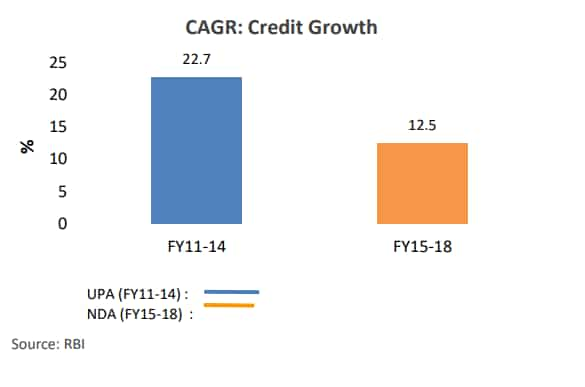 Lower bank deposit growth 
Alternative investment and savings instruments and the lower returns on bank deposits have impacted the inflow of deposits into banks in the last 4 years.
Surge in non-performing assets (NPAs)
There has been a significant deterioration in the health of the banking sector in the last 4-5 years. The high levels of NPAs have constrained the ability of banks to lend, impacting investments and economic growth potential.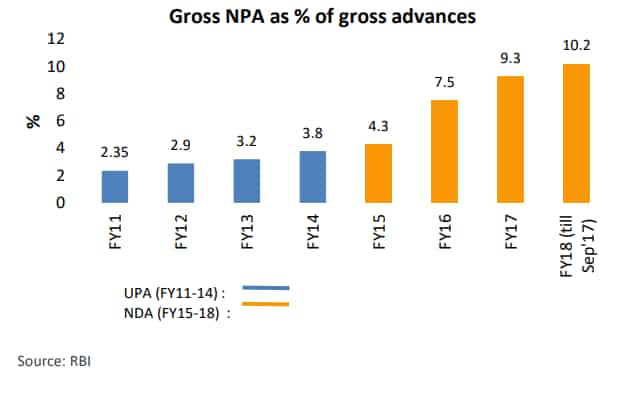 Introduction of the IBC and the progress on this front is very encouraging and it is hoped that the situation will be much better in a couple of years' time.
Rise in capital infusion into public sector banks (PSBs)
Stressed financial position of banks and the higher regulatory capital adequacy requirements has necessitated additional/fresh capital requirements for banks.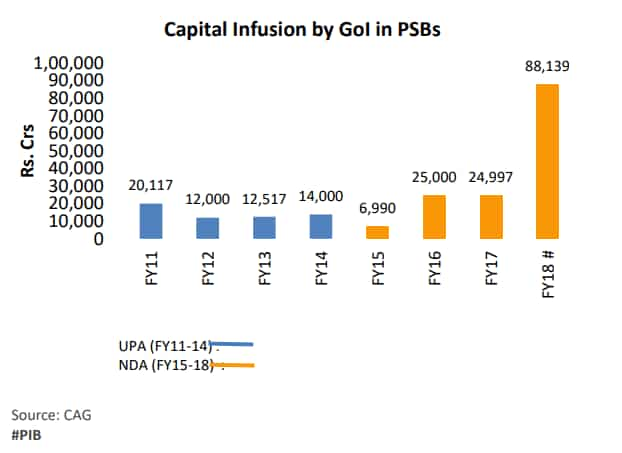 Price situation 
Inflation, both wholesale and retail has moderated in the last 4 years owing to the fall in global commodity prices especially oil and metals and higher domestic agricultural output and adequate supply management measures. However, the country has not been immune to single commodity price socks emanating from onions, potatoes, tomatoes and pulses.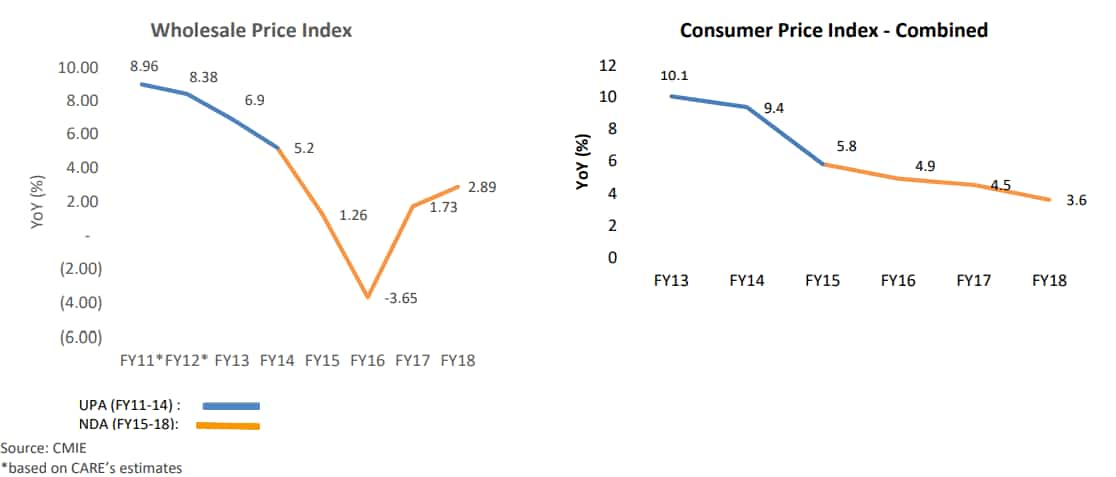 Weakness in exports and imports 
Both exports and imports have seen moderation during FY15-17. There has been a revival in the same in FY18, albeit from a lower base. With oil prices increasing and a global recovery on the anvil, commodity prices would be increasing that could also push up our import bill at a faster rate.

Narrowing of current account deficit (CAD)
Narrowing of the CAD can be ascribed to the narrowing trade gap in the last 4 years with lower growth in both exports and imports.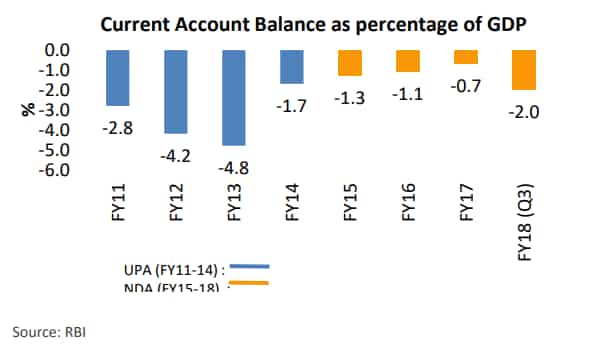 Volatile foreign portfolio investments 
FPI inflows have been volatile during FY15-18, with FY15 witnessing record high inflows. The lower FPI in FY16 and FY17 can be attributed to the US Fed raising interest rates that resulted in an outflow of funds.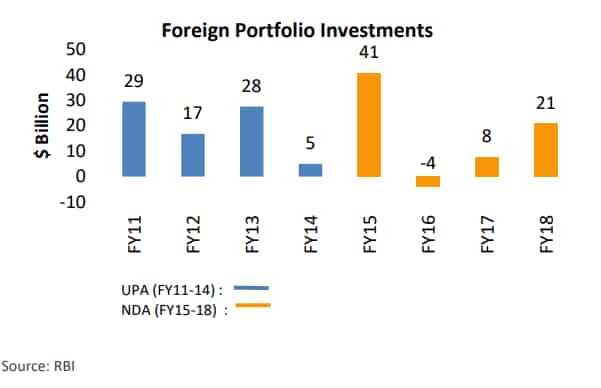 USD/INR at end of fiscal 
The exchange rate has weakened by 4% during FY15- 18 compared with the over 35% depreciation in the period FY11-14.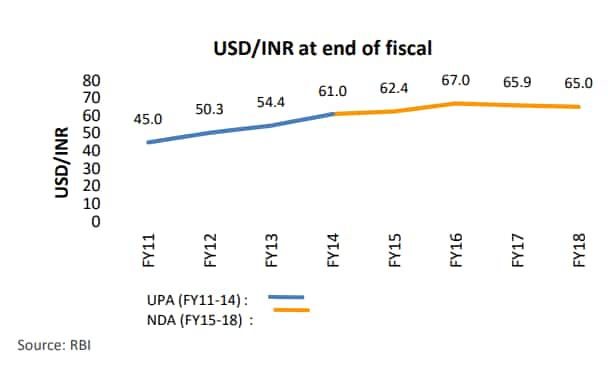 According to Care Ratings, while economic growth has been lower and investment has not seen the anticipated pick up, the last 4 years have witnessed improvements across a range of economic, financial market and qualitative indicators.