Q4FY17 review: Low fares, higher fuel cost to impact profitability of airlines
Ansuman Deb, Research Analysts of ICICI Securities said, "Q4FY17 is likely to be the bottom for airline margins as cost tailwinds come back from Q1FY18. As such, valuations will not depend on this quarterly performance. Yet, Q4FY17 will provide insights to how airlines fare in a relatively adverse scenario in their ability to pass on higher costs. "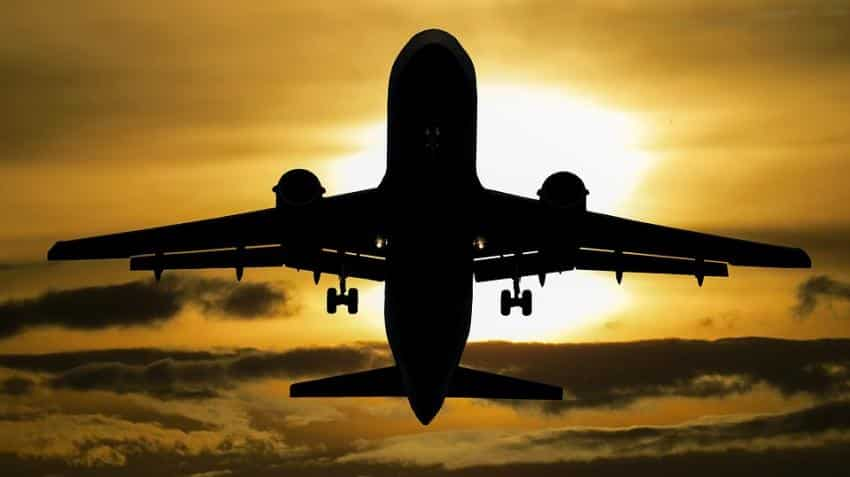 FY17 was all about competitive fares despite high cost of planes and fuel among Indian aviation sector. Photo: Pixabay
The financial year 2016-17 was all about competitive fares despite high cost of planes and fuel among Indian aviation sector. 
Low fares which improved load factors of airlines they are now expected to impact profitability and EBITDA of listed airlines on BSE, NSE like Jet Airways, SpiceJet and Indigo this Q4. 
EBITDA is referred as earnings before interest tax depreciation and amortization. 
Ansuman Deb, Research Analysts of ICICI Securities said, "Q4FY17 is likely to be the bottom for airline margins as cost tailwinds come back from Q1FY18. As such, valuations will not depend on this quarterly performance. Yet, Q4FY17 will provide insights to how airlines fare in a relatively adverse scenario in their ability to pass on higher costs. "
Additionally, higher aviation turbine fuel (ATF) cost is also expected to put these three players profitability into pressure. 
In Q4FY17, the ATF prices have increased by 38% year-on-year (YoY) and 11% quarter-on-quarter (QoQ) basis. 
Deb added, "Additionally, cost pressures are on the rise for heads like employee wages, airport charges, Government cess etc. The dependence on higher fares in a higher cost scenario is much larger for Jet Airways (Jet) and SpiceJet (SJet) compared to IndiGo."
Here's how three major listed airlines will perform in Q4 as per ICICI Securities. 
Interglobe Aviation (Indigo): 
This Q4, Indigo is expected to post 31% YoY increase in passenger growth on the back of 25% rise in capacity. On the other hand, it is expected to post  12% yoy decline in average fares. 
While relatively lower growth in Available Seat kilometre (ASK) will support yields of IndiGo.  
Q4FY17 is expected to bring in 72.4% yoy and 66.9% qoq decline in Indigo's bottom-line (profit after tax) at Rs 161.3 crore. However, top-line (total income) is seen at Rs 4,685.7 crore up by 15% yoy but down by 6% qoq. 
EBITDA is expected to be at Rs 219.2 crore in Q4 dropping by 73.6% YoY and 64.9% QoQ. Margins will decelerate to 4.7% from 20.3% of Q4FY16 and 12.5% of Q3FY17.
SpiceJet: 
ICICI Securities said, " Even if we consider a one off demonetisation effect in Q3, the ability to show better yield management of SJet will be tested in Q4FY17, especially with a higher volume base."
Going ahead, how do the fares manage to recover from d'mon in Q4, which is an otherwise weak quarter, will determine the earnings, added ICICI Securities. 
ASK of the company has been factored at 19% yoy and 4% yoy growth this Q4. Meanwhile, fares are expected to sequentially decline by 0.5% yoy. 
PAT is expected to be at Rs 72.1 crore down by 33.2% yoy and 60.2% qoq. While total income is seen at Rs 1,667.8 crore above 13.8% yoy and 2.2% qoq. 
For SpiceJet, EBITDA is seen at Rs 107 crore increasing by 18% yoy but down by 39% qoq. Margins will slightly rise by 6.4% in Q4 against 6.1% of Q4FY16 and 10.6% Q3FY17. 
Jet Airways: 
Top-line growth of Jet Airways is estimeted to be muted on account of no significant capacity expansion QoQ and 2% increase in fares YoY. 
ICICI Securities said, "The international segment was under extreme pressure in Q3FY17 due to slower demand in Middle East. However, we believe this could improve in Q4 considering that the Dubai airport traffic growth has remained at 9.5% YoY during November 2016- January 2017 after a low of 2.7% in October 2016."
Jet Airway's PAT is expected to take worst hit at Rs 54.8 crore down by 86.2 yoy and 61.5% qoq. Total income will be subdued at Rs 5,534.2 crore with growth of 5.5% yoy and 1% qoq.
EBITDA for Jet Airways is expected to at Rs 264.8 crore declining by 67.5% yoy and 7.1% qoq. While margins will reduce to 4.8% in Q4 from 15.6% in Q4Y16 and 5.2% in Q3FY17.
Get Latest Business News, Stock Market Updates and Videos; Check your tax outgo through Income Tax Calculator and save money through our Personal Finance coverage. Check Business Breaking News Live on Zee Business Twitter and Facebook. Subscribe on YouTube.