Privatisation policy will change the way the economy works: TV Somanathan
TV Somanathan, Expenditure Secretary and Tuhin Kanta Pandey, DIPAM Secretary, talks about COVID-19 vaccination expenditure, divestment target for 2021-22, allocation to the healthcare sector and among others during an exclusive interview with Swati Khandelwal, Zee Business.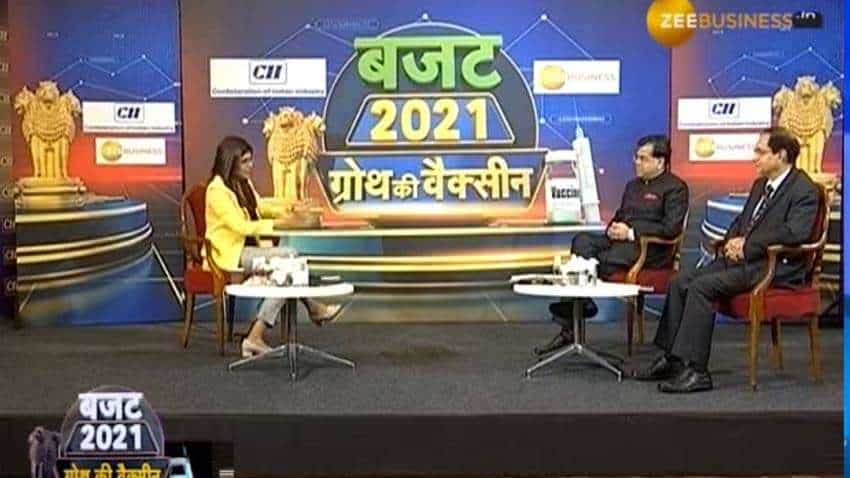 TV Somanathan, Expenditure Secretary and Tuhin Kanta Pandey, DIPAM Secretary, talks about COVID-19 vaccination expenditure, divestment target for 2021-22.
Written By:
Jitesh Kumar Jha
Edited By:
Jitesh Kumar Jha
Updated: Wed, Feb 03, 2021
02:07 pm
New Delhi, ZeeBiz WebDesk
TV Somanathan, Expenditure Secretary and Tuhin Kanta Pandey, DIPAM Secretary, talks about COVID-19 vaccination expenditure, divestment target for 2021-22, allocation to the healthcare sector and among others during an exclusive interview with Swati Khandelwal, Zee Business. Edited Excerpts:
Q: You have to spend around Rs 35 lakh crore this year. How will the money come and how allocations will be done? Do you think that it is realistic? 
TV Somanathan: I am supposed to spend it. Yes, it is realistic and this year, under the revised estimates, we are going to spend more than Rs 34 lakh crores. So, the increase between this year and next year is actually felly small. The biggest increase we have had is this year and we have really as somebody put a step on the accelerator after November, at a time when there was an absorptive capacity. And I think, in the coming year, when COVID effect will come to an end, I think we have a much better chance of using money productively and I think the construction sector, infrastructure sector can absorb the amounts that we are proposing to spend, particularly, the railways, national highways, power, these all are sectors where the absorptive capacity is there. So, we have basically this year provided as fully as they wanted, and we are prepared to provide even more if required.
Q: The government has set a divestment target of Rs 1.75 lakh crore for 2021-22. Some people are saying that it is a bit ambitious, and you are saying that it is realistic. Tell us the way the target will be achieved?   
Tuhin Kanta Pandey: Finance Minister has also mentioned many of the transactions and we will compete them. For instance, big transactions have to be completed. She has also talked about the LIC's IPO as well as IBDI Bank, and they are large transactions. We will have a focus on strategic disinvestment and privatisation. In the case of the market, there is a minority stake sale method, which will be slightly low, and we will have a focus on strategic disinvestment. The process that we started and would have been completed if COVID was not in place, is back on track and will happen, now.
Q: Do you think that this Rs 1.75 crore will also have some amount from the ongoing financial year? 
Tuhin Kanta Pandey: It keeps rolling. The pipeline continues to roll, and the target is booked as per the transactions that are completed in the year.
Q: Are you looking at LIC and BPCL in it?
Tuhin Kanta Pandey: BPCL, Shipping Corporation of India, Air India, BEML, Pawan Hans, Neelanchal Ispat are there, and these transactions are likely to be completed.  
Q: Everyone was expecting that healthcare will take the centre stage in your allocations and a lot of focus has been made on it. Do you think that the trend will continue in the future as well and what was the thought process in it?
TV Somanathan: For the coming year, the financial year 2021-22 (FY22), our focus has been on the Atmanirbhar Swasth Bharat Yojana that has been announced of Rs 64,000 crores. It includes a health infrastructure that will help us with all future epidemics, pandemics and infectious diseases in general as well as non-infectious diseases. That is the focus of that program and that is a five-year program. But this year's expenditure will also have a big element of vaccination, which is about Rs 35,000 crores. After that, hopefully, that will not need to continue in the future years, which will give us a little bit of space to build-up further on the core-health expenditure. The other thing we have done is a huge step in preventive to health costs with things like clean water, sanitation, hygiene. The rural program was launched previously and now, we are getting into an urban program because WHO study clearly shows that at least in a country like India in a normal year, when COVID is not here, it is things like diarrhoea, malaria, dengue are the threats to the health. And they very much depend on the absence of stagnant water, presence of clean water and so on. So, we are focusing on a very holistic set of health interventions.
Q: When it comes to disinvestment than there are people who say providing targets related to it is not a good decision as it may make you compromise on its real valuations. Do you not think that the government should focus more on the real valuation of every asset instead of the time?
Tuhin Kanta Pandey: Whatever is the process of our sales is very transparent and it includes financial bidding - it is important to make sure that competitive bids are made. Secondly, there is a reserve value, which is determined after the bids are received. So, the question that it will be sold under value does not arise. Now, it is a matter of value and if you will ask me to provide its break-up then I will not be able to do so because that value will be discovered in the market. It is an estimate overall, and if you ask me to split it and tell what we will get in this transaction then it will be wrong because the value will be determined only after the bids are received. The value will be discovered step-by-step. So, an overall estimate has a purpose in which the government is trying to tell that we will have a focus on strategic disinvestment. It is not so that it should be done at any value, maybe the less one. This is a reason that RE (revised estimates) comes at times although it is not so that it will happen at the BE (budget estimate) level. Because if there is something that is not possible then it comes but we are showing an optimism because the process that we started and would have completed it if COVID was not there in place. So, if it now comes into the advance stage and we have received the expression of interest (EoI) then it means that it will help us in concluding those, this year.
Q: Always there is a question that big players are showing an interest or not and is there global attention on the assets of India or not. So, let us know about the global response that you are getting for it?
Tuhin Kanta Pandey: There is a generic policy, and the finance minister has already announced the new privatisation policy. Secondly, when the actual transactions take place than in our process, we also conduct roadshows. And, when the EoI comes, before that we conduct roadshows and usually take an opinion of the investors. Our transaction advisors are appointed, who perform a general scanning, talk to people to find out what interests them. Only then, they pursue the transaction.
Besides, when I am saying that the disinvestment is back on track then it means, the interest has increased, gradually, because they look forward to the seriousness of the government and the atmosphere - the 7-8 months period of COVID which was a painful time - which would have caused problems in strategic disinvestment because in the period they are supposed to take the management control. The transaction is carried forward by looking at it.
Q: Priority-wise health is necessary, and infrastructure is also required for the country. What kind of focus you will have on education and don't you think that expenditure is required on that front also and it can be the next focus area, over a period of time? What is the government's thought in that area?
TV Somanathan: In education, the provisions that we made are broadly in line with the previous year's provisions. In education, I think the greatest challenge is on quality and it is not on quantitative expansion, we don't need more school buildings. Actually, the country has almost enough schools.
Q: But probably the teachers who can be paid better?
TV Somanathan: I don't think that the government teachers are paid badly. The question is on the attendance of teachers actually coming to government schools and attending. The paradox in education is that the best-paid teachers are often not seen in the schools, but the less paid teachers do show up. There are a lot of important managerial questions in education and that is not resource-based. The real challenge in education is how to make quality, how to make teachers come, take an interest, how to make students understand, build their ability to answer tests, not do it by rote. These are the questions. Actually, in education, the challenge of the resource is the least of the challenges, but the challenge of qualitative improvement is the main challenge. So, it is not a finance ministry problem.
Q: Were there some areas, where you thought that should be prioritised instead of that when you were sitting down to allocate? 
TV Somanathan: We have done a very active reprioritisation throughout the year and for next year also because they will continue to be something that will not be the focus next year. Of course, they are pretty small, but we have tried - within each ministry - for example we were severe on travel budgets. The point is if you can't travel but you leave the money there then it gets used on something else that is less productive. So, we have taken a very targeted extracting money that is not required and putting them into capital. That is how we have been able to manage these things. 
Q: Expenditure that is required on social schemes, like affordable housing or Har Ghar Jal and so on. Do we have funds for those?
TV Somanathan: We have again made big increases in most of them, drinking water, sanitation, housing, and all the flagship social schemes have been adequately provided. And we are committed to complete those programs.
Q: You have kept a target of Rs 1.75 lakh crore, and we expect that it will be completed this year. Do you think that you can even beat the target? You have also started the asset monetization drive. Do you think that parallel work will be done on both?
Tuhin Kanta Pandey: In asset monetisation, the money does not come to the government until the government's own land is not sold off. The receipt does not come to the government. You can take it through a special dividend from the companies if the companies do it. The drive for asset monetization is to make the companies nimble and move them towards the growth capital. And investors can take big and new projects and take out money for the purpose through unitholders. So, it shows a path of restructuring in which it can generate resources internally and use it as its growth capital. But the money does not come to the government from the CPSEs. But, yes, it can come through special dividends, but we directly do not get disinvestment receipts. Likewise, if the subsidiaries are sold, then the receipts of sales of those subsidiaries do not come to the government but it goes to the companies. But the finance minister's statement should be connected with the reform programs of the next 2-4 years. It is wider, in which the government would like to come out from the public sector, it will take time as things don't happen in a day. It means we are heading towards an economy where reform is happening a restructuring is going on. The government has a special focus on capital building, farmers' building, education, health, the other core areas, where private sector investment is not available and shift resources towards those. Like, a lot of resource initiatives will move towards health as there is a need to reduce the out of box expenditure. And to bring resources for the purpose, we will have to invest in areas where we can generate resources.  
TV Somanathan: I will add to this, the privatisation policy that they have brought in and has been approved and mentioned is not merely a matter of raising resources, but it is actually something that will change the economy works, in terms of efficiencies, speed of response. There are things that the private sector does better. So, getting out of those sectors is good for the economy, not just because it brings resources to the government. 
Tuhin Kanta Pandey: For instance, there was a COVID pandemic, and it is true that our CPSEs have also responded at different locations. But pharma industry of India is largely private, and they have invested with an alacrity. So, in building an Atmanirbhar Bharat we have to look towards what has been produced in India and it is not so that only the public sector should do it. Basically, it is about efficiency, their incentive system and how fast they can ramp up and can decide. So, we are expediting in that direction. Overall, it will have an impact on GDP growth and employment. So, this is an objective.  
Get Latest Business News, Stock Market Updates and Videos; Check your tax outgo through Income Tax Calculator and save money through our Personal Finance coverage. Check Business Breaking News Live on Zee Business Twitter and Facebook. Subscribe on YouTube.