Private Airlines will be a part of Vande Bharat Mission soon: Hardeep Singh Puri
Hardeep Singh Puri, Union Minister of Civil Aviation, speaks on the decision to allow domestic airline operations from Monday and objection from states, Vande Bharat flights and when the international flights will become operational among others during an exclusive interview with Swati Khandelwal, Zee Business.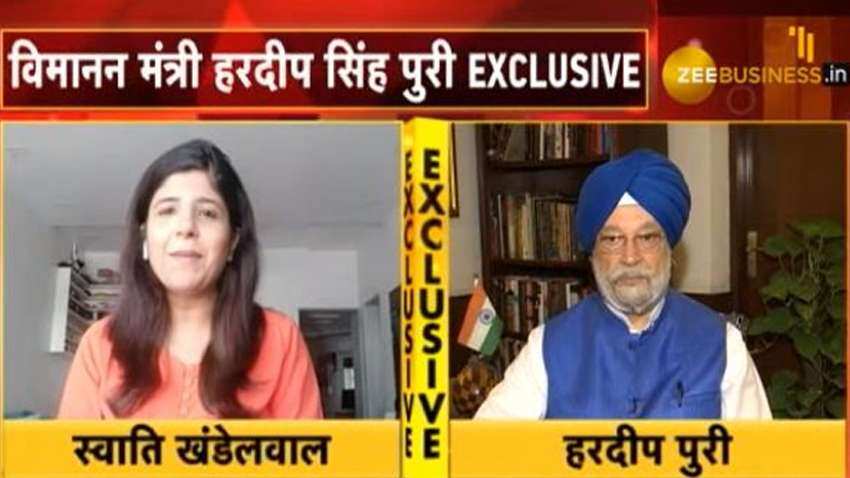 Check Edited Excerpts:-
Written By:
Jitesh Kumar Jha
Updated: Sun, May 24, 2020
05:30 pm
ZeeBiz WebDesk
Hardeep Singh Puri, Union Minister of Civil Aviation, speaks on the decision to allow domestic airline operations from Monday and objection from states, Vande Bharat flights and when the international flights will become operational among others during an exclusive interview with Swati Khandelwal, Zee Business. Edited Excerpts:-
Q: The decision to allow domestic airline operations from airports in a graded manner from May 25, 2020, is digested by now and has also seen the reactions from airline companies and companies associated with the sector. Every one of them is saying that their financials are quite stretched and the government must provide some support in this regard. So, do you have any plans to support them or they will have to go ahead with whatsoever they have at present?
A: Have a look at the overall picture, the country has been into lockdown for two months. This is why you are saying that the income stream of the airline companies has been virtually zero. However, some of them have carried out cargo operations and medical supplies on a payment basis. Otherwise, their income stream has been zero commercially or they have seen normal operations. Even our airports haven't received any business in these two months but this is one part of the economy and the same has happened with every economy. As far as the Civil Aviation Ministry and as a line ministry is concerned then we are sympathetic with the demands of concessions that the airlines are seeking. We have pursued many of those demands and can happily say that many things have already been announced by the finance minister and the government. It is not so that their demands haven't been addressed and I want to say that the decision on MRO was possible only because the GST rate has been reduced. Earlier, we were in a practice of sending our airlines and engines to other nations like Singapore or some countries because it was not viable to maintain and repair them in India due to the GST rates. So, these things have been changed. In addition to this, only 65% of India's airspace was available to Civil Aviation and it has been changed, which will help in reducing the air distance by 20-25%. Many airlines were facing issues as they had to pay some money to airport managements and airports as there were loans and the Civil Ministry Secretary has had words with them to roll over the same. And, many loan payments will be rolled over and some announcements were made by the RBI Governor. As far as aviation turbine fuel (ATF) is concerned then the demand of airline companies has been supported and the central government is also sympathetic in this regard but any decision related to it will be taken by the GST Council, where the state governments are also represented. So, I would say that this work is under process and in many situations we have been able to meet their demands and have made the announcements and for other issues, I think that the work is in progress.
Q: The Union Government has announced its decision allowing domestic airlines to resume their operations and move from one state to other. However, there are state governments who have objections and said that they will not open the airports as they feel that there are some hot spots and states where the cases of Coronavirus is high and passenger travelling from those states can increase the corona cases in their respective states. What is your view on this and have you consulted these states while taking the decision, if yes, then what was their opinion at that particular time?
A: Our system is of cooperative federalism in which every subject is discussed between the central and the state governments. As far as the decision of lifting the lockdown and the finalization of the dates is concerned, then it was discussed between the state and the central governments. Prime Minister has had a long discussion on the subject with Chief Ministers in which the states wanted to extend the duration of lockdown till May 31.
But there is another problem beyond this lockdown and enforcing complete lockdown will make many people in this economy who suffer. So, it was deemed necessary to start the railways, which brought some relief and more trains will be started soon. Hopefully, you are aware that we are not opening complete airlines and air traffic. Just 33% of the routes are being opened from Monday, May 25, 2020, and it will depend on the demand. Air routes with less or no demand will be opened late, while we will begin at looking at increasing the number of flights on routes with huge demand. But people who are travelling are not coming from a foreign land and were present in our country. Hopefully, the maximum of these would have Aarogya Setu app, which is a passport. If you have this contact tracing app and you are shown as green or else we will ask self-declaration from other passengers' in which they can get themselves tested and carry the certificate with them. So, all the precautions are being taken. There will be anxiety in the states but I would like to submit through you to your viewers that whenever the extended lockdown will be opened such anxieties will be present. I understand that the lockdown is being opened after 56 days or two months for the air traffic in quite less, 33%. This is a situation that can be managed at both of the airports. The airports across the country have informed to airports aviation authority that they are ready for the safeguards from the place of the residence from the airports and the SOPs that will be followed at the airports and the precautions that will be taken care of within the plane. So, all these details and protocols have been issued and have a belief that things will proceed smoothly when things will start on Monday.
Q: Domestic flights have been allowed to resume operations at 33% capacity and now people are saying that this will signify that the international flights will resume soon. Can you provide a timeline by when flights of international routes will be allowed to ply?
A: Vande Bharat Flights were started on May 6, 2020, with a work plan of bringing people in different phases. In which around 12,800 people will be brought back to India in the first phase, which will be doubled by the second week. As per the data that is available with me, around 22,000 Indian citizens were brought back till Thursday. The number of flights from other countries will be increased in days to come. Even private operators have offered help to us in the endeavour and we have taken up them on the offers. So, the number of Indians who are stranded in other countries or who are in distress, the number is quite high, will be brought back and the work is being done at a great speed. States were resisting when the process was started because there is a mandatory need to keep them under quarantine for 14 days. But, slowly the arrangements have been made and, now, states are quite happy to receive their people like Kerala, Odisha and other states. So, they are happy to receive them back. But, the number has to be calibrated. Now, we are going to increase the number of people who are coming in from abroad on this evacuation plan. The planes that are being sent to bring them back are carrying our citizens who are ordinarily resident outside and have professional engagement and commitments over there. Now, we are going to start domestic airlines from Monday. So, it is a slow process. I think the Vande Bharat flights will help in reducing the pressure to a great extent. And, when we will feel that we reach a situation where there is a comfort level both here and the countries where we are sending, then normal international civil aviation arrangements can commence. I don't want to put a date on it but you asked is it going to be August or September than it is possible as when we are talking about the civil aviation than many of your colleagues were asking that is it going to start from June than my reply was why June it may start from May. And, when the lockdown was enforced then people felt that it may start from end May then I said that once everybody is ready then we are confident that states capacity to receive the people. When the flights will be commenced then people working on the airports can get back the employment. Also, taxi drivers like Ola, Uber and public transport can be started. So, after the lockdown of two months, it is necessary that the opening and exit from the lockdown should be planned thoroughly. I want to inform your viewers that if everything remains good then we may consider opening international flights even before August or September. It may be at a selective and small percentage but we can only reach close to the decisions once we have assessed how the virus is behaving. Many times, I have emphasized that we were the first country in the world that stopped the flights that were coming from China. The brake was not put only on Air India flights the private sector air operators had also stopped the process, suddenly. People coming from the outside world were screened. And, the thirty airports where international traffic reaches have screened around 15 lakh 28 thousand people. So, we are open to this but let the economy open up. Let's see how the situation develops in other countries. At an appropriate time, we will consider the opening of civil aviation on international routes.
Q: Do you have any further plans - apart from ATF concessions that will be decided by the GST council – to provide concessions in other items, like landing and parking charges, to reduce their fixed costs?
A: Several steps have been taken and many concessions have been passed on to them throughput charges. But the assessment of IETA or some other organisation talking about the losses is not a scientific way of looking at the problem. All you need to do is recommence operations. Demand is high and I hope that the airlines will recover their business after the resumption process is completed. Apart from them, airports and other stakeholders of the ecosystem will also begin making some money. So, when the economic activities will revive then we will do it. So, when it comes to reforms and what should be rationalized than it is an ongoing process and we are addressing it.
Q: Update us on the status of Air India privatization plan?
A: The reality is that a time-period for receiving the expression of interest (EoI) has been extended by two months. But we will have to wait and watch how soon we can come out from this COVID-19 pandemic and then we will address it. Our commitment and objective of privatizing Air India remain the same. I have said many times that Air India is a first-class asset supported by world-class engineers and professionals as well as cabin crew and cockpit crew. Air India has 120 planes in its fleet that flies to 80 destinations in India and 50 destinations across the world. But the ground reality is that we have to inject Rs 500-600 crores every month to keep India afloat and now that money can be better spent. The idea is to retain and maintain Air India but you sometimes achieve the same objectives when you could get someone else to run Air India without the government. The governments the world over are not known to run airlines. Our cooperation with Air India is very good at present, with Air India management during this period of crisis are moving excellently in the case of initial repatriation that was conducted from Wuhan. I have distributed the letters of appreciation on the behalf of the Prime Minister to the crew. They are performing the evacuation flights at present. So, it is a great asset but it is not a government asset because the governments typically may be in the crisis know how to run it but in normal times, government behaves like government.
Q: What is the timeline for privatization?
A: When it comes to timeline than I have informed you that the process has been initiated and we will have to address that. If there is a need for small tricking than it will be done like we have extended the deadline of EoI by two months. But I would like to say something to you that I believe that we will come out from this challenge that we are facing from the civil aviation in a much stronger form and Air India privatization will gain strength from this. It will not be undermined.
Q: The fares have been capped and it is great news for the consumers especially in this period of crisis. How long this cap will be in place because it is an open sector? You have said that August 24 is its fixed dates. Please clarify the validity of this capping and can it be extended further? 
A: I would like to put two things in front you with a full sense of responsibility can say that we will emerge stronger. I can say this because of our airlines, population and passenger footfall, which stands at 435 million and this, is our latest figure for last year. We have our domestic traffic and Indians who oversee stands around 25 million, which is a well-known figure suggest that we don't need traffic from some other country. If you have a look on the India-US route, which is a very profitable route, then you will find India's share is only a small percentage, just 17% or so, if I remember. It is the foreign airlines who make money. There are airlines of small countries make money or derive profits from carrying our passengers on sixth freedom rights. They carry them to Gulf from India and then further. So, this ticketing is very lopsided. So, I am sure that after this crisis our domestic carriers have to survive this, grow and I am sure that our airlines will benefit from the fact that we will move from the third-largest domestic market to the world's third-largest market in overall terms and when they add white large-bodied, white-bodied planes in their fleets than they will be able to carry more traffic directly between different cities in India and cities in Canada, the United States, Europe, Japan and far East and so.
Now I want to come to the fares. We have the powers for three months to prescribe fares and I think that the three months period that has been prescribed was an extraordinary situation. Our response under extraordinary situation has to be somewhat out of the ordinary. See only 33% of the flights are allowed to fly from Monday. I don't have any figure but my assessment suggests that there is a lot of demand. Let's suppose the demand is for 100 seats and we can provide only 33 – I am just taking a hypothetical example – and minimum price was not prescribed, while the maximum prescribed price stood at Rs 12,000 then why any airline will sell its ticket at a lower price. If three people were demanding for one seat then they will charge the ceiling price. So that is the problem. 
One the other hand, if the planes go empty, there are no passengers, then they will be tempted to do promotional fares. 20 years ago the average price on the Delhi-Mumbai trunk sector stood at Rs 5,100 but in the recent past during answering to a question in the Parliament I informed that the current average stands at Rs 4,600. And, we have seen that some of the promotional fares have been used by the airlines in which they sold tickets at Rs 1,100 on the Delhi-Mumbai sector. Now, whether that is competitive pricing or they were taking advantage of the plane going empty or something else. We have to avoid both extremes and have to ensure and that's why we prescribed a ban.
Q: There are concerns that the airline companies are not carrying out the refund process in the right manner and are providing credit balance to passengers. Will you take some action on it and have you intervened into it to make sure that the refund reaches to the consumers in a seamlessly?
A:  If some customer has bought the ticket just before the lockdown and was not able to travel and are stranded then we have issued an advisory and when we felt that the advisory doesn't seem to have the desired impact than a directive was issued. So in those special circumstances, there is no room for doubt and the airlines will do the recovery. But, this online ticket booking system is very complicated that involves airlines, passenger and travel agents. Suppose in September 2019 you decide to travel in March or April in 2020 than the ticket that was booked in September 2019, It means that the person has paid APEX (Advance Purchase Excursion Airfares) fair for booking the ticket, where there is a notice of more than 7 days, which means you are buying a concessional ticket. In such a case the refund can't be dealt in the same way that somebody who got affected by the lockdown. So, airlines are responding and I don't want to say a lot on this issue because the matter is before the honourable Supreme Court as some passengers have filed PILs there. But I think the problem will find a natural solution once after the civil aviation operation will resume on Monday, i.e. May 25, 2020.
Get Latest Business News, Stock Market Updates and Videos; Check your tax outgo through Income Tax Calculator and save money through our Personal Finance coverage. Check Business Breaking News Live on Zee Business Twitter and Facebook. Subscribe on YouTube.