Pradhan Mantri Jan-Dhan Yojana completes 3 years today; here's a look at its journey
On Sunday, Prime Minister Narendra Modi had said in the last three years 30 crore families have been linked to Jan-Dhan Yojana and Rs 65,000 crore has been deposited in their accounts.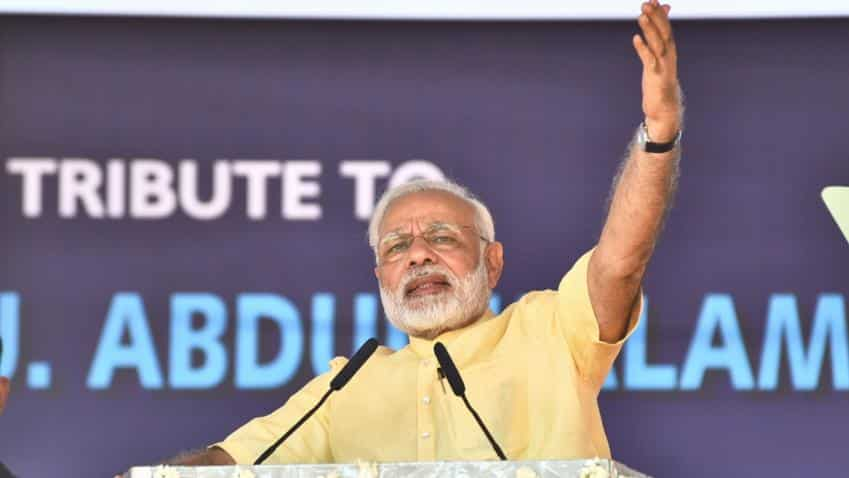 Prime Minister Narendra Modi address at a public meeting at Rameswaram, Tamil Nadu on July 27, 2017. Photo: IANS
Updated: Mon, Aug 28, 2017
12:05 pm
Mumbai, ZeeBiz WebDesk
Prime Minister Narendra Modi's dream scheme "Pradhan Matri Jan-Dhan Yojana" completed three years. In 2014, Modi had announced this financial scheme on the eve of Independence Day.
Congratulating the beneficiaries, Modi on Monday said, "Today, Jan Dhan Yojana completes 3 years. I congratulate the crores of people, particularly the poor, who benefitted from this initiative. Jan Dhan Revolution is a historic movement to bring the poor, downtrodden and marginalised into the financial mainstream."
On Sunday, while addressing the nation over his radio programme 'Mann Ki Baat', he had said in the last three years 30 crore families have been linked to Jan-Dhan Yojana and Rs 65,000 crore has been deposited in their accounts. 
"We have connected 30 crore new families to it, opened new accounts. This number is more than the population of several countries," Modi had said.
While the government is cheering on completion of three years of the scheme, here's a look at its journey:
What is the yojana?
Starting with, Pradhan Mantri Jan-Dhan Yojana (PMJDY) is "National Mission for Financial Inclusion" to ensure access to financial services, namely, Banking/ Savings & Deposit Accounts, Remittance, Credit, Insurance, Pension in an affordable manner.
Account can be opened in any bank branch or Business Correspondent (Bank Mitr) outlet. Accounts opened under PMJDY are being opened with Zero balance. However, if the account-holder wishes to get cheque book, he/she will have to fulfill minimum balance criteria.
The Zero balance policy was the main highlight of the scheme. To open a Jan Dhan account is free of cost and does not require any amount to be deposited initially. Most savings bank accounts require an initial deposit to open a bank account and also a minimum balance to be maintained on a monthly or quarterly basis. 
But with a Jan Dhan account, these requirements are done away with so that anyone can open this account even if they do not have money to deposit right away.
Interestingly, Ministry of Finance, which runs the scheme holds a Guinness World Record for the highest number of accounts opened in a week anywhere in the world. Over 1,80,96,130 accounts were opened by individuals during the first week of launch of the scheme.
The collection data
If you look at the above chart, number of beneficiaries added has been growing consistently. The scheme has managed to attract nearly 18 crore account holders in the very first year. The number increased to 24.10 crore in the second year and touched 30 crore in the third year. 
With the increase in number of accounts, the total balance in accounts also jumped. In the first year, the scheme collected Rs 22900.68 crore which doubled to Rs 42094.24 crore in the second year. By the third year, it was at Rs 65844.68 crore.
Demonetisation impact
The scheme gained a lot of limelight during demonetisation.
On November 8, 2016, Modi in a surprise move had announced the ban on Rs 500 and Rs 1000 notes with immediate effect had given a thrust to new account opening under the PMJDY. Within 100 data after demonetisation, the nuber of accounts under the scheme rose by 2.26 crore and the collection by Rs 19,000 crore. 
At the beginning of the demonetisation process, the zero-balance accounts stood at 23.27 per cent of the total deposits. It came down to 22.84 per cent by November 30. After 100 days of demonetisation, the zero-balance accounts stood at 24.86 per cent.
The share of such accounts was 37.16 per cent of the total as of November 4, 2015. However, it fell to 28.87 per cent by February 24, 2016, as reported by Business Line. 
However, if you look at the data from October to November 2016 saw an over Rs 30,000 crore rise in deposits in Jan Dhan accounts, withdrawals are slowly inching up.
As on March 22, 2017, deposits under Jan Dhan stood at Rs 63,101.48 crore, down by 15.09% from Rs 74,321.55 crore in November 2016.
People started withdrawing money from their Jan Dhan acccounts even before demonetisation drive could end on December 31, 2016. 
Moody's Investors in one of its report said,  "Although, there has been rise in banks deposit on the back of this note ban drive, the agency expects it to increase by only around 1% to 2%, compared to before demonetisation, with cash remaining the dominant means of retail transactions."
From insurance to mobile banking facilities
If you look at the scheme overall, the scheme brought the purview of banking to all citizens of the country; irrespective of their financial status or regional location. As it was aimed to help the economically weaker sections of the society and for them to become financially confident, the scheme offered a range of benefits.
In case of loans, any individual whose Jan Dhan account completes 6 months are eligible to obtain loans of up to Rs.5000. Although the loan amount seems insignificant as compared to that offered as standard loan by various banks, but is quite substantial when we think of the economic status of individuals that this scheme was aimed at uplifting. 
In case of mobile banking facility which was common in private and public banks, was still new for the customers below peverty line, which was the target audience of the scheme. This step was ensure that even people from rural areas and those from the unorganized sector have access to quick and convenient banking options. The idea behind this feature was to innovate as much as possible to ensure financial inclusion as well as financial security to as many Indians as possible.
This feature also pushed the "digitalisation" scheme of the government. The government aims for cashless economy giving a rise to digital transactions. Hence, with mobile banking facilities, the scheme managed to attract people for e-financial transactions. 
In case of Insurance, the  a lot of people who could not have availed insurance out of their own pocket. The scheme offers a life cover of Rs.30,000 to customers who comply with certain norms of the scheme and offers Rs.2,00,000 as insurance sum in the event of death due to accident.
Apart from these facilities, the scheme offers RuPay debit car for easy withdrawals of money from ATMs and an Overdraft facility of Rs 5000. 
ALSO READ:
Get Latest Business News, Stock Market Updates and Videos; Check your tax outgo through Income Tax Calculator and save money through our Personal Finance coverage. Check Business Breaking News Live on Zee Business Twitter and Facebook. Subscribe on YouTube.