Post note ban, why were new Rs 500 notes late in coming?
Here are some facts about the printing and other factors that went into the making of the new Rs 500 currency note as given by top officials involved in the issue.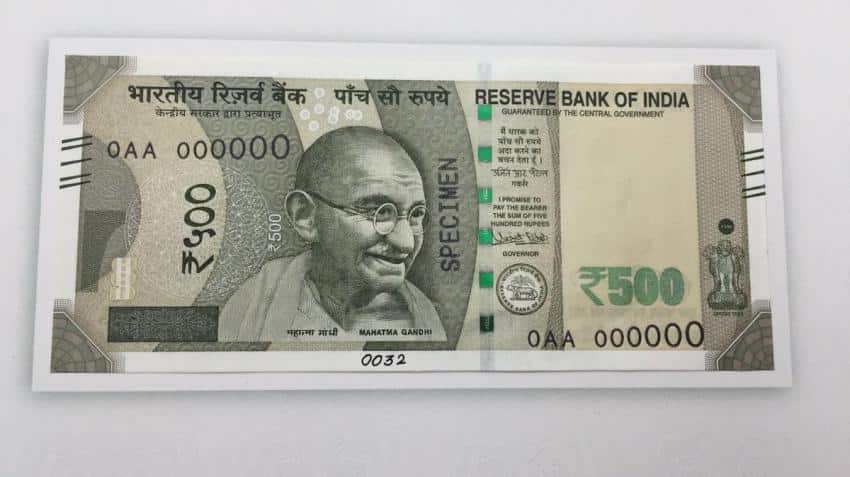 New Rs 500 Note issued after Prime Minister Narendra Modi announced ban on Rs 1000 note and old Rs 500 note. Photo: IANS
Updated: Sun, Aug 13, 2017
04:51 pm
New Delhi, IANS
Two days after the demonetisation on November 8 last year, the new 2,000-rupee note hit the market in good numbers but the new 500-rupee note took a long time in coming, putting millions of people in difficulty for days on end.
Have you ever wondered why it happened?
Here are some facts about the printing and other factors that went into the making of the new Rs 500 currency note as given by top officials involved in the issue.
* The Reserve Bank of India had a stock of around Rs 4.95 lakh crore of the new Rs 2,000 notes when demonetisation was announced -- but did not have a single new Rs 500 note currency, which was introduced into the system only later.
* India has four currency note printing pressess -- two RBI presses at Mysuru (Karnataka) and Salboni (West Bengal) and two Security Printing and Minting Corp of India Ltd (SPMCIL) presses at Nashik (Maharashtra) and Dewas (Madhya Pradesh). SPMCIL is a government-owned company formed in 2006 that fulfills a sovereign function of printing notes, minting coins and printing non-judicial stamps.
* SPMCIL has always printed whatever the indent given by the RBI. This time, the SPMCIL started printing Rs 500 notes without any formal indent post-demonetisation. The design of the Rs 500 note was ready with the Mysuru press ahead of demonetisation.
* The printing of Rs 500 notes started at Dewas from the second week of November and at Nasik from the fourth week of November. It had begun earlier in the RBI presses but the numbers were not adequate.
* The production and printing cycle of a currency note normally takes 40 days, including time for procuring paper for the new design. Post demonetisation, the cycle was reduced to 22 days. Shipment of raw material like paper and ink from other countries takes 30 days, which was reduced to two days by flying in consignments. Dispatch of notes to RBI`s remote chests takes 10-11 days, which was reduced to 1-1.5 days by airlifting.
* The currency paper that comes from the mill is embedded with a highly sensitive security thread. When this sheet of paper is put in the printing press, the final note comes out on the 16th day.
* For the first time, indigenous paper was also used for printing the Rs 500 note. The Cyliner mould vat mode Watermarked Bank Note (CWBN) paper was developed in paper mills in Hoshangabad and Mysuru, each with a 12,000 metric tonne capacity per annum. Still, this paper had to be imported as there was a shortfall.
* For the Rs 500 note, the Nashik and Dewas presses used only in-house ink while it had to be imported for printing by RBI presses.
* The combined capacity of the Nashik and Dewas presses is 7.2 billion pieces a year. The two presses at Mysuru and Salboni have a combined capacity of 16 billion pieces a year.
* Initially the presses were running for only two shifts, but as remonetisation began, this was ramped to three shifts a day, as a result of which the quantum of notes rose exponentially.
* The Dewas and Nashik presses employ 1,200 and 2,000 people respectively. The same set of people were deployed for three shifts, for which overtime and other allowances were paid.
* Post demonetisation, 200 people were drafted from the Ministry of Defence and 100 recently retired SPMCIL employees were re-engaged to help in the printing. The non-technical work was given to the army personnel.
* The SPMCIL was set a target of printing 900 million pieces of Rs 500 notes by December 30. Since January this year it has been printing approximately 300 million pieces every month.
* The Rs 500 notes are being printed by SPMCIL and RBI presses in the 40:60 ratio while the Rs 2,000 notes are being printed only by the RBI presses.
* While there are reports that the printing of Rs 2,000 notes is slowing down, the government has asked to further increase the printing of Rs 500 notes as the demand is high.
* It will thus be clear that while miniscule quantities of the new Rs 500 notes began to be seen by end-November, the situation stabilised only by end-December.
ALSO READ:
Get Latest Business News, Stock Market Updates and Videos; Check your tax outgo through Income Tax Calculator and save money through our Personal Finance coverage. Check Business Breaking News Live on Zee Business Twitter and Facebook. Subscribe on YouTube.