Positive GDP data another boost for Modi govt
Today's development seems to show that Indian economy is shaking off the effects of demonetisation and GST rollout after witnessing a low growth of 5.7% in the June quarter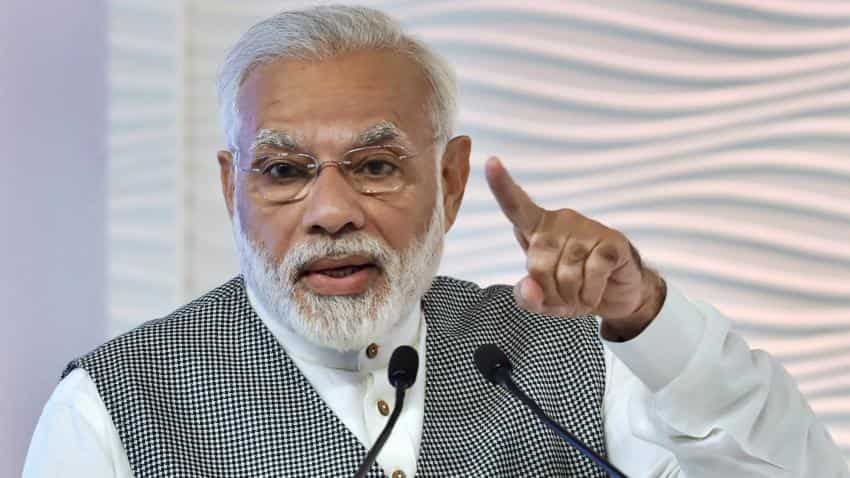 Prime Minister Narendra Modi speaks during the Hindustan Times Leadership Summit in New Delhi, on Thursday. Image source: PTI
Updated: Thu, Nov 30, 2017
08:55 pm
ZeeBiz WebDesk
Amidst the raging debate that Prime Minister Narendra Modi is confronting a real test of development and structural reform programmes on his home turf, the report about India's GDP growth surging by 6.3% in the September quarter is in fact a third green shoots for the Modi government after Moody's positive rating and India's rise in the World Bank's ease of doing business ranking.
Today's development seems to show that Indian economy is shaking off the effects of demonetisation and GST rollout after witnessing a low growth of 5.7% in the June quarter. The all-round criticism for the Modi government would probably get a certain check, especially in the political fraternity. Because the outcome would obviously enthuse the last round of campaigning in Gujarat Assembly elections, which is being shown as the dress rehearsal for the 2019 between PM Modi and Rahul Gandhi.
This turnout has come on the expected lines because analysts have been expecting a higher dataprint for the September quarter GDP, with some of them pegging it at 6.4 per cent. The optimism was coming from the improving macroeconomic indicators across sectors, especially those affected by the note-ban and the GST implementation.
SBI economists had blamed the dismal Q1 slowdown due to poor consumption demand, contraction in manufacturing due to GST disruptions, and declining in mining activity. Their hope centred around the recent macroeconomic indicators that pointed to overall recovery.
The indicators hinted at the 10-month high manufacturing output in September at 3.4 per cent, mining at a five-month high of 9.4 per cent and electricity production grew 7.9 per cent.
However, we cannot skip the Moody's positive comment on India's sovereign bond ratings to Baa2 from Baa3. The critics had questioned the timing after citing the concerns over the government`s fiscal discipline, but the upgrade has certainly created a positive environment for the economic reforms.
But the Standard & Poor`s did not follow Moody`s and rather stuck with its "BBB-minus" sovereign rating and "stable" outlook, citing low income levels, high debt and weaker government finances. This was perhaps an awakening call for the government to be more pragmatic.
However, official circle seems to have got the impression of positive beginning as Chief Economic Advisor Arvind Subramanian on Wednesday said, "we will soon come out from these two policy experiments" of demonetisation and GST rollout and regain growth.
Finance Minister Arun Jaitley sounded more confident as he said the economy now seems to have weathered the transitional challenges experienced earlier in the year and appears poised for a durable recovery going forward.
But looking at the existing scenario the pace needs to be upped if the government wants to keep the promises it made to people during 2014 polls, otherwise it may sail through in Gujarat now, but 2019 would certainly be difficult for the ruling dispensation.