Petrol price unchanged today; Rates stay over Rs 84 in Mumbai, near Rs 79 each in Kolkata, Chennai
From May 30, the OMCs are being forced to cut petrol prices despite Brent crude hovering near $73 per barrel. ​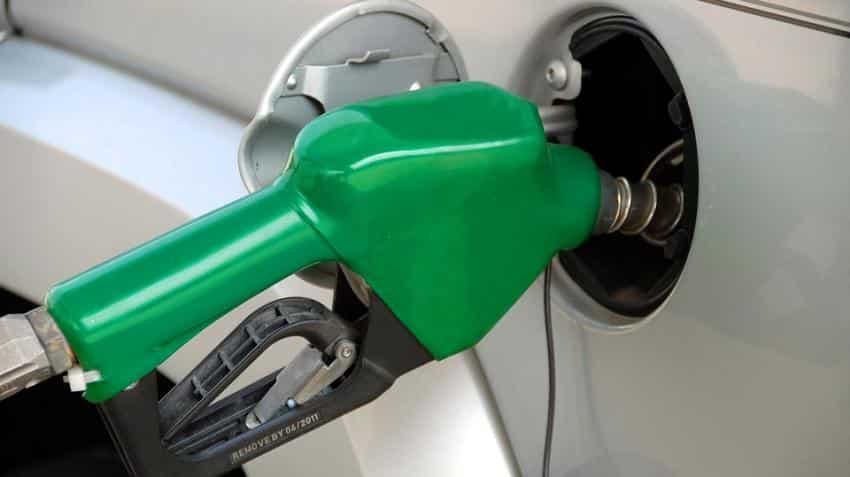 Representational Image: Photo: Pixabay
The state-owned Oil Companies decided to keep petrol price unchanged today in various state capital of India, despite international crude oil prices slipping by over $2 a barrel Friday after two of the world`s biggest producers indicated they might increase output at next week`s OPEC meeting, while U.S. exports were threatened by potential Chinese tariffs on crude oil and refined products. In previous day, petrol price was brought down in the range of 8 paisa to 9 paisa per litre in metro cities, as per data given by Indian Oil. State elections are expected to take place in Chhattisgarh, Madhya Pradesh and Rajasthan in late 2018, calling for major urgency in relaxing petrol prices to save the NDA government from facing the repeat of the Karnataka scenario. 
Today in New Delhi, 1 litre petrol is priced at Rs 76.35.
Similarly, Kolkata is charging Rs 79.02 per litre for a litre petrol.
India's financial hub Mumbai has seen some relief in petrol price, as 1 litre petrol was priced at Rs 84.18 today. The city has been selling petrol over Rs 86 per litre.
 
In Chennai, 1 litre petrol here was priced at Rs 79.24. 
A litre petrol priced at Rs 77.59 in Bangalore, Rs 81.94 in Bhopal, Rs 75.17 in Bhubaneswar, Rs 73.43 in Chandigarh, Rs 77.70 in Dehradun, Rs 80.88 in Hyderabad, Rs 79.09 in Jaipur, Rs 77.18 in Lucknow, Rs 81.84 in Patna, Rs 76.76 in Raipur and Rs 80.77 in Srinagar.
According to a Reuters report, oil investors have been nervous ahead of the coming OPEC summit in Vienna. Saudi Arabia and Russia have already boosted production modestly, and have indicated they were prepared to increase output at that meeting.
Therefore, Brent crude oil fell $2.50, or 3.29 percent to settle at $73.44 a barrel. U.S. crude settled $1.83 lower at $65.06 a barrel. In post-settlement trading, U.S. crude retreated further, falling 2.25, or 3.4 percent, to $64.64 a barrel. Brent crude was on track to end the week down more than 4 percent, while U.S. crude was heading to fall 1.7 percent. 
 
Updated: Sat, Jun 16, 2018
01:17 pm
Mumbai, ZeeBiz WebDesk