Petrol price in India today up 2 paise; Delhi rate near 6-year high of Rs 64 per litre; check other cities
Petrol price in India today:  The state-owned oil companies have limited room to cut prices of petrol as global crude oil basket continues to edge higher.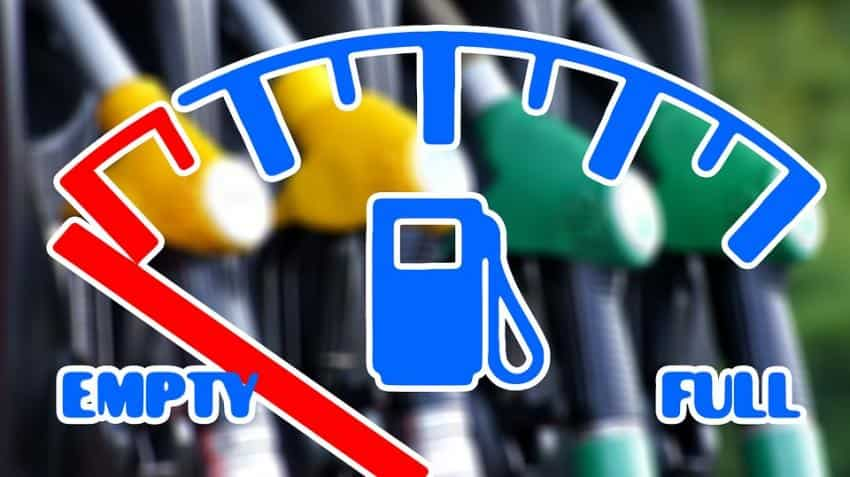 Representational Image: Photo: Pixabay
Petrol price in India today: Despite international crude oil tumbled on Saturday, due to trade-war fears, the Indian state-owned Oil Companies still did not shy away in continuing the hike in petrol prices, as the product was raised by 2 paise per litre in various state capital of India. It needs to be noted that, since 2018, the petrol prices have surged to new levels, and today was no different, as prices in New Delhi reached near six-year high. Meanwhile, the global crude oil fell about 2% after U.S. President Donald Trump threatened new tariffs on China, reigniting fears of a trade war between the world`s two largest economies that could hurt global growth.
 
Petrol prices in India have been on mixed bag since the start of 2018, as oil companies like Hindustan Petroleum Corp Limited (HPCL), Indian Oil Corp (IOCL) and Bharat Petroleum Corp Limited (BPCL) decide the final retail petrol price by taking into consideration the international crude basket, plus state's Value Added Tax (VAT) and government's excise duty. 
 
Petrol price in New Delhi today: It was priced at Rs 74 per litre up by 2 paisa compared to previous day price of Rs 73.98 per litre. Rs 74 per litre mark - was last recorded in September 2013. 

Petrol price in Kolkata today: While in Kolkata petrol prices stood at Rs 76.71 per litee, higher by 2 paisa compared to previous day price of Rs 76.69 per litre. The prices in this city is almost near Rs 77 per litre - which was last seen in May 2012.


 
Petrol price in Mumbai today: Petrol has remained four-year high in this city since start of 2018, and Saturday, was the same, as the price stood at Rs 81.85 per litre, up by 2 paisa as against Rs 81.83 per litre of the previous day. Near Rs 82 per litre mark in Mumbai was last seen in March 2014. 
 

Petrol price in Chennai today: This city has been witnessing major hike in past few weeks, and today, the petrol prices was valued at Rs 76.77 per litre up 2 paisa as against previous day price of Rs 76.75 per litre.  Near Rs 77 per litre mark was last witnessed in May 2012. 


 
Petrol price in other state capitals today:  Petrol prices in Bengaluru stood at Rs 75.17 per litre, in Bhopal at Rs 79.54 per litre, Bhubaneswar at Rs  72.83 per litre, Chandigarh at Rs 71.16 per litre, Dehradun at Rs  75.84 per litre, Gandhinagar at Rs 73.32 per litre, Hyderabad at Rs 78.37 per litre, Jaipur at Rs 76.71 per litre, Lucknow at Rs 75.33 per litre, Patna at Rs 79.51 per litre, Raipur at Rs 74.45 per litre and Srinagar at Rs 78.39 per litre. 
 
Meanwhile, Brent crude futures settled down $1.22 at $67.11 a barrel. U.S. West Texas Intermediate (WTI) crude futures fell $1.48 to $62.06 a barrel, a 2.3 percent loss.
Brent crude dropped 2.8 percent in the week while U.S. crude fell 4.4 percent, the biggest weekly decline since early February. 
According to Reuters report, Trump said on Thursday he had ordered U.S. trade officials to consider tariffs on an extra $100 billion of imports from China, escalating tensions with Beijing.
China warned on Friday it was fully prepared to respond with a "fierce counter strike" of fresh trade measures if the United States follows through on Trump`s threat, added the report. 
Updated: Sat, Apr 07, 2018
12:06 pm
Mumbai, ZeeBiz WebDesk