Petrol price in India today rises by 10-11p; Mumbai rate soar to whopping Rs 82
Petrol price in India today: Tracking the global crude oil performance is an important factor for calculating final retail prices of petrol in various major state capitals in India.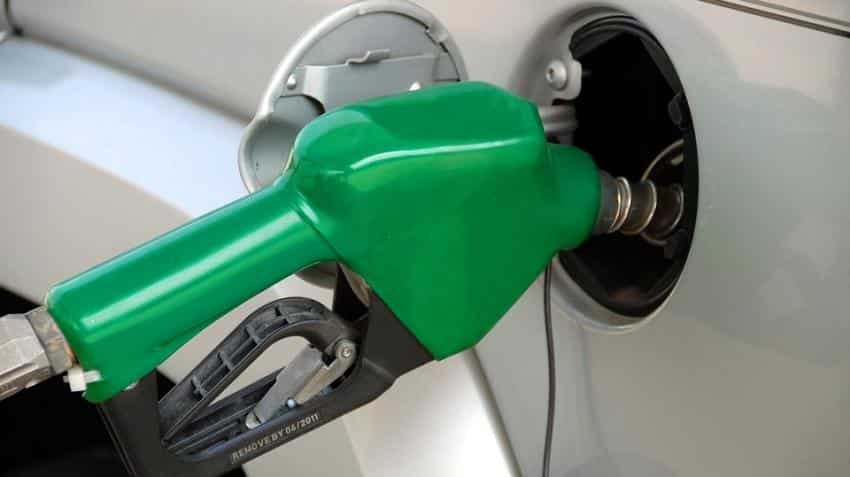 Representational Image: Photo: Pixabay
Petrol price in India today: There is no stopping the uptick in Indian petrol prices, as they continue to rise even on Monday in the range of 10 paisa to 11 paisa per litre in various state capitals. The state-owned oil companies have limited room to deduct prices of petrol, as global crude oil basket continue to edge higher. Today, international crude oil prices extended gains, lifted by a drop in U.S. drilling activity as well as by expectations that the United States could re-introduce sanctions against Iran.
 
Petrol prices in India have been on mixed bag since the start of 2018, as oil companies like Hindustan Petroleum Corp Limited (HPCL), Indian Oil Corp (IOCL) and Bharat Petroleum Corp Limited (BPCL) decide the final retail petrol price by taking into consideration the international crude basket, plus state's Value Added Tax (VAT) and government's excise duty. 
Petrol price in New Delhi today: It was priced at Rs 73.83 per litre, higher by 10 paisa compared to Rs 73.73 per litre of previous day. 


 
Petrol price in Kolkata today: While Kolkata saw hike of 10 paisa in petrol prices to Rs 76.54 per litre as against previous day price of Rs 76.44 per litre. 


 
Petrol price in Mumbai today: Petrol has remained four-year high in this city since start of 2018, and Monday was the same, as the price stood at Rs 81.69 per litre up by 10 paisa as against Rs 81.59 per litre in previous day. 


 
Petrol price in Chennai today: Unlike above mentioned three cities,  Chennai saw higher increase in its petrol prices by 11 paisa and was valued at Rs 76.59 per litre versus previous day price of Rs 76.48 per litre. 


 
Petrol price in other state capitals today:  Petrol prices in Bengaluru stood at Rs 75.00 per litre, in Bhopal at Rs 79.37 per litre, Bhubaneswar at Rs 72.67 per litre, Chandigarh at Rs 71.00 per litre, Dehradun at Rs 75.70 per litre, Gandhinagar at Rs 73.15 per litre, Hyderabad at Rs 78.19 per litre, Jaipur at Rs 76.54 per litre, Lucknow at Rs 75.20 per litre, Patna at Rs 79.34 per litre, Raipur at Rs 74.28 per litre and Srinagar at Rs 78.22 per litre. 
Moreover, U.S. drillers cut seven oil rigs in the week to March 29, bringing the total count down to 797. It was the first time in three weeks that the rig-count fell.  U.S. crude futures rose 0.4 percent to $65.21 a barrel and Brent advanced 0.55 percent to $69.73 a barrel.
 
"Investors took their cue from falling U.S drilling counts," Wang Xiao, head of crude oil research with Guotai Junan Futures said in a Reuters report. 
"But increasing trade friction between China and U.S. is likely to rock global markets and tarnish bullish sentiment in crude oil markets, "Xiao said. 
Updated: Mon, Apr 02, 2018
10:35 am
Mumbai, ZeeBiz WebDesk