Petrol price in India today: Global crude tumbles; check rates in Mumbai, Delhi, Chennai, Bengaluru, more
Petrol price in India today: Tracking the global crude oil performance is an important factor for calculating final retail prices of petrol in various state capitals in India.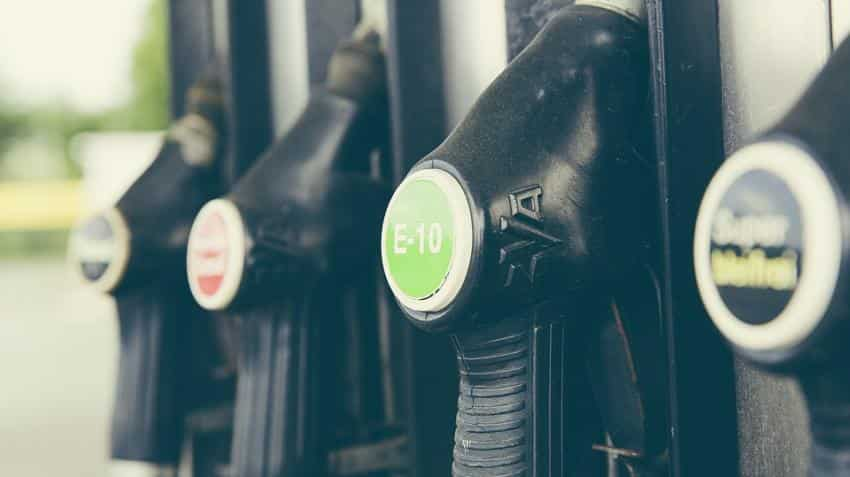 Representational Image: Photo: Pixabay
Petrol price in India today: With a drop in global crude prices, Indian petrol prices on Wednesday also eased and remained unchanged in various state capital compared to previous day prices. The global crude oil prices tumbled with rent dropping back below $70 per barrel and U.S. West Texas Intermediate crudes dipping below $65, pulled down by a report of increasing U.S. crude inventories that surprised many traders. Petrol prices this week have reached to four-year high once again. Petrol prices in India have been on mixed bag since the start of 2018, as oil companies like Hindustan Petroleum Corp Limited (HPCL), Indian Oil Corp (IOCL) and Bharat Petroleum Corp Limited (BPCL) decide the final retail petrol price by taking in to consideration the international crude basket, plus state's Value Added Tax (VAT) and government's excise duty. Thus, if global crude prices registers uptrend, the impact will be recorded in Indian petrol prices, and today was no different, as the product surged by 4 paisa per litre each in various state capital. 
 
Petrol price in New Delhi today: In the national capital, petrol price stood at Rs 72.90 per litre - unchanged compared to previous day. 


 
Petrol price in Kolkata today: Similarly, Kolkata saw petrol prices at Rs 75.63 per litre - on same level as against previous day. 


 
Petrol price in Mumbai today: Petrol has remained four-year high in this city since start of 2018, and Wednesday the price of this fuel stood at Rs 80.77 per litre. 


 
Petrol price in Chennai today: In Chennai, were valued at Rs 75.61 per litre. 


 
Petrol price in other state capitals today:  Petrol prices in Bengaluru stood at Rs 74.05 per litre, in Bhopal at Rs 78.42 per litre, Bhubaneswar at Rs 71.75 per litre, Chandigarh at Rs 70.11 per litre, Dehradun at Rs 74.97 per litre, Gandhinagar at Rs 72.23 per litre, Hyderabad at Rs 77.20 per litre, Jaipur at Rs 75.59 per litre, Lucknow at Rs 74.47 per litre, Patna at Rs 78.42 per litre, Raipur at Rs 73.36 per litre and Srinagar at Rs 77.32 per litre. 
U.S. WTI crude futures were at $64.71 a barrel by 0356 GMT, down 54 cents, or 0.8 percent, from their previous settlement.Brent crude futures were at $69.65 per barrel, down 46 cents, or 0.7 percent.
Traders in a Reuters report said, "the dips came after the American Petroleum Institute (API) late on Tuesday reported a surprise 5.3 million barrels rise in crude sticks in the week to March 23, to 430.6 million barrels."
Official U.S. inventory data will be published by the Energy Information Administration (EIA) late on Wednesday.
Updated: Wed, Mar 28, 2018
10:23 am
Mumbai, ZeeBiz WebDesk