Petrol, diesel prices: Crude oil soars, but govt rules out excise duty relief; now pay more at fuel station
 The OMCs, while deciding the prices of fuel, take into consideration the performance of international crude oil, adding government's excise duty and various state's value added tax (VAT).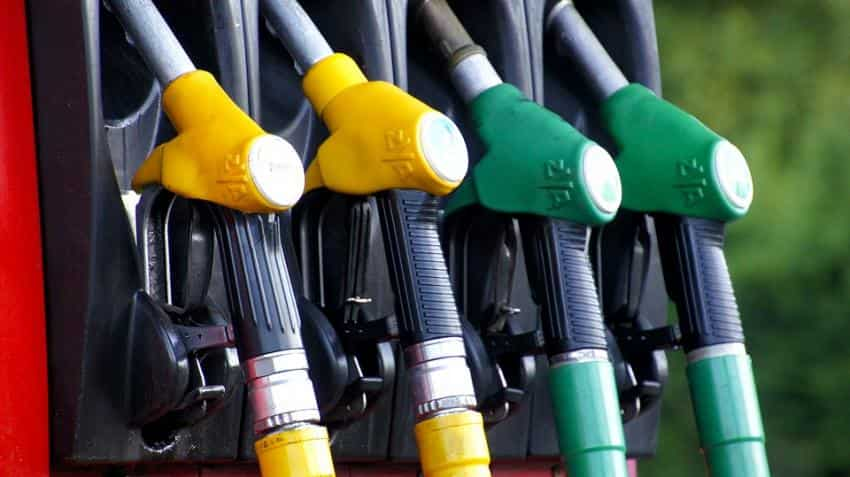 Representational Image: Photo: Pixabay
Updated: Wed, Apr 04, 2018
01:10 pm
Mumbai, ZeeBiz WebDesk
The prices of fuel products that you pay have reached a whole new level  in various state capital of India. This is especially so for diesel products. Meanwhile, petrol also has reached nearly seven-year high. On Wednesday, the Oil Marketing Companies (OMCs) decided to keep the prices of petrol and diesel unchanged compared to previous day's valuation. The OMCs while deciding the prices of fuel, take into consideration the performance of international crude oil, adding government's excise duty and various state's value added tax (VAT), however, currently the state-owned OMCs face a difficult time in regards to trimming down fuel prices as they have limited room for it, which results in consumers ending up paying higher petrol and diesel prices. 
Let's understand what really is cooking and why are consumers made to pay higher amounts on their purchases of fuel products. 
Data displayed by Indian Oil Corp, showed that on Wednesday, petrol prices stood at Rs 73.95 per litre in New Delhi, almost nearing Rs 74 per litre mark - this was last recorded in September 2013. 
New Delhi was not alone in seeing hike in petrol prices, Kolkata and Chennai have reached near seven-year highs too. Petrol prices in Kolkata stood at Rs 76.66 per litre and Chennai at Rs 76.72 per litre - the last time both the cities witnessed such trend was in May 2012. 
Meanwhile, petrol prices in Mumbai have soared too and the fuel is now available at Rs 81.8 per litre, a four-year high. Near Rs 82 per litre mark in Mumbai was last seen in March 2014. 
The start of 2018, has been bleak for petrol prices in India, as between December 31 to till date, rate has increased by Rs 3.98 per litre in New Delhi, by Rs 3.94 per litre in Kolkata, Rs 3.93 per litre in Mumbai and Rs 4.19 per litre in Chennai. 
Coming to diesel prices, this one has just shot up to new-highs. Today, this fuel product is priced at Rs 64.82 per litre in New Delhi, Rs 67.51 per litre in Kolkata, Rs 69.02 per litre in Mumbai and Rs 68.38 per litre. 
Diesel prices have seen the most hike compared to petrol prices since the start of 2018. Between December 31 to till date, diesel price in New Delhi have surged by Rs 5.10 per litre, while it grew by Rs 5.13 and Rs 5.46 per litre in Kolkata and Chennai respectively. 
Mumbai saw most hike in diesel prices, with the fuel product rate increasing by Rs 5.70 per litre so far in 2018. 
Notably, in the month of June 2017, India dumped the 15-year old practice of revising fuel rates twice a month on 1st and 16th. Instead, the government linked prices to the international markets in hope that consumers will benefit as crude oil prices are trading at a third of their lifetime highs. 
Dharmendra Pradhan, Minister of Petroleum of Natural Gas on June 16,said, "After the complete transformation of the LPG sector, dynamic fuel pricing is the first major reform of recent times in Fuel Retailing Sector."
Now what was supposed to be 'ache din' for Indian citizen, has now turned out to be a nightmare. Petrol price stood near Rs 65 per litre in New Delhi, Rs 68 per litre in Kolkata, Rs 76 per litre in Mumbai and Rs 68 per litre in Chennai in June 2017. Whereas, diesel was valued near Rs 54 per litre in New delhi, Rs 56 per litre in Kolkata, Rs 60 per litre in Mumbai and Rs 57.41 per litre in Chennai. 
Two factors affect the prices of petrol and diesel. Firstly, the surge in international crude oil prices, secondly the reluctance of government in cutting excise duty and state's VAT. 
According to a Reuters report, on Wednesday, international oil edged up, supported by a recovery in the equities market and on a technical bounce for crude after the biggest daily percentage drop in almost a year, but Brent futures stayed well below $70 a barrel.
However, this year, Brent crude reached to an high of $71.28, and has been hovering near the level. Meanwhile, after touching an high of $66-level in January month, the US WTI futures was trading near 63-mark this week. 
Nilesh Ghuge analyst at HDFC Securities says, "Concerns on weak marketing and refining margins, rising crude prices, and lower budgetary allocation for petroleum subsidy have hit Oil Marketing Companies (OMCs)."
Vishnu Kumar and Praveen Narayanan analysts at Spark Capital said, "Our simple narrative on Oil Marketing companies is that "Higher Crude prices are bad for business". We see Crude fundamentals justifying prices in the range of $65-$70/bbl – Shale producers are incrementally focusing on FCF justified production with break even around $55-$60/bbl and we think this would act as a floor.."
The higher crude price comes as a negative outcome for India, as the government is impacted by this trend in two ways.
Firstly, the government earns substantial revenue from petro-products through taxation, as they have been kept out of the Goods and Services Tax (GST) regime. States are also able to levy variable taxes as a result of which prices vary across states.
Secondly, the government also provides a subsidy for fuel products in order to buffer against prices.
It needs to be noted, that OMCs cannot really help themselves from the shock of higher global crude oil, this leads to than government in the picture for some cushioning in terms of excise duty. 
However, the government on Tuesday, ruled out any immediate reduction in excise duty for cushioning the relentless in global crude oil. 
Finance Secretary Hasmukh Adhia said in a PTI report, "Not as of now. Whenever we review it, we will let you know".
Between November 2014 to January 2016, the NDA government increased excise duty by nine times  in order to shore up prices de as global oil prices fell, but later in October 2017, the government made it's first cut by Rs 2 per litre in excise duty. 
Prabhu on Tuesday talking to media said, "India is a consumer sensitive country, we are concerned on the job regarding taxes, in last few months back, the government reduce excise, but i would still appeal to bring the petrol and diesel product under Goods and Service tax at the earliest."
He added, "Consumers should get reasonable prices all over country."
Currently, the Petrol, diesel, natural gas, crude oil and jet fuel (ATF) are not  included in the 'one nation, one tax regime' GST which is in effect since July 2017. 
When excise duty was cut in October 2017, the finance ministry asked states to reduce their VAT, however only four states have followed the same. Maharashtra, Gujarat, Madhya Pradesh and Himachal Pradesh -- reduced rates while others including NDA-ruled states ignored the call.
The Rs 2 per litre excise duty cut, cost the government Rs 13,000 crore in the remaining part of FY18, while about Rs 26,000 crore in annual revenue, as per finance ministry. 
From VAT, government earned income of Rs 1,66,378 crore in last fiscal (FY17) compared to the income of Rs 1,29,045 crore in FY14. Income from excise duty touched a whopping Rs 2,42,961 crore in FY17 as against mere income of Rs 77,982 crore in FY14. 
CLSA earlier said, "There has been some re-jigging of the excise classification (infra/road cess and basic excise) for petrol and diesel but effectively the overall excise burden is unchanged."
"FY19 budgeted excise collections from auto fuels seem to build in no cut in excise duties during the year despite high crude prices. This may keep the suspense alive on whether the gov't will cut duties to offset any further rise in crude prices," CLSA added.
At present, as per IOC data, taxes account for 52.73% in final petrol prices, while remaining 42.27% was derived from global crude oil. In case of diesel, crude oil accounted for 57.73%, while taxes 47.53% in final retail prices.
Thus, till the time, international crude oil continues to rise, and Indian government shying in cutting excise duty, consumers will suffer in regards to their purchase of petrol and diesel. 
Get Latest Business News, Stock Market Updates and Videos; Check your tax outgo through Income Tax Calculator and save money through our Personal Finance coverage. Check Business Breaking News Live on Zee Business Twitter and Facebook. Subscribe on YouTube.