Petrol and diesel prices: Will your fuel bill come down anytime soon? Find out
Petrol and diesel prices: There has been a continuous hike in fuel rates across India since the start of 2018.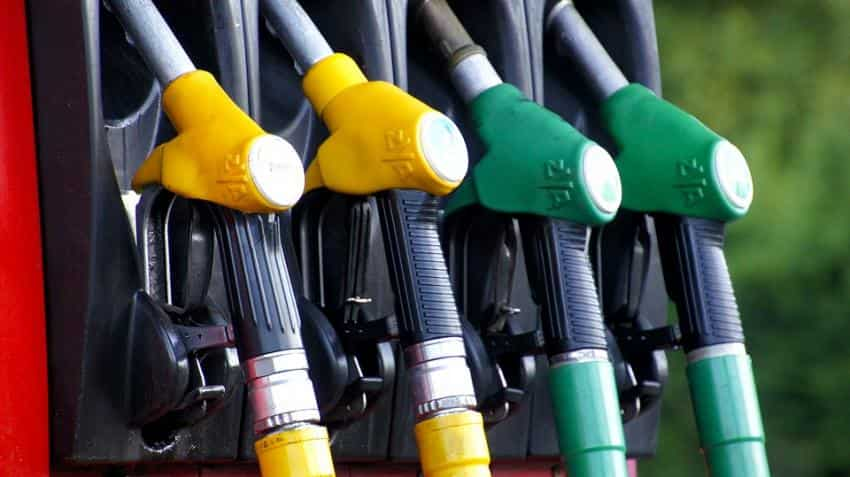 Representational Image: Photo: Pixabay
Petrol and diesel prices: Many analysts have predicted that international crude oil rates would not go higher than $70 per barrel, which if we look at in India, is still a manageable scenario, however, the ground situation has become quite difficult concerning fuel bills for users. Usually, a consumer pays for their fuel prices which are derived by commuting global crude basket, government's excise duty and various state's value added taxes (VAT). Significantly, there has been a continuous hike in petrol and diesel prices of various state capitals in India since the start of 2018. In a major relief now, the regulator has guided these OMCs to bear the brunt of Rs 1 per litre hike burden in fuel prices. Now a question that really must be asked that is close to the consumers' heart is whether petrol and diesel prices will go down or will they remain unchanged at highs.
Between December 31, 2017 till date, rate has increased by Rs 4.06 per litre in New Delhi, by Rs 4.01 per litre in Kolkata, Rs 4 per litre in Mumbai and Rs 4.27 per litre in Chennai.
With this, petrol in New Delhi is near September 2013-highs, while Kolkata and Chennai are near seven-year highs of May 2012. On the other hand, Mumbai has soared at a four-year high of March 2014.
Currently, petrol in New Delhi is valued at Rs 74.02 per litre, in Kolkata at Rs 76.73 per litre, in Mumbai at Rs 81.87 per litre and Rs 76.79 per litre in Chennai.
Shockingly, the case of diesel prices is different in India. The value of this product in various cities has reached a level never recorded. Today, diesel is available at Rs 65.18 per litre in New
Delhi, at Rs 67.88 per litre in Kolkata, Rs 69.41 per litre in Mumbai and Rs 68.76 per litre in Chennai. All these cities are at an all-time high.
Also, the OMCs have increased diesel prices at much higher rate than compared to petrol. Between December 31, 2017 to till date, diesel has increased by Rs 5.54 per litre in New Delhi, Rs 5.58 per litre in Kolkata, Rs 6.14 per litre in Mumbai and Rs 5.93 per litre in Chennai.
It needs to be noted that, the government earns substantial revenue from petro-products through taxation, as they have been kept out of the Goods and Services Tax (GST) regime. States are also able to levy variable taxes as a result of which prices vary across states.
So the situation of fuel prices are currently like this. Government has ruled out any relief in regards to excise duty and oil price will continue to rise due to geopolitical tensions, rising US production and drilling, weak dollar and trade war fears. Meanwhile, states in India have shown no interest in reducing the VAT levied in fuel prices either.
Therefore, the table has turned towards OMCs who are now being burdened with the Rs 1 rupee per litre price hike. The development took place last week, and since then, the companies have either hiked the prices or remained unchanged on the two products.
When the decision was announced, stock prices of OMCs like Hindustan Petroleum Corp Limited (HPCL), Indian Oil Corp (IOCL) and Bharat Petroleum Corp Limited (BPCL) dropped in the range of 5% to 8%.
Petroleum product consumption growth was robust in March 2018 at 7.2% YoY after a strong 7.7% in February 2018. Consumption growth was 5.3%YoY in FY18
and 8.4% YoY in 4QFY18.
If there is any limit on passing on fuel price hikes to consumers, the oil marketing companies (OMCs) would have to bear a notable burden on their profitability.
To recall, after a dismal Q3FY18, the OMCs had raised their marketing margins to Rs 3.2 per litre on petrol and Rs 3.4 per litre on diesel - which are much higher than Rs 2.7 per litre and Rs 2.8 per litre respectively in FY17.
For this, Swarnendu Bhushan and Abhinil Dahiwale, Research Analysts at Motilal Oswal said, "If indeed the OMCs have to absorb Rs 1/liter, their gross marketing margins on auto fuels would decrease to Rs 2.2-2.4/liter."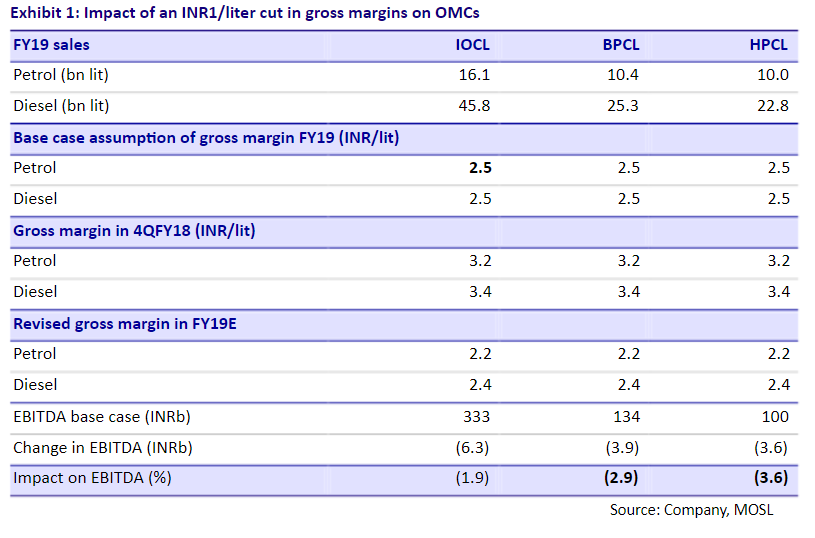 The duo added, "In our FY19 estimates, we have already considered pragmatic gross margins of Rs 2.5/liter, which means an impact of Rs 0.1-0.3/liter on our base case assumption,implying 2-4% adverse impact on EBITDA."
Similar views were from Mayur Matani and Akshay Gavankar, Research Analysts at ICICI Securities saying, "We remain cautious ahead of any such decisions that can potentially impact its marketing margins. Irrespective of whether the above decision gets officially implemented, one cannot rule out the possibility of OMCs not passing on the rise in fuel prices to customers, given the forthcoming election season."
As per the duo at ICICI, if move implemented,  profits of BPCL, HPCL are expected to be notably negatively impacted by ~24%, ~34%, respectively.
Thus, there is limited room for OMCs to bring down the prices of petrol and diesel. With this, one can only hope that international crude oil remain to a certain level and some freedom for OMCs to derive final retail prices.
Interestingly, David Kelly, chief global strategist at JPMorgan Asset Management, told "Bloomberg Daybreak: Americas" on Monday, that oil prices at $70 may be the top of the range in the price of oil that we're going to see over the next few years, reported in OilPrice.com
At the moment, oil prices have hit three-and-a-half year highs, due to geopolitical concerns over a military strike in Syria and possible fallout across the Middle East trumped concerns over surging U.S. shale production and over a potential downside to global oil demand stemming from a possible trade war.
So far in 2018, brent crude has touched high of $71.28, whereas US WTI futures near $66.level.
What's surprising is this, that Now this comes as a shock considering that the global crude oil prices of Indian Basket has nearly halved between January 2014 – till date.  Global crude oil prices in Indian basket which once traded near $109.05-mark in June 2014, came down to $50.32-level. And the current rise in global crude is still lower than what it was in 2014. Despite this, our petrol and diesel prices continue to stay at an all-time high.
From 2014, Indian government has raised excise duty by nine times, followed by one reduction of Rs 2 per litre in the indirect tax during October 2017.
Motilal said, "We believe oil prices have spiked due to temporary geopolitics and should decline, providing relief to the OMCs."
Hence, one can only hope that international prices go down, so that OMCs can pass on the benefit of petrol and diesel prices to customers.
 
Updated: Tue, Apr 17, 2018
01:41 pm
Mumbai, ZeeBiz WebDesk