Personal safety tool 'rakshak' for railway trackmen
The Railways board last week gave its nod to 'Rakshak', a handheld walkie-talkie device, to be used in high-density areas as a pilot project for all trackmen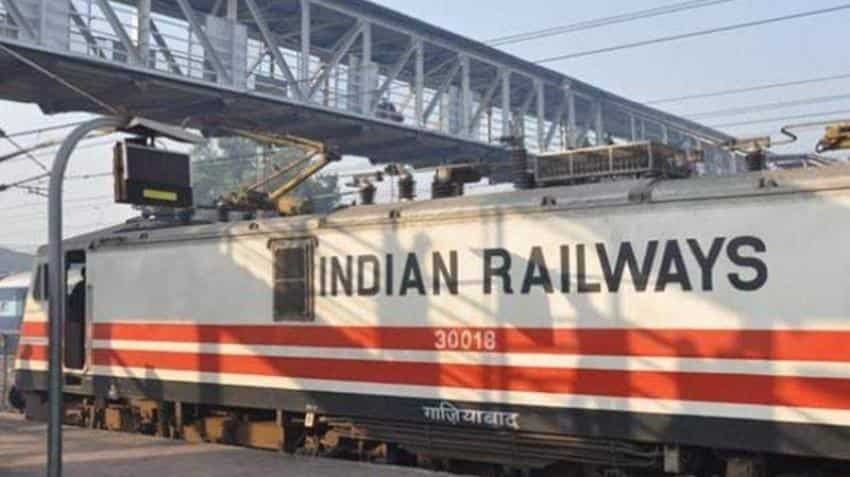 The device provides alerts through LED indication along with a buzzer and vibration of approaching trains which would help trackmen move away from tracks. Image source: PTI
Concerned over cases of maintenance workers being run over by trains while patrolling the tracks, the Railway Board has now decided to add a personal safety device to their gear, along with their usual boots, gloves, rain coats, winter jackets and tool kit.
The board, last week gave its nod to 'Rakshak' - a handheld walkie-talkie device to be used in high-density areas as a pilot project for all trackmen.
The device provides alerts through LED indication along with a buzzer and vibration of approaching trains which would help trackmen move away from tracks.
"Keeping in view the large number of run-over cases of trackmen that occur during discharge of their duty on track, putting in pace a 'Rakshak'-type protection system is essential and needs to be expeditiously implemented.
"However, since the system is still in infancy stage, deployment on entire rail network may not be feasible right now. However, keeping in view large number of run-over cases, it has been decided to deploy 'Rakshak'-type protection system on the entire high density network on a crash basis," the board said in a letter to all zonal railways, a copy of which is with PTI.
Rakshak has been deployed in South Central Railways on a 24-km stretch and has been successful in pre-warning trackmen about incoming trains.
The board, taking congnisance of the recommendations made by a committee of general managers appointed to suggest ways to improve the working condition of trackmen including their uniform and tool kit, said that the device adopted by SCR has been found useful.
Railway unions which have pushed for such protection for the trackmen for years say that around 400 trackmen die annually after being run over by trains.
In more good news, along with the Rs 5,000 annual dress maintenance approved by the 7th Pay Commission, trackmen will also be compensated for their shoes, gloves and other climatic requirements they need to do their job in adverse conditions.
They will now be compensated by their respective divisions for raincoats, safety helmets, tool kit bag, LED torch once a year, winter jackets, snow boots caps for sub zero temperatures, once in two years and safety shoes and luminous vests once every six months, the Railway Board letter said.
Indian Railways, which maintains 115,000 km of track around the country, is manned by around 2 lakh trackmen. 
Updated: Sun, Feb 11, 2018
01:41 pm
PTI