People rejected slander, lies: Mamata after Trinamool tsunami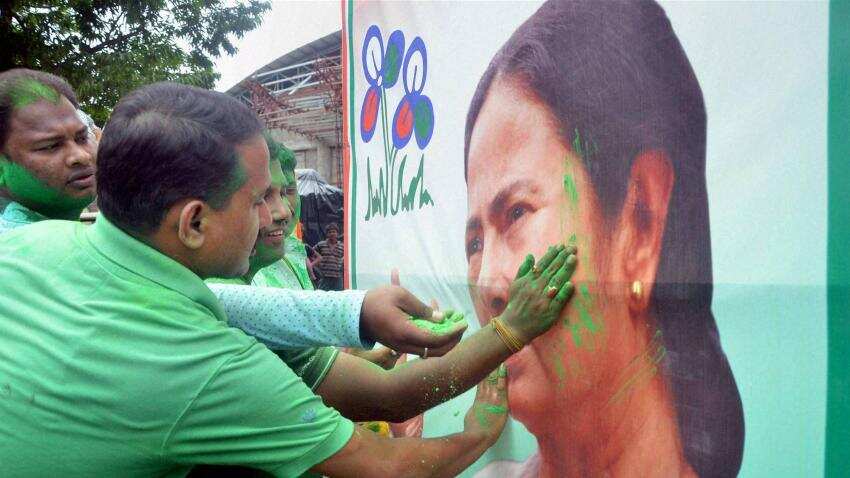 Agartala: Trinamool Congress supporters smear color on a poster of party chief Mamata Banerjee as they celebrate their win in West Bengal assembly elections in Tripuras Agartala on Thursday. PTI Photo
Updated: Thu, May 19, 2016
02:55 pm
Kolkata, IANS
A triumphant West Bengal Chief Minister Mamata Banerjee on Thursday said a campaign of slander and lies led to the sweeping victory of her Trinamool Congress in the assembly polls.
"People do not like such campaigns. There were all sorts of alliances against us. But people have ultimately made their choice," Banerjee told reporters.
"This is for the first time in 49 years that such a massive mandate has been given to a single party," said Banerjee, whose party was surging ahead in almost 211 of the 294 constituencies.
"In 2011, we worked with an alliance (Congress) and got 184 seats. This time the people have given us many (more) seats," she said.
Even as she guided her party towards a brute majority, Mamata Banerjee described herself a "LIP" - less important person.
Asked if the massive victory made her feel very important, Banerjee replied: "Please consider me just like a less important person".
"I am not a VIP , I am an LIP. Please consider me as an LIP, and I want to continue as a commoner."