Only 1% Indians spend over Rs 800 per month on their mobile phone bills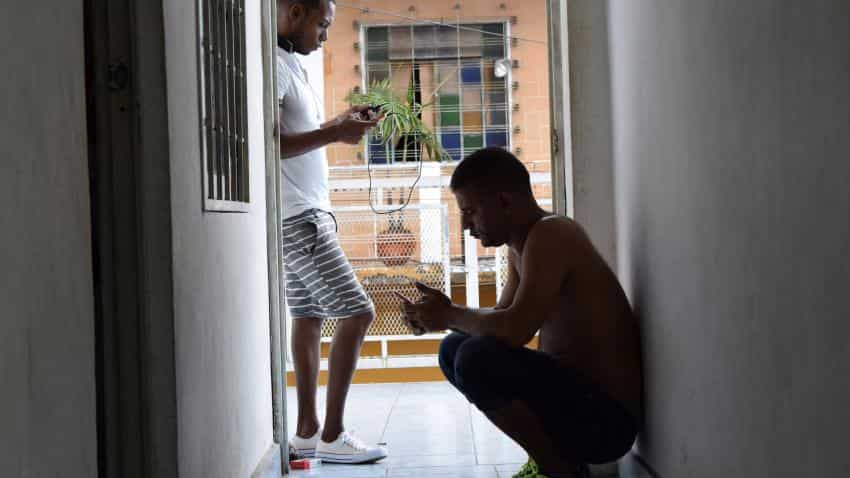 Airtel's ARPU in Q3 was Rs 172, while Idea was Rs 157, Reliance Communication was Rs 154 and Reliance Jio's tentative ARPU was Rs 265. Image Source: Reuters
Updated: Wed, Mar 22, 2017
03:14 pm
Mumbai, ZeeBiz WebDesk
Entry of Reliance Jio (RJio) in the Indian telecom market has clearly disrupted the way subscribers use mobile phones and data. 
With companies like Airtel, Idea, Vodafone and Jio trying to increase their revenues by offering 4G data plans for a price point of Rs 300-400 per month, one must note that the average revenue per user (ARPU) for telecom companies is below the Rs 200 per month. 
In a webinar session conducted by ICRA analyst – Harsh Jagnani on Tuesday it was said that operator ARPU in the long term will slowly increase from Rs 100-200 to Rs 350 with the introduction of Reliance Jio's Rs 303 membership plan and the Jio Prime Membership.
 
Other companies have followed RJio in pursuit of higher ARPUs and have offered more data and free voice calling and dropped excessive roaming charges.
 
Airtel's ARPU in Q3 was Rs 172, while Idea was Rs 157, Reliance Communication was Rs 154 and Reliance Jio's tentative ARPU was Rs 265.
ICRA stats revealed the percentage of subscribers in certain ARPU ranges. 
"More than 60% of subscribers have ARPU from Rs 50 – 150; nearly 20% in Rs 150 –350; almost 10% have more than Rs 350, and less than 1% have ARPU of more than Rs 800," ICRA said.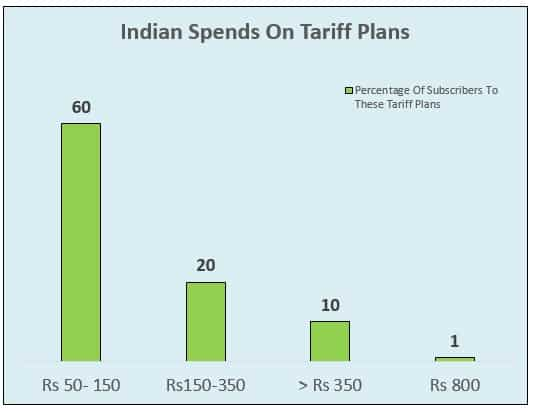 Presently majority of the subscribers were in the ARPU range of 'Rs 50 to Rs 150.'
As per Telecom Regulatory Authority of India (TRAI)'s data for December 2016 there were a total of 112.8 crore number of wireless subscriptions in India. Urban wireless subscribers amounted to 66.26 crore in December while rural subscriptions were 46.47 crore.
The presentation also showed that high ARPU subscribers, which contributed 15-20% to EBITDA, would gravitate to lower ARPU band and lower ARPU will move upward.

Image Source: ICRA report
When asked why, Jagnani told Zeebiz, "Since the current price packs in the range of Rs 300-350 per month would meet the requirements of most high-end users, the ARPUs will decline for a significant portion of subscribers whose ARPU is above this level."