Online hiring up 3% YoY in March; check which sector recruiting the most
According to Naukri.com, the fourth quarter (Q4) of 2017-18 saw a 7 per cent rise in hiring activity as compared to Q4 2016-17. The survey said the Naukri JobSpeak Index for March at 2,129 recorded a 3 per cent rise when compared to the corresponding month in 2017. "Metro cities lead the growth with Mumbai and Kolkata registering a strong growth 11 per cent and 20 per cent in Q4 2017-18 vs last year," said the report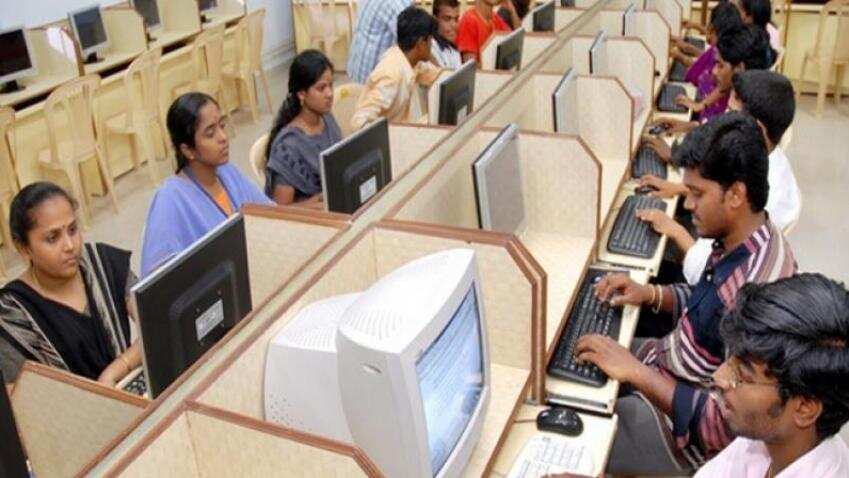 The survey said industrial products and heavy machinery industry saw an increase in hiring by 23 per cent in March as compared to the same month last year. Image source: PTI
Updated: Mon, Apr 16, 2018
02:49 pm
IANS
Online hiring activity registered a 3 per cent growth year-on-year (YoY) in March with overall strong hiring activity observed across several core industries, a Naukri.com report said here on Monday. According to the job portal`s report, the fourth quarter (Q4) of 2017-18 saw a 7 per cent rise in hiring activity as compared to Q4 2016-17. The survey said the Naukri JobSpeak Index for March at 2,129 recorded a 3 per cent rise when compared to the corresponding month in 2017. "Metro cities lead the growth with Mumbai and Kolkata registering a strong growth 11 per cent and 20 per cent in Q4 2017-18 vs last year," said the report. The survey noted that there has been a boost of 32 per cent in hiring across jobs requiring production and maintenance as a key skill in Q4 2017-18 Vs Q4 2016-17.
"The JobSpeak index for March has shown a 3 per cent YoY growth driven by significant growth in the non-IT sectors viz automobile, construction and engineering," said V. Suresh, Chief Sales Officer, Naukri.com. "Having said that, there seems to be an air of caution in the IT/ITES sectors and we can expect the market to sustain the momentum gained and move further north in the next few months," he added. The report revealed that hiring across auto and auto ancillary industry increased by 33 per cent in March 2018 as compared to March 2017.  It said industrial products and heavy machinery industry saw an increase in hiring by 23 per cent in March as compared to the same month last year.
BPO and the insurance industry grew by 11 per cent and 6 per cent respectively, while hiring across banking and financial services went up by 5 per cent, it said. "Industrial products and heavy machinery sector witnessed a healthy growth rate throughout the year," the report noted. The report pointed out that hiring activity in the construction and engineering industry picked up -- clocking a 20 per cent growth in March 2018 vs March 2017. However, the IT-software industry continued to be sluggish and declined by 12 per cent during the period under consideration, it said.
"JobSpeak Index of March 2018 recorded a 26 per cent rise in hiring activity for jobs requiring production/maintenance as a key skill while hiring activity in sales/business development and site/engineering went up by 13 per cent and 7 per cent respectively in March 2018 vs March 2017," the report said. "Other skills like accounts/finance and marketing/advertising grew at 4 per cent and 1 per cent respectively," it added.
The survey showed that overall growth was seen in hiring activity across several key cities during the month, with Mumbai witnessing a 4 per cent growth in hiring activity while Kolkata and Delhi/NCR witnessed a rise of 5 per cent and 3 per cent respectively. Other cities like -- Chennai, Bangalore and Hyderabad -- were flat in terms of hiring activity in March, it added.