Odisha Budget 2018 Highlights: Rs 1.2 lakh crore financial plan presented
  Odisha Budget  focuses on rapid and inclusive growth through human development, physical and social infrastructure, social safety nets for the disadvantaged and vulnerable sections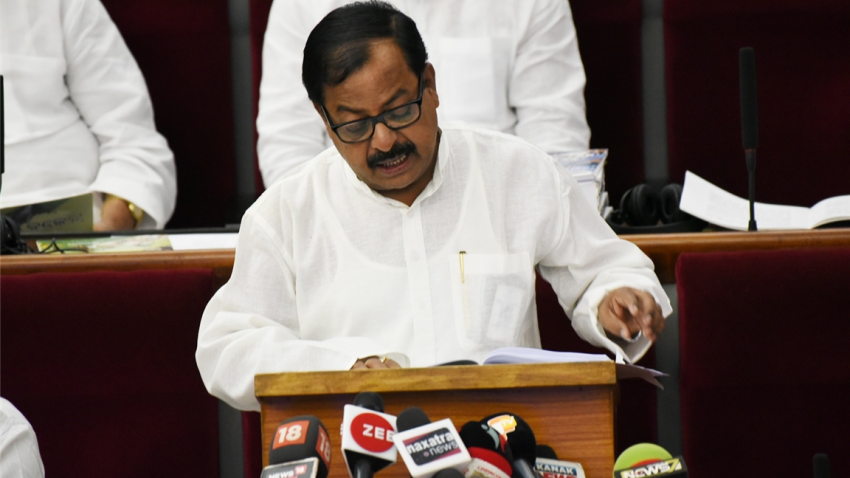 Odisha Finance Minister Shashi Bhusan Behera presents budget for FY 2018-19 in state Assembly in Bhubaneswar on March 23, 2018. Image source: IANS
Updated: Sat, Mar 24, 2018
10:55 am
IANS
Odisha Budget 2018 Highlights: Odisha Finance Minister Shashi Bhusan Behera on Friday presented a Rs 120,028 crore budget for fiscal year 2018-19 in the state Assembly. Here are some highlights:
1. The budget is about 12.3 per cent higher than the that for 2017-18.
2. Separate agriculture budget of Rs 16,765 crore for 2018-19 too presented.
3. Budget focuses on rapid and inclusive growth through human development, physical and social infrastructure, social safety nets for the disadvantaged and vulnerable sections.
4. Total outlay of Rs 1.20 lakh crore would be financed through revenue receipts of Rs 1,00,200 crore and borrowing and other receipts of Rs 19,678 crore.
5. As per revised estimates for 2017-18, there will be a revenue surplus of Rs 8,873 crore and the fiscal deficit will be at 3.4 percent of Gross State Domestic Product.