Does India really need to be a part of the NSG?
India has applied to be a member of the Nuclear Suppliers Group, but its ambition is being thwarted by China. However, developments in renewable energy mean China's veto will have little impact on India's clean energy push.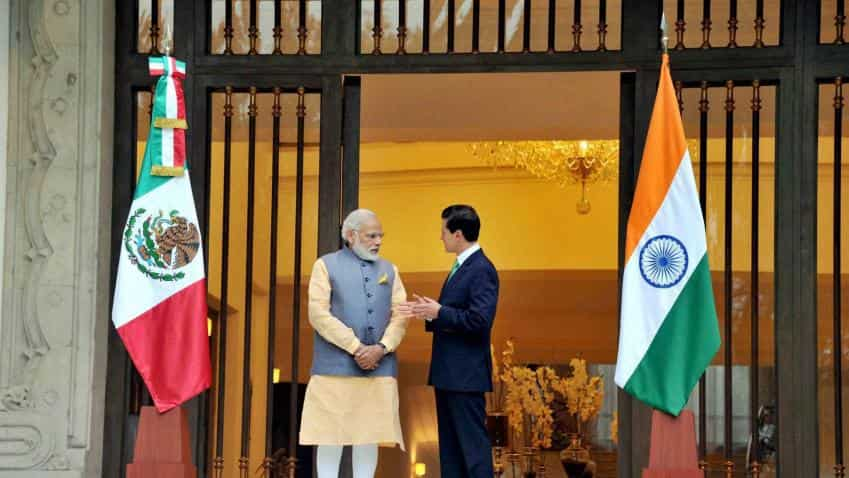 Mexico City: Prime Minister Narendra Modi and Mexican President Enrique Pena Nieto before a meeting in Mexico City on Wednesday. PTI Photo
Written By:
Gateway House
Updated: Fri, Jun 10, 2016
08:59 am
Mumbai, ZeeBiz WebDesk
The Nuclear Suppliers Group (NSG) formed to control the transfer of nuclear technology and materials may decide to admit India into the club at its 'extraordinary' plenary meeting on June 9—10. Entry into the NSG will allow India to freely trade nuclear technology and materials, and thereby get foreign assistance for its nuclear power programme. A target has been set of 63,000 megawatts (MW) of nuclear power by 2032, up from 5,780 mw at present, and including four power plants to be built in collaboration with Westinghouse and G.E.-Hitachi of the United States, Areva of France, and Atomstroyexport of Russia. Of these, the Russian project is already under execution while the others are still at proposal stage.
They projects may not take off if India does not get into the NSG as it will be difficult to buy technology and equipment without the treaty in place. Still, India can continue building its indigenous power reactors as the technology is indigenous.
Multiple news reports, however, indicate that China, an NSG member, is opposed to India's entry and may block India's application. Yet, if this were to happen, it will not be a major setback. The primary attraction of nuclear power is that it is a largescale source of carbon-free electricity. However, the drop in price of renewable energy over the past few years means nuclear power is past its sell by date as a source of carbon-free energy.
Nuclear power: high prices, long gestation
In November 2015, U.S.- based SunEdison offered to supply solar power in India at Rs. 4.63/kilowatt-hour (kWh), a record low price at the time. In January 2016, Fortum Finnsurya also offered to supply solar power at a record low price of Rs. 4.34/kWh.These were not isolated bids – several other bidders have offered to supply solar power at less than Rs. 5/kWh.
The wind energy tariff in India, on the other hand, ranges from Rs. 4.13–Rs. 6.60/kWh, depending upon the location, with the cost of wind energy generated from new installations at the lower end of the band.
In comparison, the cost of electricity generated from units 3 and 4 of the Kudankulam Atomic Power Plant, if the project is completed without cost and time overruns, will be Rs. 6.3/kWh.
Past experience, however, suggests timely completion is unlikely: Unit 1 of the power plant was projected to be completed by 2007 but commercial electricity production only began in December 2014. Work on Unit 2 started in 2001, and it is still not fully functional after 15 years.
The cost of the newly-sanctioned units of Russian design at Kudankulam works out to $2.9 million/MW capacity, but the cost of electricity for Westinghouse and Areva reactors in the country may be even higher as the cost of designs Westinghouse and Areva want to sell India works out to $7.5 million/MW and $6 million/MW, respectively, going by the cost of ongoing projects. Higher upfront costs will, of course, mean much higher prices for electricity.
The long cycle time also keeps, and has kept billions of dollars of investment stuck for over a decade, with no returns. In contrast, grid-scale renewable projects, which are usually completed in 12 months–18 months are a far more efficient use of capital.
In the aftermath of the 2011 Fukushima disaster, there are safety concerns as well about nuclear power. The issue of nuclear waste, which has to carefully handled and stored for long durations, is another critical issue whereas renewable energy gives rise to no such grave concerns.
Renewable energy races ahead of nuclear energy
The advantages of renewable energy over nuclear power are evident on the ground:renewable energy generation was 65.8 billion kWh in India during 2015–16, against 37.4 billion kWh of nuclear power generated for the same period. India added 7,060 MW of renewable capacity in this period and has set a target of 16,660 MW for 2016—17 while there was zero addition of nuclear power and 1,000 MW may only be added in 2016–17 if Kudankulam Unit-2 starts.
The lower costs and faster adoption process of renewable energy clearly demonstrate that nuclear power is no longer the best bet for carbon-free electricity. This reality is already being felt on the ground, and it only goes to show that India's clean energy targets are not hostage to China's tactics.
Amit Bhandari is Fellow, Energy & Environment Studies, Gateway House.
This feature was written exclusively for Gateway House: Indian Council on Global Relations. You can read the original article here.
Get Latest Business News, Stock Market Updates and Videos; Check your tax outgo through Income Tax Calculator and save money through our Personal Finance coverage. Check Business Breaking News Live on Zee Business Twitter and Facebook. Subscribe on YouTube.